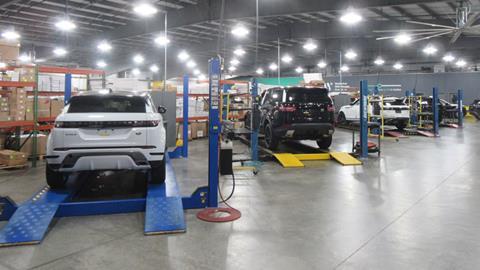 British OEM Jaguar Land Rover (JLR) has relocated to a larger, renovated vehicle processing centre (VPC) in Brunswick, Georgia, to cater for increasing demand for its vehicles in the US.
"The North America market is approximately 20% of JLR global sales and since 2012 [the company] has enjoyed consecutive years of growth in the market. In 2018, with a fourth consecutive year of growth, Land Rover in the US was the fastest growing brand in the industry," JLR told Automotive Logistics.
"This growth has stemmed from a rise in demand, and the larger renovated facility has increased the potential number of cars that can be processed daily.
"Our prior operation was split across two separate and much smaller facilities, but with this move we've placed vehicle processing, mechanical, software and accessory installation all under the same roof, increasing our footprint and reducing vehicle movement."
The expanded VPC has been built by Wallenius Wilhelmsen Solutions, the part of Norwegian shipping group Wallenius Wilhelmsen which provides processing and other logistics services to manufacturers of cars, trucks and heavy equipment.
Matt Henderson, general manager, WW Solutions Brunswick, said: "The increase in processing area by 35%, which also offers additional lifts and bays, will allow us to increase the number of JLR vehicles in the PDI (pre-delivery inspections) process."
Alongside the OEM's processing centre, WW Solutions is also constructing a 650 sq.m warehouse for storage of JLR parts and, the carmaker told Automotive Logistics, the support of its growing accessory business.
"Further, the facility upgrade will prepare us for the introduction of the new Land Rover Defender, a vehicle that has the ability to be highly accessorised," the company added. The updated Defender, a model last sold in the US 20 years ago, goes on sale from the second quarter of next year.
JLR's move into a larger VPC also allows WW Solutions to accommodate growth for other customers. The company currently has seven automotive clients at Brunswick which import into the United States' southeastern markets.
The JLR-WW Solutions' announcement comes a month after the Georgia Ports Authority said it has added 16 hectares of dedicated ro-ro space at Brunswick port's Colonel's Island Terminal, increasing the car storage area by 6,000 spaces and helping to speed up vessel turnaround.