Mitsubishi Motors' division in Thailand exported its 5 millionth vehicle this month. The carmaker marked the occasion with a ceremony on December 9 at Laem Chabang port and said the milestone underlined the location as a production hub for regional and global operations.
Last year 90% of the 340,000 vehicles Mitsubishi made in Thailand were for export.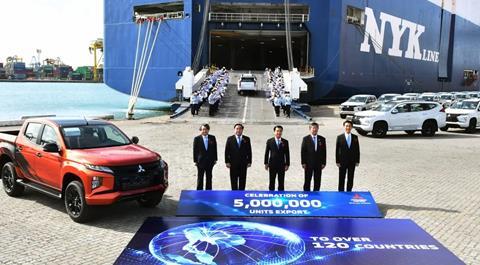 In 2017 Mitsubishi became the largest vehicle exporter from Thailand. The carmaker exports to 120 countries from the country and between 2019 and October 2022, Australia became the largest export market, followed by Germany, the US and Mexico. The Mitsubishi Triton is the most exported model, accounting for over 50% of exports.
"Thailand is one of our most important bases, and its importance will continue to increase in the future," said Takao Kato, president and CEO, Mitsubishi Motors. "Reaching an export volume of 5m vehicles is a step to the continuous growth and expansion of production volume in Thailand."
The Japanese carmaker has three assembly plants and in engine plant in Laem Chabang, Chonburi province. Thailand is the Mitsubishi's biggest production base outside of Japan and, as well as the Mitsubishi Triton, its facilities make the Attrage, Mirage, Outlander Phev and Pajero Sport models. Production began at its first assembly plant there in 1992 and it now has a total installed annual capacity of 400,000 vehicles.
In October the company produced more than 21,000 units in Thailand.
Eiichi Koito, president and CEO of Mitsubishi Motors (Thailand) added: "Moving forward, we remain committed to continue investing for further growth along with supporting Thailand's moves towards the carbon-neutral era. We have investment plans for new model development, production capacity enhancement, as well as facilities upgrading with solar power and renewable energy."
Earlier this year in March Mitsubishi opened a new paint facility in Laem Chabang.