Nissan has started importing its Ariya electric vehicle (EV) to the UK, via the port of Tyne. The vehicles are produced at the carmaker's Tochigi plant in Japan.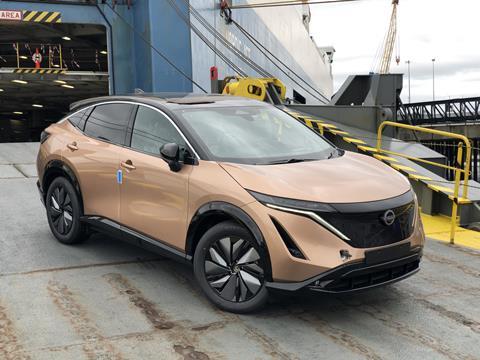 Nissan delivered its first consignment of the pure battery EV aboard the Nordic Ace car carrier operated Mitsui OSK Lines. The first vehicle off the vessel was an Ariya advance, powered by a 63kWh battery.
The carmaker said it will make a second volume delivery in the coming weeks also through the port of Tyne, bringing the number of vehicles delievered to the UK to 1,300.
According to Nissan, many of the vehicles being shipped were pre-ordered. They will be distributed to all 165 Nissan dealers across the UK once pre-delivery inspection has been carried out.
The arrival of the Ariyas follows the news that Nissan has extended its commercial contract with The Port of Tyne authority for a further five years. The port said that being able to support Nissan's EV36Zero carbon-cutting initiative is central to its own drive toward greater sustainability and its aim of being net zero in terms of carbon output by 2030.
Nissan EV36Zero the £1 billion flagship EV hub that Nissan is creating with battery specialist Envision AESC around the carmaker's Sunderland assembly complex. The hub also has support from Sunderland City Council. Nissan EV36Zero brings together EV and battery production with renewable energy.
"The Port of Tyne has been an integral part of our supply chain for many years," said Michael Simpson, vice-president of supply chain management at Nissan. "As it continues to grow as a clean energy and green distribution hub it will continue to play a vital role in Nissan's vision for a carbon-neutral future."