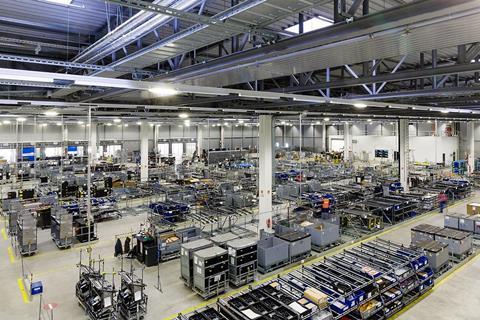 Porsche has signed a new strategic partnership with software provider Sap aimed at joint innovation in the digital transformation of its production, logistics and ordering processes.
Sap has been providing Porsche with software for decades and the two German companies have worked on a number of projects together, according to Porsche. They include PIA order management system, which provides end customers with direct access to vehicle information and allows scheduling service appointments.
"We already set up the order management system PIA together with Sap which proofed our successful collaboration," said a spokesperson for the carmaker. "Therefore Porsche decided to go one step further and go into co-innovation with Sap in the context of digital transformation solutions [including] data driven business models [and] end-to-end architecture."
Porsche has also adopted Sap's S/4Hana integrated enterprise resource planning (ERP) system, which covers day-to-day processes for large companies, including ordering, procurement and product planning. Furthermore, the carmaker has been using Sap supply chain management applications for just-in-time (JIT) and just-in-sequence (JIS) delivery of parts for a number of years.
"I am convinced that this type of partnership is exactly what we need to promote innovations in Germany," explained Lutz Meschke, deputy chairman and member of the executive board for finance and IT at Porsche: "Our aim is to jointly realise new ideas. This will benefit not only our two businesses, but other companies as well."
Porsche said the strategic partnership would focus on "data-driven business models, artificial intelligence and an end-to-end process-driven architecture" but will also integrate existing projects into the joint initiative.
The two companies have set up a 'Board of Architects' to improve communication on business and technology architecture in current programmes.
"Our aim is to be a close partner of Porsche throughout the digital transformation process in order to make a joint success of this," explained Dr Daniel Holz, CEO of Sap Deutschland. "From the very start, we have broken new ground in this strategic partnership with Porsche. Design thinking is a core element of our work together and we have managed in just a short space of time to focus on the right issues and take a solution-oriented approach. This is a best-in-its-class collaboration model."
Porsche said the IT systems failure that closed its Leipzig and Zuffenhausen plants earlier this month were unrelated to its use of Sap products and were down to a hardware problem. The carmaker was forced to suspend production at the plants on October 14 because of a server failure. According to information first released by Spiegel Online, the IT system outage, which affected 211 servers, brought the assembly lines at both plants to a standstill.