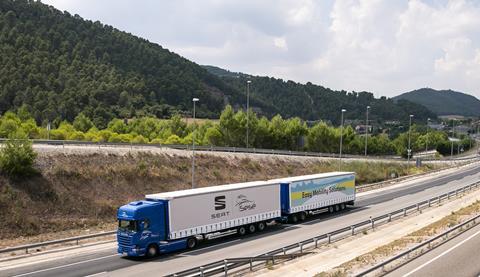 Spanish car maker Seat now has four supply routes to transport components using duo and giga trailers, which it says it expects to increase in the future.
The OEM is running two duo trailer routes linking its Martorell car assembly plant near Barcelona with Teknia in Azuqueca de Henares, Madrid, for delivery of interior finish parts, and with Global Laser in Ribera Baja, Álava, to transport sheet metal components.
Seat is also using two giga trailers to move metal bodywork parts from Gestamp's factory in Orcoyen, Navarre, to Martorell and another to deliver sheet metal components from KWD, also in Orcoyen.
Duo trailers are the longest type of trucks, and with greatest capacity, travelling on European roads. They reduce logistics costs by a quarter and the number of lorries on the road, says Seat.
The duo trailers being used feature two 13.6-metre-long trailers pulled by a truck, giving a total length of 31.7 metres and a maximum payload capacity of 70 tonnes.
The company is also testing new trucks which will reduce emissions by 30%, compared with the current 20%.
The giga trailer consists of one measuring 13.6 metres and another of 7.8 metres pulled by a truck to give a total length of 25.25 metres. The maximum payload is 60 tonnes.
Giga trucks save 22% in logistics costs and lowers CO2 emissions by 14%, according to the company.
Production and logistics vice-president Christian Vollmer commented: "Seat's commitment to sustainability and logistics efficiency is a part of our goal of reducing to zero our production impact."
The company first began using duo trailers in 2018, after testing the giga trailer two years earlier. It expects to open new routes with both types of trucks "to take a leap forward" in that form of transport.