Jaguar Land Rover (JLR) has started the second phase of development on its new 92,000 sq.m logistics operations centre near Solihull in the UK's west Midlands region
[Update] The carmaker's supplier Dematic has begun installing automated logistics equipment. The site is expected to be finished and fully operational by late 2022. The facility will be managed by DHL Supply Chain.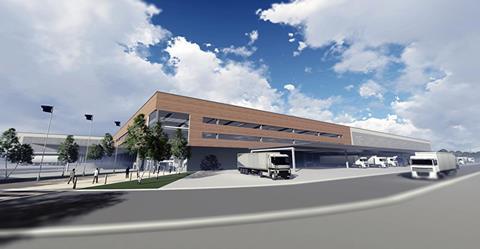 The facility is located near the carmaker's Lode Lane assembly plant, which makes Land Rover and Range Rover vehicles.
A spokesperson for Jaguar Land Rover said that the logistics operations centre will consolidate operations from three separate logistics points, enabling the carmaker to reduce the number of HGV movements facilitating its just-in-time operation at the Solihull manufacturing plant by around 3m miles. That will help save emissions, logistics costs and cut down on local road congestion. Early estimates put the emissions savings at 3,200 tonnes of CO2 annually.
The facility includes a 91,800 sq.m warehouse with 78 docking points and will feed parts to the Lode Lane plant on a just-in-time basis.
Dematic said it was installing some of the most advanced automated supply chain technologies available to ensure the logistics facility could provide maximum output of 1,000 pallets of parts an hour on a reduced facility footprint.
"Automated equipment will pick huge volumes of products extremely efficiently, while the facility has been designed with a 'goods-to-person' mindset, meaning that operatives do not need to walk significant distances to retrieve items: the parts come to them," said Dematic in a statement.
Dematic makes a range of automated warehouse logistics equipment, including automated guided vehicles (AGVs), sortation and storage technology and robotic systems. They have been designed to manage multiple workflows on the same line, allowing Jaguar Land Rover and Dematic to condense the footprint of the facility.
Commenting on the project, Andy Blandford, Dematic's senior vice president and managing director of Northern Europe, said: "We are pleased to have the opportunity to collaborate with a business such as Jaguar Land Rover which is so committed to industry leading standards of sustainability and technology. We look forward to completing this project in 2022."
JLR had three main logistics facilities in the West Midlands region of the UK, at Hams Hall, TyreFort and Midpoint, but has been reorganising its logistics in the wake of the downturn that affected the business in 2020.