Stellantis has signed a memorandum of understanding with South Africa's Industrial Development Corporation (IDC) and the Department of Trade, Industry and Competition (DTIC) to build a plant in the country by 2025. Currently, the carmaker imports all the vehicles it sells there.
The carmaker said the plant will be located in one of South Africa's special economic zones (SEZs) but it did not disclose the location or investment figure, or the planned annual production capacity.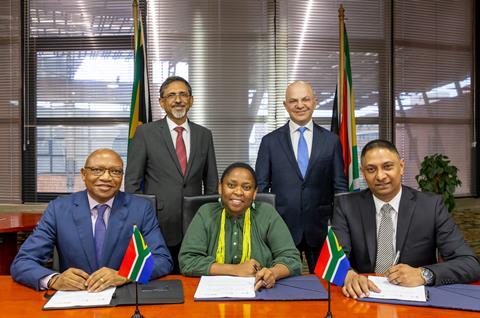 Stellantis did say it wanted to sell 1m vehicles in the region by 2030, with 70% of those vehicles made locally. That includes at the newly announced plant in South Africa as well as its existing Kenitra plant in Morocco.
Stellantis is investing €300m in the Kenitra plant and aims to double production capacity to 400,000 and introduce a small car platform. That would suggest that annual production capacity at the newly planned plant in South Africa would stand around the same to accommodate the production of export volumes. In 2022 Stellantis exported more than a 124,000 vehicles from Morocco.
By contrast, last year the carmaker made combined shipments of goods worth €426m ($455m) to the Middle East and Africa region, an increase of +37%. Peugeot is a popular brand imported to South Africa and Stellantis reported anan increase in shipments of the Opel Mokka, Corsa and Crossland X through 2022. Net revenue from the Middle East and Africa region stood at €6.45m in 2022.
Third Engine market
Stellantis designates the Middle East and Africa as one its 'Third Engine' markets, along with South America, China, and India and Asia Pacific. Together those markets increased net revenue for Stellantis by 34% year on year.
Speaking about the planned activity in South Africa, Samir Cherfan, chief operating officer (COO) for Stellantis Middle East and Africa, said: "This is an important step in our Dare Forward 2030 strategic plan towards strengthening our leadership in the Middle East and Africa region, and becoming a major player in South Africa."
The Dare Forward 2030 plan aims to double net revenues at the carmaker by 2030 (compared to 2021) by focusing on sustainable mobility, new technology and greater value creation. Greater value creation is being sought through more digitalisation, regionalised production and a focus on greater autonomy and entrepreneurship across seven business units: Aftermarket, Circular Economy, Commercial Vehicles, Data Business, Financial Services, Mobility and Pre-Owned Cars.
Speaking about the investment by Stellantis, Ebrahim Patel, minister of trade, industry and competition in South Africa, said: "South Africa is a great investment destination with significant car-making capacity. We look forward to working closely with Stellantis to enable the company to set up a plant that will expand our manufacturing base and create local jobs."
The sub-Saharan Africa automotive market is expected to be worth $33 billion by 2027, according to Mordor Intelligence. Toyota, VW and Ford are all top-selling carmakers in South Africa and have local production bases there.
South Africa imported more than 262,000 light vehicles in 2021, while total sales of passenger cars and light trucks stood at around 437,500.