Volkswagen has started exporting Taos models from its plant in Puebla, Mexico to the US. The vehicles are moving through the port of Lázaro Cárdenas to different northbound destinations.
Production of the Taos at the Puebla plant for the Mexican market began in October last year, when VW replaced production of the Golf hatchback there. In February this year the carmaker announced it would be producing the SUV for export to the US as well. VW de México is also exporting the Jetta and Tiguan to the US through Lázaro Cárdenas.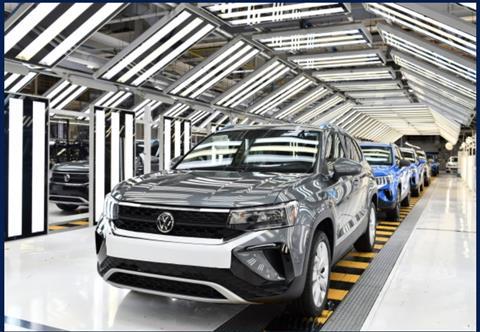 Dr Susanne Lehmann, VW's director of production for North America, said the company had overcome to the challenges thrown up by the coronavirus pandemic to hit its goal of making the vehicle for the domestic market and for export to the US.
"We estimate that this model will have very good acceptance in the North American market, which recognises the quality of vehicles made in Mexico by Volkswagen," she said.
VW started Taos production in Mexico at the end of last year to replace assembly of the Golf hatchback, which only sold 6,000 units in the US last year. The GTI and R performance versions of the Golf will continue to be sold in the US but are being imported from the Wolfsburg plant in Germany.
When it began exporting VW Group vehicles through the port of Lázaro Cárdenas last year Lehmann said the route was faster, cheaper and safer.
"All this was done with a huge team of transport and handling companies, port authorities, customs agents and a cross-functional team at Volkswagen and Audi," she said.
The carmaker also uses the port of Veracruz for ocean exports, as well as using rail routes between the two countries.
The Taos is expected to go on sale in June. It will compete in the largest US vehicle segment, the compact SUV market, where 4m vehicles were sold in 2019, around 24% of the market, according to VW.
Learn more about volume shipments in North America at the forthcoming Finished Vehicle Logistics North America Live conference, which takes place between June 22-23 this year.