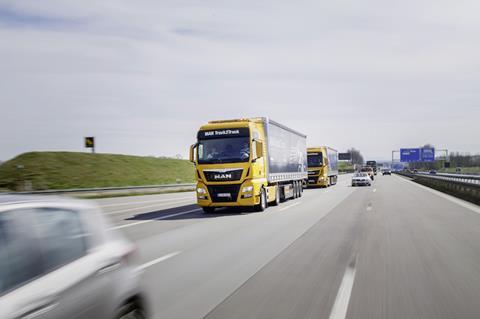 Volkswagen Group's commercial vehicle division, Traton, is expanding the application of its cloud-based logistics platform Rio to support the carmaker's group logistics function across 13 brands in Europe.
Rio will be used by VW Group Logistics to more efficiently coordinate both the inbound supply of parts to its assembly plants and the outbound delivery of vehicles to the dealer network.
VW Group Logistics, based in Germany, coordinates around 18,000 truck moves a day, both inbound and outbound, and works with 150 forwarders, each of which will now be registered with the Rio cloud-based telematics operating system.
"There is a huge amount of complexity involved in our business," said Thomas Zernechel, head of Volkswagen Group Logistics. "The planned cooperation with Rio will allow us to push ahead with digitisation in the transport sector and gain more transparency."
Zernechel went on to say that the digital platform would help VW Group reduce empty runs and work towards its climate protection goals.
Rio has been developing the open logistics platform since 2016. Vehicle data is transferred to the system through a brand-neutral component fitted in the truck. The Rio Box, as it is called, has been fitted as standard to all Man trucks since August 2017 and is retrofittable to existing trucks.
The system links and analyses a variety of different data sources, including truck location and availability, to provide forwarders and other users with real-time information with which they can plan pickups and deliveries, and optimise routes. VW said that Rio helps users to track consignments and can integrate different systems to collect and use a range of data to make processes such as supply chain management, freight billing and container control more efficient. According to the company, this enables logistics managers to improve connectivity and transparency.
"Cloud-based digital solutions based at the interface between freight and forwarder have the potential to significantly increase our efficiency," said Matthias Braun, head of material logistics digitalisation at VW Group Logistics. "Rio's digital expertise and open approach makes it the ideal partner for us. We are also going on this platform with our volume to send a signal to the market. We hope that others will follow suit so that logistics based on transparent processes will become more efficient for everyone."
Connected and autonomous
More widely, Traton is targeting €1 billion in research and development (R&D) to support freight management platforms used by truck divisions Man, Scania and VWCO (the Brazilian commercial vehicle division) with digital services. Since the start of 2019, nearly every new medium and heavy-duty truck delivered by Scania and Man is connected, and from this month (October) VWCO will also equip its vehicles a connectivity solution as a standard.
"We want to move into the digital fast lane and are continuing to evolve from a hardware supplier to a provider of software and services," said Andreas Renschler, Traton CEO.
Traton said the number of networked vehicles across its customer base was growing rapidly and would stand at 600,000 this year. By the end of 2025 that number is expected to be more than a million vehicles, according to the division.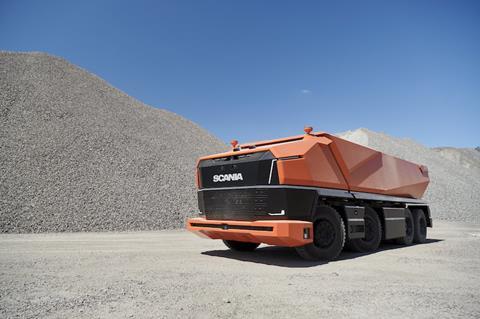 Traton is also working on a common platform for autonomous driving with a number of vehicles already being tested or in real use. They include the new autonomous Scania concept vehicle AXL, which does not have a driver's cab, and in a few months, Man kicks off large-scale practical testing with the port of Hamburg on an autonomous truck application.
According to the company trucks on route to the port will travel on certain sections of the highway in a "highly automated" mode. On arrival, the driver will get out of the vehicle and the truck will drive autonomously to the Altenwerder container terminal.
The truck will then be autonomously unloaded and will drive itself back to the driver on its own. Man is currently simulating the port environment and testing the vehicle at its plant site in Munich.