Volkswagen has said it wants to switch all of the material, parts and vehicles it moves in Germany with state-run rail provider Deutsche Bahn (DB) to 'green electricity' by 2021. By green electricity VW means power generated by wind farms and hydropower plants. The carmaker also said it intends to increase the number of vehicles it moves by rail in Germany to 60% by 2022, an 8% increase on the number currently moved.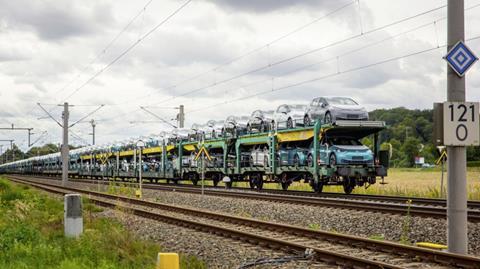 Currently 95% of VW freight movements carried by DB Cargo in Germany are accounted for by sustainable power generation. Bringing the figure up to 100% will save more than 26,700 tons of CO2 emissions annually, according to the carmaker. The carmaker claimed it transports the largest volume of vehicles in Europe by rail that is powered from renewable sources.
VW moved 2.46m vehicles by rail in 2019 and that will increase that to 2.85m vehicles by 2021.
Taking all vehicle shipments in Europe, VW Konzernlogistik was contractually responsible for 4.6m vehicles (rail + truck) in 2019, which will is planned to rise to 4.8m in 2021.
"With this green electricity offensive, we are making an important contribution to the decarbonisation of the group," said Thomas Zernechel, head of VW Group Logistics.
Around 21% of all VW inter-plant traffic is transported by train (79% per truck) and DB Cargo moves around 190,000 freight cars a year for VW, carrying inbound material and finished vehicles. Of that number VW said an average of 38 long-distance and 157 local trains deliver material to the plants every day, a total of around 100,000 wagons per year.
The other 90,000 railcars move VW Group passenger cars back out from the plants to 40 hubs, distribution centres and seaports, equal to around 900,000 vehicles annually. Trains deliver volumes from Volkswagen Passenger Cars, Audi, Škoda, Seat, Porsche and Volkswagen Commercial Vehicles brands.
"Every ton on the rail automatically saves 80% CO2," said Dr Sigrid Evelyn Nikutta, CEO of DB Cargo and board member for freight transport. "Volkswagen is now going one step further: absolutely green transport without CO2 emissions."
Earlier this year the carmaker said it intended to increase the amount of green energy used at its 16 manufacturing plants around the world from 70% to 90% in 2020 (excluding China).
Speaking at one of the recent Automotive Logistics Livestream Hours, Matthias Braun, head of digitalisation and concept development for Volkswagen Group Logistics said that VW needed to use its transport modes in a more economic and sustainable way.
That more sustainable approach to logistics is part of a group wide initiative to reduce CO2 from operations by 30% by 2025. As well as green rail that includes through the use of liquid and compressed natural gas (LNG/CNG) powered trucks, as well as supporting logistics providers to invest in new technology and talking to fuel providers for LNG stations in Germany.
VW is also supporting the greater use of electric-powered trucks for moving parts over shorter distances, such as between warehouses and plants.