Skoda Auto is testing biodegradable film for the packaging of vehicle components shipped from its main plant in Mladá Boleslav, in the Czech Republic, to its Indian plant in Pune. The carmaker said the packaging will save around 500kg of conventional plastic film each month.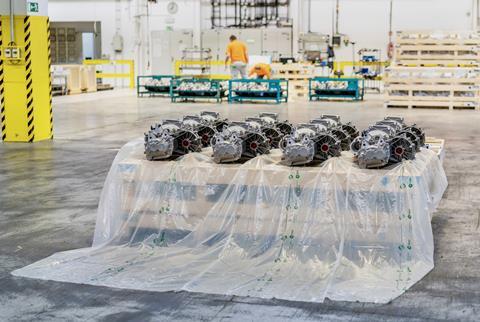 According to Skoda, the film meets strict packaging requirements for shipping overseas and protects the parts as effectively as conventional plastic film. What is most significant about the packaging, however, is that it can be composted and breaks down over three to six months. The carmaker said the packaging is being used to improve the soil at the logistics park in Pune.
"Together with our colleagues at the Pune site, we are currently successfully testing the use of corn starch-based film," said David Strnad, head of brand logistics at Skoda. "This has enabled us to halve the amount of conventional plastic packaging used on parts delivered there while providing the same level of protection."
Skoda has been looking to reduce the amount of plastic film required to wrap the components for shipping to Pune as part of efforts to improve its ecological footprint, continued Strnad. Specifically, it was looking for biodegradable alternatives.
The corn starch-based product was put to the test at Skoda's CKD centre in Mladá Boleslav, which prepares complete knockdown vehicle kits for export.
"Several sample consignments were then checked to see whether they met the strict requirements for shipping overseas in containers," said the company in a statement, adding that quality control on the shipment's arrival in Pune confirmed that the components neither showed any signs of damage nor traces of corrosion.
Logistics staff built composters on site using recycled material and as well as the film the composters were filled with other biowaste. Six months later the packaging had largely decomposed. Skoda is now testing the film's application for every day use on a larger scale. The carmaker launched a pilot project in July this year to explore the wider application, which will run until June 2021 in its initial phase.
"The composted packaging goes on to be used in Pune as organic fertiliser for the trees in the logistics park among other things," said the company.