PARTNER CONTENT
This content was paid for by Helrom and produced in partnership with Automotive Logistics
Helrom CEO Roman Noack believes the company's innovative trailer wagon enables automotive suppliers to access the truck transport of the future, today.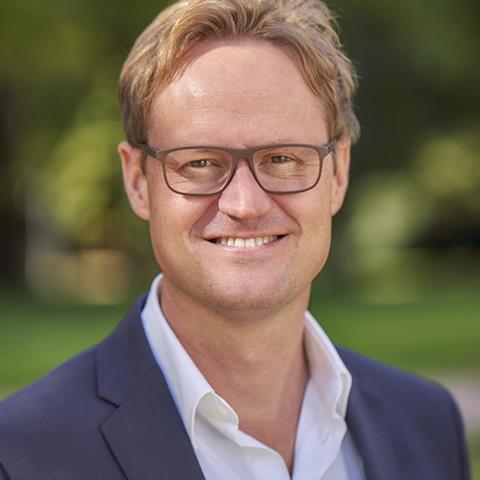 Until now, there has been no viable model for transporting truck trailers reliably and flexibly over long distances by rail. Helrom's innovative loading technology and transport services change that. With Helrom, rail transport for semi-trailers is becoming widely usable for the first time: without loading terminals and long access routes, with reliability similar to road transport and a significant reduction in carbon emissions.
Decarbonising the supply chain
Ecological, social and economic challenges require a rethink of transport logistics. New ways must be found to combine environmental imperatives with economic competitiveness and flexible resilience. The environmental goals are clear and urgent: The US and Europe have committed to halving greenhouse emissions by 2030 and becoming carbon neutral by 2050. Numerous OEMs have also set themselves ambitious net-zero targets.
An important lever for carbon reduction is transport. For industry, this means the goal of decarbonising supply chains. The fastest way to achieve this is to shift more transport capacity to energy-efficient, low-emission rail. But this is where the problems start.
Intermodal transport not yet economically feasible
The intermodal combination of short-haul road with long-haul rail is a long-standing idea to put more trucks on rail. But until now, the intermodal transport of semi-trailers has hardly been economically feasible for industry. The barriers included incompatible wagon technology; extremely expensive, non-scalable loading infrastructure; inefficient route planning; and highly unreliable rail transportation.
This was particularly true for the automotive industry. Until now, the implementation of conventional intermodal transport for semi-trailers has quickly reached its limits for automobile manufacturers. The reasons are high investment costs, a long implementation period and a lack of integration into the existing structures of suppliers and plants. With Helrom, this has changed: its innovative concept of barrier-free intermodal transport represents a real breakthrough.
The Helrom Trailer Wago overcomes intermodal barriers
The technological core of the new Helrom intermodal transport is a patented special wagon, the Helrom Trailer Wagon. For the first time, the Helrom Trailer Wagon allows truly barrier-free loading of all types of trailers, including non-crane trailers. The trailer is decoupled from the tractor, the Helrom Trailer Wagon opens up at the side, the trailer is shifted onto the wagon and the wagon is re-closed — and that's it.
Once at its destination, it is just as easily unloaded and taken the last mile to its destination. No loading terminals are required. A level ground next to a track is enough to put any trailer on the rail in just two minutes. This is a real revolution in freight transportation.
Location-flexible, terminal-free integration into the supply chain
Intermodal loading technology without terminals enables completely new, economically efficient approaches to route planning: a location-flexible integration into the supply chain near an automotive OEM or even directly at the production site.
Such route planning can be scaled much faster and adapted to changes in production and delivery conditions, in contrast to the rigid structure of large loading terminals. This means resilience through flexibility.
"We combine economic with ecological factors," explains Roman Noack, CEO of Helrom. "Until now, shippers who wanted to transport intermodally often had to take long detours to the nearest loading terminal. This was a significant time and cost factor. We bring the rail transport to the customer, not the other way around. The only things needed are a rail connection and parking lot."
Reliability, like road transport
One of the biggest challenges of freight transportation by rail so far — both in Europe and in North America — has been the issue of unreliability and lack of punctuality. An intermodal concept that does not solve this problem is not applicable to industry supply chains. Helrom is therefore taking a new approach — the aim is to achieve a quality of service and punctuality on a par with road transport.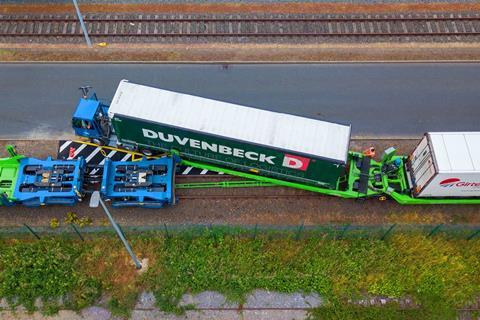 "We do not compare ourselves with the previous rail transport," emphasises Noack. "We think of the supply chain from the point of view of shippers, who have mainly used the road. Only if we can keep up here will we be a real alternative."
To achieve this, Helrom offers all steps of rail transport from a single source, with its own trains, loading hubs and personnel. This means a significant reduction in logistical interfaces and communication channels and thus a massive reduction in complexity.
The performance of this operating model is impressive."On our connection between Germany and Austria, we operate with a daily punctuality and reliability that were previously completely unknown in rail transport," says Noack. "Not a single train has failed yet. Our reliability also meets the needs of industry and OEMs who now handle their volume over the road."
Resilience and risk mitigation
This operating model also makes the new transport concept an economic success. The number of coordination processes for suppliers and plants is significantly reduced. A daily fixed schedule cycle without intermediate stops maximises punctuality and ensures high robustness and risk minimisation for the reliable operation of the transport chain.
For many companies, this point is crucial for feasibility. There is no need to make detours to the loading hubs, and the clear structures and simple cooperation of only a few process partners significantly increases the reliability of the transport. In addition, implementation is cost-neutral due to the elimination of high investments in special terminals.
Helrom also sees further potential in the US. "Without shifting more transport capacity from road to rail, the industry will not achieve its carbon targets," Noack emphasises. "That's why we offer rail transport of semi-trailers with the quality that an OEM needs. In intermodal transport, Helrom is a real gamechanger."
The potential of the innovative technology and the interface-free operating model extends beyond automotive production in Europe, says Noack: "I think the combination of sustainability, cost-effectiveness and flexibility that Helrom offers is a very viable option in the North American market as well."
Learn more about Helrom here.
Helrom is a gold partner for ALSC Global 2023, taking place 26-28 September in Dearborn, Michigan, where Roman Noack, CEO, Helrom will be a speaker.