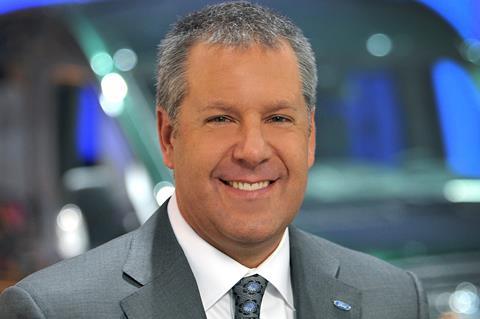 Joe Hinrichs (pictured) is leaving Ford at the end of February after 20 years with the carmaker, most recently as president of Ford Automotive. From March 1 Jim Farley is taking over as chief operating officer (COO) where he will be responsible for all global markets and automotive operations, Ford Smart Mobility and autonomous vehicles.
The management changes come as part of Ford's ongoing, global reorganisation and strategic plan to transform its product portfolio and provide customers with smart, connected vehicles and services as means of generating growth and a higher margin business (the plan is called Creating Tomorrow, Together).
Hinrichs started with Ford in 2000 as plant manager of the Van Dyke transmission plant in Sterling Heights, Michigan. Within two years he was executive director of the carmaker's Material Planning and Logistics organisation, responsible for material planning, production control, scheduling, inventory management, logistics and total material flow at Ford's manufacturing facilities worldwide.
He moved to become director of manufacturing for vehicle operations and then took on the role of CEO of Ford in Canada. Hinrichs also served as group vice president, Global Manufacturing and Labor Affairs, responsible for the operations of 105 assembly, stamping and powertrain plants worldwide.
Before his most recent appointment, which he took up in May 2019, Hinrichs served as executive vice-president and president of global operations for Ford Motor, where he was responsible for overseeing Ford's global operations.
"I thank Joe for his tremendous leadership over the past two decades," said Ford president and CEO, Jim Hackett. "Joe was instrumental to Ford's ability to survive the Great Recession a decade ago without bankruptcy or taxpayer bailout, and successfully headed Ford's operations in Asia-Pacific and North America.
Farley moved from Lexus to join Ford in 2007 as global head of marketing and sales. Since then he has held a number of senior positions including as executive vice-president and president of global markets. In this role, he was responsible for overseeing Ford's business units in the Americas, Europe, Middle East and Africa, and Asia-Pacific.
In his new role as COO he will oversee all of Ford's global markets and automotive operations, including product development, purchasing, manufacturing and labour affairs, and new model launches, amongst other responsibilities.
"Jim Farley is the right person to take on this important new role," said Hackett. "Jim's passion for great vehicles and his intense drive for results are well known. He also has developed into a transformational leader with the imagination and foresight to help lead Ford into the future."
Ford has also announced that Hau Thai-Tang, chief product development and purchasing officer, will take on an expanded role, adding responsibility for enterprise product line management and connectivity to his role.