From this month, Volvo Cars has appointed Kerstin Enochsson the global head of its Procurement division and Martin Corner head of its new Supply Chain Management organisation, which combines operations planning and logistics for inbound parts, outbound finished vehicles and aftersales.
The moves are both within Volvo Cars' Industrial Operations and Quality (IO&Q) cluster, and both Enochsson and Corner will report to Javier Varela, head of IO&Q.
Enochsson moves from her role as vice-president of operations planning, responsible for global sales and operations.
"In her new role, she will lead the company's strategic direction from a procurement perspective, focusing on our ambitions within electrification, sustainability, quality and cost performance," said a spokesperson for Volvo Cars. "Our Procurement function is crucial in establishing Volvo Cars as a recognised leader in sustainability with high ambitions in shifting [it] towards a fully electric car company by 2030, as well as having reduced carbon footprint per manufactured car by 40% by 2025."
Enochsson began her career at Volvo Construction Equipment back in 2007, having moved from Deutsche Bahn. In 2015 she switched to Volvo Cars as vice-president of corporate strategy and project office.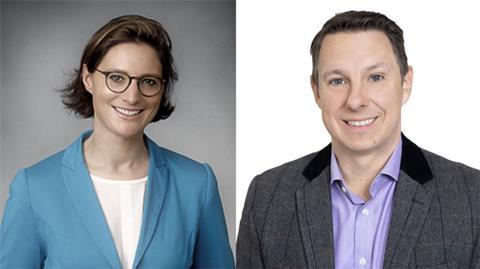 Martin Corner was previously vice-president of global supply chain logistics for Volvo, a role he took up in September 2019, and which saw further reorganisation in April 2020. Since then he has been responsible for seven divisions aross the supply chain, including the overall management of the company's inbound, outbound and service parts logistics, as well as trade and customs.
Corner will lead Volvo Cars' new Supply Chain Management (SCM) function, combining the global teams in Operations Planning and Supply Chain Logistics.
"SCM will be the link between the commercial and industrial systems, as well as executing all movements of parts, finished vehicles and aftermarket networks for the company," said Volvo's spokesperson.
In his updated role, Martin Corner will have greater responsiblity for sales and operations planning, which will lead to much more integrated purchasing, production and demand planning across Volvo's supply chain.
"The new function will also have a key role in Volvo Cars' transformation in the coming years, enabling all business areas, including the commercial transformation into premium, electrified, online sales and the ongoing transformation of the industrial operations, as well as Volvo Cars' climate neutral ambitions targeting 2040," said Volvo.
Corner has emphasised that Volvo's supply chain and logistics are under going significant transformation, especially as the carmaker shifts production towards electric vehicles and shifts its sales online. The carmaker will already sell its electric vehicles online only, and by 2030 it will sell only battery electric vehicles and only online.
At the Automotive Logistics and Supply Chain Live virtual conference in September 2020, he warned that it was time for logistics to "get out of the stone age".
Prior to Volvo, Corner was vice-president of supply chain management at Nissan Europe and Alliance production control for the Renault-Nissan-Mitsubishi Alliance. He brings more than 20 years of automotive experience to the new role.