President Biden has signed an executive order designed to fortify US supply chains, including those supporting the production of EV batteries and semiconductors.
The move comes as US automotive manufacturing battles with a shortfall in the supply of semiconductors and other products as a result of the Covid disruption and US-China trade disputes.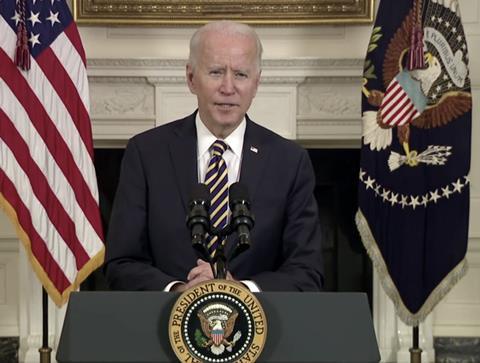 As the automotive industry moves towards electrification and integrates more digital technology into its vehicles, it becomes vulnerable to disruption, since supply chains for both semiconductors and battery cells are still concentrated in Asia. Currently, only 12% of global semiconductor manufacturing capacity is located in the US and the situation is similar for battery cells, although OEMs are making moves, mainly using joint ventures, to bring more of the battery supply chain to North America.
The order, which was signed on February 24, should accelerate this, as President Biden said it would address vulnerabilities in US supply chains across critical sectors of the economy so that the American people were better prepared to withstand any crisis and be self-reliant.
"Resilient, diverse and secure supply chains are going to help revitalise our domestic manufacturing capacity and create good-paying jobs…[.]", said Biden. "It's about resilience, identifying possible points of vulnerabilities in our supply chains, and making sure we have the backup alternatives or workarounds in place."
The order that Biden signed does two things. It sets up a 100-day review of four vital products needed by US industry: semiconductors, key minerals and materials (such as rare earth minerals), pharmaceuticals and advanced batteries, such as those used in electric vehicles (EVs).
"There's strong bipartisan support for fast reviews of these four areas because they're essential to protecting and strengthening American competitiveness," said Biden.
Semiconductor shortfall
In securing the supply chains supporting industry, Biden focused on the semiconductor shortfall and said the new administration in the White House would work with industrial leaders to identify solutions to the shortfall. It is going to cost $37 billion in the short term to install the required capacity to satisfy US demand for semiconductors onshore, something Biden said the government would be pushing for through House and Senate, but he recognised that the problem specific to semiconductor supply would not be solved immediately.
"In the meantime, we're reaching out to our allies, semiconductor companies, and others in the supply chain to ramp up production to help us resolve the bottlenecks we face now," he said. "We need to stop playing catch-up after the supply chain crisis hit. We need to prevent the supply chain crisis from hitting in the first place."
Speaking for the American Automotive Policy Council, which represents the interests of carmakers Ford, GM and Stellantis, its president Matt Blunt said: "We thank President Biden and the administration for their efforts to address the global shortage of auto-grade semiconductor wafers. The US auto industry needs immediate action to resolve plant closures and US vehicle production losses, which are impacting hundreds of thousands of American auto workers, our customers, our businesses and our economy. We additionally look forward to working with the administration on long-term actions that secure our domestic supply chain to avoid any future chip supply shortages."
The new executive order also sets up a long-term review of six industry sectors designed to identify policy recommendations and fortify supply chains. Those six sectors are: defence, public health, information and communications, energy, transportation, and supply chains for agricultural commodities and food production.
"We're not going to wait for a review to be completed before we start closing the existing gaps," Biden asserted.