Two former soviet republics, Uzbekistan and Kazakhstan, have set their sights on growing an automotive sector to help modernise their economies. These Cental Asian nations are focusing on strengthening their supply bases to boost local production of cars and parts.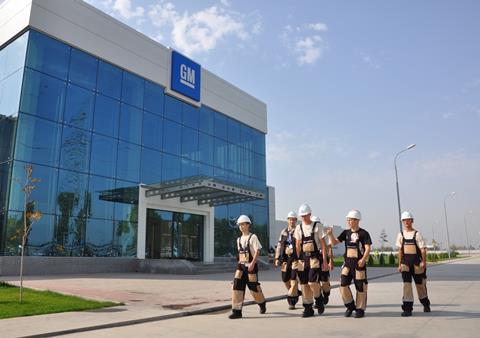 Uzbekistan and Kazakhstan have ambitions to grow the automotive sector as they industrialise and modernise their economies, but, like most other emerging markets, they will be reliant on Korean and Chinese investors in particular because American and European players have largely stayed away, as have the Japanese. Russian players are also expected to play a role, although on a much smaller scale than their Asian counterparts.
At present, imported technology and vehicle platforms rather than domestically developed models and brands are the core of vehicle production in these countries. Furthermore, until recently this has focused mainly on older or simpler models than those made by the companies supplying the technology. That has begun to change, and despite General Motors (GM) having formally pulled out of Uzbekistan, three of its current models, the Tracker SUV (Mokka in Europe), Equinox crossover and Trailblazer SUV have all gone into full production this year.
It is worth noting that neither country wants to be left behind technologically and both have persuaded Chinese and Korean brands to invest in electric vehicle (EV) production alongside conventionally powered vehicles.
Uzbekistan aims for regional leadership
The Uzbek government has placed the automotive industry at the heart of its economic growth ambitions and certain natural assets will be useful for these plans: Uzbekistan is Central Asia's most populous country (with 32m people) and shares borders with five neighbours (Kazakhstan, Tajikistan, Kyrgyzstan, Turkmenistan and Afghanistan). This was reflected in its sovereign bond issue earlier this year, which was heavily oversubscribed.
The mainstay of the country's industry is the company still known as GM Uzbekistan. Now that GM has reduced its stake in the company to 10% (possibly less, but this has not been confirmed), the company will be renamed, but for now it is able to use the GM prefix. It is also negotiating with the Russian authorities about opening a plant in that country too.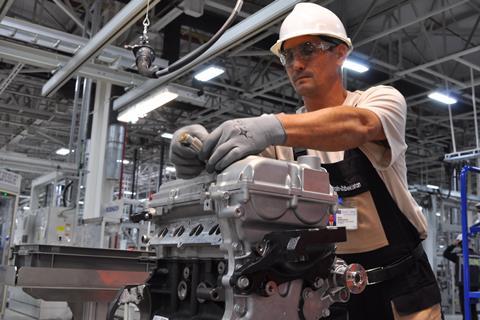 Having invested in its facilities and widened its product range during 2018, GM decided to leave Uzbekistan as part of its overall rationalisation plan, which has also seen it withdraw from manufacturing vehicles in Europe, India and South Africa.
As well as the reduction in its stake in the vehicle manufacturing unit (leaving the Uzbek government with 90%, through a state-owned entity, SC Uzavtosanoat), it is thought that GM also wants the authorities to buy out its remaining stake in GM Powertrain Uzbekistan. GM held 52% in January 2019, with the general expectation that this would soon be reduced, but there has been no further news on this since January.
Despite GM relinquishing legal ownership of the Uzbekistan operation, it will continue to license its technology to the company which continues to use its name. The Equinox crossover and Trailblazer SUV are due to be made at its factory in Tashkent, the capital, from the second half of 2019. This follows on from the Mokka small SUV starting production in Asaka, having been assembled on a semi-knocked-down (SKD) basis in Tashkent during 2018.
GM Uzbekistan's manufacturing footprint
The company currently makes ten models at three plants: four sedans, the Nexia, Cobalt, Gentra and Malibu; two small cars, the Matiz and Spark; plus the Captiva SUV and Orlando MPV; and the Damas minibus and Labo microvan, the latter two being former Daewoo models. Total production capacity is now 250,000 units and last year output totalled 220,667, compared with 135,470 in 2017 – an increase of nearly 63%.

The three factories and their models:
Asaka: Matiz, Spark (Ravon R2), Nexia (Ravon R3), Cobalt (Ravon R4), Lacetti (Gentra), Mokka
Tashkent: Malibu, plus Equinox and Trailblazer (added during 2019)
Pitnaka: Damas, Labo
The Asaka plant which forms the heart of GM Uzbekistan's operations underwent a significant investment and modernisation programme in 2018, importing GM specific tooling and equipment, and employees have been training at GM factories in South Korea, China, Thailand and India. Asaka has full stamping, welding, painting and final assembly capabilities; the other plants lack stamping and have smaller welding capacity.
GM Uzbekistan will continue to make cars under the Chevrolet brand for the local market and the same models under the Ravon brand for regional export markets, including Afghanistan, Tajikistan and, since April 2019, Belarus. The Belarusian arrangement is part of a broader two-way trade deal under which Uzbekistan sends Belarus vegetables, fruit, clothing and cars, with Belarus supplying tractors and construction equipment, medicines, epoxy resins, oil products and meat. This deal is part of a plan under which Uzbekistan intends to raise the value of automotive exports from $25.5m in 2018 to $118.6m in 2019.
GM Uzbekistan produced more than 1,000 vehicles a day for the first time in December 2018, reaching 34,117 for the month. It achieved this with a more than 10% cost reduction, mainly through increasing local content – something which is a key task for the industry as a whole.
When the Asaka plant – in fact the main factory in the country – started making cars, there were just four suppliers delivering 12 components. Now there are more than 100 local suppliers, producing 2,500 different items. This growth allowed the country to reduce parts imports by 4.5% (by value) this year, but there is still a long way to go. Production of 240 components has now been localised. This has helped GM Uzbekistan to achieve around 50% localisation across its three plants.
One project underway at the moment is the installation of a flat glass plant in the country, as all glass is currently imported from Russia, similar to the steel used in the Uzbek automotive industry. The Tashkent Metallurgical Plant has been established to address the latter sourcing issue.
Hyundai and PSA move in
It is not only the former GM operation which will drive the country's automotive industry forward. In May 2019, reports emerged that Hyundai would build a plant in Uzbekistan, to make up to 10,000 EVs in Kokand in the south-east of the country, around 230km from Tashkent. The project will cost $300m, with construction starting in 2021 and the first vehicle due to come off the production line in 2023. This is the second Hyundai project in Uzbekistan, as an existing plant makes commercial vehicles (from 1-50 tonnes), plus inter-city and tourist buses.
Uzbekistan intends to raise the value of automotive exports from $25.5m in 2018 to $118.6m in 2019
Meanwhile, PSA is a rare case of a European vehicle company which has shown an interest in the country. In May 2017, it granted a licence to SC Uzavtosanoat (the same state entity which now controls GM Uzbekistan) to make up to 16,000 light commercial vehicles based on PSA platforms for the local market and regional export markets. These vehicles will be made in a new plant to be built in the Free Industrial Zone in Jizzakh, approximately 200km south-west of Tashkent.
A total of €130m ($145.3m) will be invested in the operation, with PSA holding a 50% stake. PSA will set up the plant, ensuring that it runs according to its global standards. The factory has been set the target of achieving 50% local content, in line with the level already achieved by GM Uzbekistan.
Kazakhstan plays catch up
In 2019, the Kazakh automotive sector expects to make 60,000 vehicles, doubling the volume made in 2018. It had made only 17,000 vehicles in the first five months of the year, so the second half of 2019 will need to see a rapid increase in output to meet the target. The next objective is to get to 100,000 vehicles a year, and if it does so at the same time as achieving its targeted 50% local content level, it will be on course to rival the automotive manufacturing sector in Uzbekistan.
Three new plants are being opened this year, a Hyundai car plant, a Kamaz joint venture for trucks (making around 1,500 units a year) and an agricultural machinery plant, run by Kirovets from Russia. These will be joined by a new assembly line built by Saryarka AvtoProm in an existing facility which will make 16,000 Ravon vehicles a year in Kostanay. The Ravon R3 and R4 will be made from kits supplied from Uzbekistan.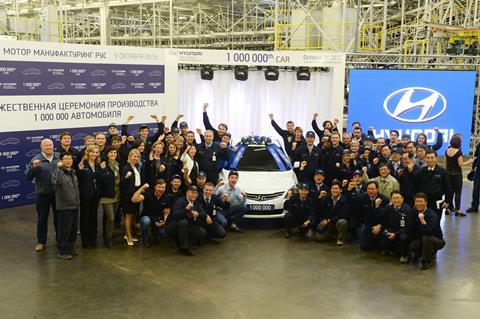 These new plants will build on the existing Kazakh automotive manufacturing sector, which also includes low-volume assembly of SsangYong SUVs and Hyundai buses. The major car company is Asia Avto, which has made Lada, Chevrolet Skoda and Kia models under contract since 2002 in Ust-Kamenogorsk in the east of the country. A second plant, in the Kostanay region, also assembles Chevrolet, Hyundai, Peugeot and Niva models. These are made mainly for the local market, but a small number are exported to Belarus, nearby Tajikistan and Russia.
One of the major future players in Kazakhstan will be JAC Motors. The company has been making EVs, but having test-built just 30 in the last three years much more progress is needed. To accelerate its growth in the country, it has acquired the Allur Group, which will become the local assembler for JAC, with an installed capacity of 50,000 units. Allur's existing plant in Kostanay is actually the only car plant in the country which has full welding and painting capability.
JAC's owner, Genertec, is investing $1.1 billion in the country's automotive sector, with the intention of raising capacity in Kostanay to 100,000 a year and achieving a local content level of 50%. The plant will switch from US, Korean, and European brands and make vehicles under the Chinese JAC, Anaki, Howo and Anteng brands.