The best way for OEMs to prepare for Brexit is to act like it has already happened, delegates were told at the Automotive Logistics Global conference in Munich, this week.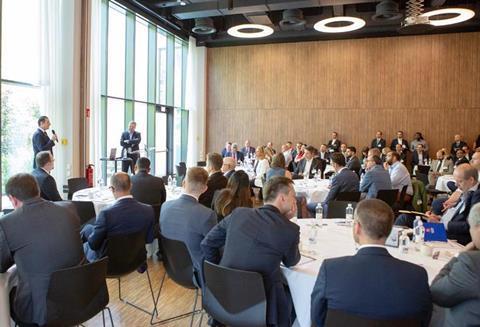 Christoph Stürmer, Autofacts Global lead analyst, PWC, revealed that vehicle production in the UK is down 21% year-to-date, with sales down 3%. "OEMs have two problems, he said. "The strategic problem of Brexit, in terms of where to put factories and source vehicles, and the second problem of certification.
Brexit uncertainty has stifled investment in the automotive sector over the last couple of years. As has been previously reported by the Society of Motor Manufacturers and Traders (SMMT), it almost halved last year.
The prospect of the UK leaving the EU without a deal at the end of October this year could bring crippling disruptions to the automotive sector and wider consequences for the UK economy as a whole. Delegates at this week's conference heard that it was up to OEMs and their suppliers to mitigate that disruption for the good of the industry.
Stürmer warned delegates that things were not going to get better this year, adding that OEMs could not wait for government to make up its mind on trade and had to make investment decisions ahead of any final arrangement.
Wolfgang Lehmacher, senior supply chain strategist and independent advisor, backed up the point and suggested that no CEO could afford to wait for clarity adding that it would be difficult to find warehouse space and customs clearance, and measures needed to be in place to secure this as soon as possible.
From hub to spoke
He went on to highlight how Heathrow airport had raised £1.6 billion ($1.98 billion) to 'brace for Brexit', but said there was a less clear picture at the UK's sea ports, including Southampton and Felixstowe.
"The UK was a hub for Europe, but that hub will become a spoke," said Lehmacher. "People put hubs where volume is and post Brexit, that can't be in the UK anymore."
On the question of certification, Stürmer discussed the Worldwide Harmonised Light Vehicle Test Procedure (WLTP), the new CO2 emissions test, which has also had an impact on profitability in the automotive sector.
Stürmer explained that the problem of the procedure is that it is now needed for every version of a vehicle, not just for diesel variants.
"This is complicated for something like the VW Golf or BMW 3 series," he said. "The number of tests that had to be fulfilled has increased by a factor of 10 to 100 and the bad news is that the tests will have to be redone by September this year because of another incremental test on the basis of WLTP."
Conforming to that test was something UK carmakers would have to do regardless of being outside Europe. He said than 50% of vehicles being produced in UK will have to comply with EU regulations, regardless of whether the UK is in the EU or not.
Tariffs, trade and technology: A new era for European automotive industry
1

2

3

4

5

6

Currently reading

Deal or no deal, the UK auto industry needs to invest now