US ports and logistics providers are being challenged by a consumer shift towards bigger vehicles, while OEMs are operating under the shadow of global trade wars. Speakers at the 2019 FVL Import Export in Baltimore discussed the obstacles and the opportunities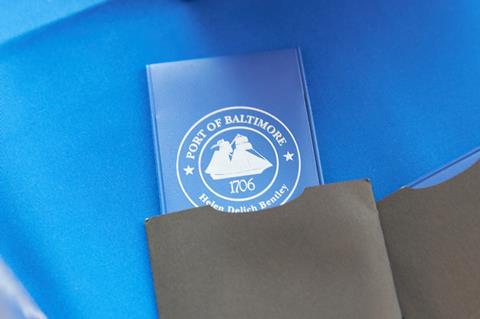 Baltimore is the number one vehicle-handling port in the US, a position it has occupied for the past eight years, and it is still going strong. In 2018, the port posted an increase of almost 43,000 units, up more than 5% on the previous year, to reach a total of over 850,000 units handled, both imports and exports. It was a record for the port.
Given that increase, it is no wonder that one of Baltimore's main terminal operators, Amports, is looking for more room. "Size matters" commented Gary Salvador, the company's vice-president of sales and marketing, at this year's FVL Import Export summit held in Baltimore.
Yet there are other major trends affecting North American vehicle movements that have implications for capacity, and not just at Baltimore. One of them is the growth in vehicle size as US car buyers opt for bigger vehicles. Those vehicles are taking up more space at the ports. According to Salvador, the vehicle mix Amports is handling at Baltimore is made up of around 80% SUVs and pickups, and these types of vehicles are on average 43% bigger than the cars the ports were originally built to handle.
"What I used to do with 200 acres with the cars now takes me 286 acres. Size matters, because these bigger [vehicles] are taking up more space," Salvador explained.
At the same time, the ocean-going vessels now delivering these cars are bigger than ever, with post-Panamax vessels capable of carrying more than 8,000 units. That is leading to a dramatic increase in demand for room to park vehicles delivered at a first point-of-rest location.
What I used to do with 200 acres with the cars now takes me 286 acres. Size matters, because these bigger [vehicles] are taking up more space – Gary Salvador, Amports
"When I used to get 1,000 vehicles a week, I would need eight acres for the first point of rest," said Salvador. "Now, you have a big boat dumping 4,000 cars a week, so I need 32 acres as a first point-of-rest before I start doing all of the value-added services to the cars. That all requires more space."
The problem is that every customer wants a vehicle terminal to handle its peak volumes at the same time, but is willing to let vehicles dwell at the ports and take up space when the peak throughput has been dealt with.
Added to this is the impact on labour. To process a surge of 4,000 cars a week requires more staff on hand, but the question for a terminal operator is what to do with employees at other periods in the month when throughput is lower.
"We are also competing [for labour] with companies such as Amazon and FedEx," noted Salvador. "For us to maintain labour, we need to work the month around."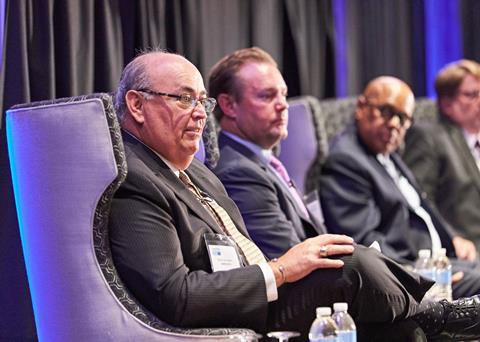 However, the presence of other industries at the ports is also a benefit, according to Andre Elmaleh, senior manager of business development, non-container, at Northwest Seaports Alliance (NSA). He recognised the need to maintain enough space for OEM customers, while at the same time acknowledging that there was competition for it from other sectors.
"You have to look at it in total," said Elmaleh. "We look to diversify our portfolio. We have a strong container partnership and have doubled the size of our auto facility. It is about the life of the investment. Logistics will be different in 30 years and you have to build in redundancy to cope with the change in the future."
NSA opened a new vehicle-handling facility late last year in Tacoma which is being managed by WW Solutions, currently handling Nissan volumes. It is the second such facility at Tacoma, after the Auto Warehousing Company operation that has been present since 1977. According to Elmaleh, Tacoma has become the new port of entry for Nissan in the Pacific northwest and this facility will push annual volumes up by 15% over the 2018 figure of around 146,000 units.
Preparing for EVs
For the future, there are other considerations. The rise in electric vehicles (EVs), while not as fast in the US as some had predicted, nevertheless requires new investment in such things as charging equipment and training.
"There needs to be investment in the equipment we need to charge these new types of vehicles and the training of people, especially safety training," warned Salvador. There are a lot of different technologies out there, but first and foremost our people and [customers'] products need to be maintained safely."
Andrew Higashi, director of strategy and analyst PwC, provided details on the growth in EVs and what factors were affecting their uptake. Battery electric vehicles (BEVs) sales, for example, have remained relatively low because the cars are still expensive and they are being led by the premium segment, a situation which is unlikely to change until 2022 at the earliest, when emissions regulations will start to drive a higher adoption of BEVs and hybrid vehicles.
We expect that by 2030 about 15% of vehicles will be BEV globally, but 9-10% in the US – Andrew Higashi, PwC
Higashi said it would be around 2025-2027 before the market saw a tipping point when the price of BEVs drew level with traditional combustion engine vehicles. "Despite all the announcements being made about EV investment, you will not see mass adoption until after 2027, when the economics take effect," he said.
Hybrid vehicles will continue through that period, but ICE vehicles could disappear thereafter as OEMs opt not to carry two different powertrains, or governments mandate that vehicle-makers produce only electric versions.
However, Higashi also said that to get $100 per kilowatt hour there needs to be a step change in battery technology, which has not yet been achieved. "Solid state is not proven and there is still some uncertainty on timing," he said.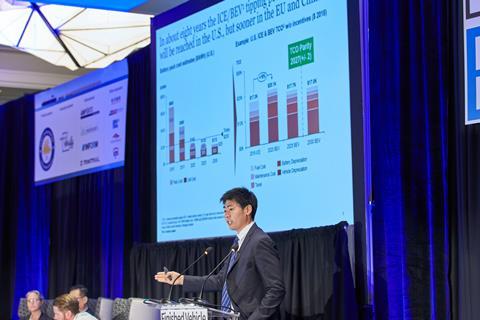 The US is likely to lag behind the rest of the developed world in market share of BEVs because emissions standards are the intermediate driver for EV adoption, and regulation is stricter in regions such as Europe and China than in the US.
"Taking all that into account, we expect that by 2030 about 15% of vehicles will be BEV globally, but 9-10% in the US," said Higashi.
For their part, the OEMs are looking at a range of infrastructure developments to support EV distribution in North America. American Honda's Chuck Kendig, assistant vice-president of sales and production, said the company had carried out a study with one of its rail partners on what the vehicle ramp of the future would look like. It concluded that direct current (DC) fast charging stations would be needed as more EVs were moved. The vehicles should have plenty of power to dwell at the ramp as some delays are inevitable in the delivery process.
Ford, meanwhile, has not seen the need for significant changes to its outbound network since the launch of the Focus EV in 2012, according to Leland Chang, the OEM's manager of North America vehicle logistics – emerging technology development. However, he noted that EV ramp up was occurring and said that beyond 2027 the situation could change.
Managing inventory amid slow sales
The slow pace of BEV adoption may give port processors time to prepare with regard to new infrastructure, but as Salvador indicated, increased vehicle and vessel sizes have made space a top priority.
The recent announcement that terminal operator Tradepoint Atlantic will be adding Volkswagen (VW) traffic to Baltimore in 2020, at a new terminal on Sparrow's Point, will further strengthen the port's vehicle-handling profile. The new facility will cover more than 46 hectares and handle around 120,000 vehicles a year from VW's European and Mexican production plants. That facility adds to the OEM's five other port processing facilities in the US: Benicia and San Diego, California; Houston, Texas; Davisville, Rhode Island; and Jacksonville, Florida; plus its distribution hub at the Chattanooga plant, Tennessee.
At the same time, however, OEMs are looking at a period of cooling vehicle assembly in North America, which is forecast to remain around the 17m mark until 2021. Figures from PwC suggest that assembly will cross the 18m mark in 2022 and climb toward 19m by 2025.
"There needs to be investment in the equipment we need to charge these new types of [electric] vehicles and the training of people, especially safety training," Gary Salvador, Amports
In addition, port processors are looking to work with their OEM customers to create profit by adding value to the cars. Salvador stressed that ports should be profit centres where value can be added through the provision of other services so that, despite steadier or lower numbers, revenue can still be generated.
"This is a cyclical business but we have the chance now, when it is steady, to right-size for the market," he said. "If it goes down it will hurt everyone, but right-sizing means adding value to the car. OEMs could help their port processors prepare for the next cycle of increase."
From the vehicle-maker perspective too, maintaining total production of 17m over the next three to four years is no bad thing, though American Honda's Kendig said it was important to control inventory, noting that dealers were already using extra storage.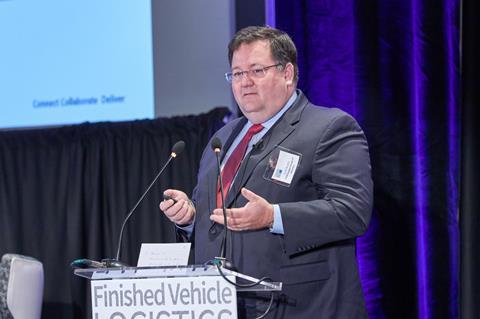 "Most OEMs are not willing yet to give up the dream of the sales number, so they will store [vehicles] and look at the [sales] incentives," he said. Kendig added that American Honda was using other techniques to control the release of vehicles as sales slow down.
The vehicle-maker is staging volumes close to its production facilities rather than shipping excess inventory into the system on purpose to have it sit on the lots, though Kendig admitted that this required a lot of extra time to manage. The company is idling a plant in Mexico this coming October and closing its Swindon plant in the UK next year, as well as moving the Civic to the US for assembly. Kendig said the carmaker was also "feathering" or alternately halting assembly on lines in other facilities for certain periods.
Scott Mabry, senior manager of business optimisation and planning for finished vehicle logistics at Volkswagen Group of America (VWoA), said the carmaker had sought out additional storage lots adjacent to its facilities and was discussing production curves with logistics partners, holding monthly meetings to keep tabs on the situation. He said that VW's return to Baltimore would also provide relief.
Trade within North America
One of the main questions relating to trade within North America at this year's summit was whether the United States-Mexico-Canada Agreement (USMCA) would be successfully ratified in October as scheduled. After 16 months of uncertainty following Trump's announcement that the two-decades-old North Atlantic Free Trade Agreement (Nafta) was to be renegotiated, it was announced in October last year that a new deal had been struck, one that Trump described at the time as "a great deal for all three countries [correcting] the many deficiencies and mistakes in Nafta".
One of the issues the Trump Administration was keen to renegotiate was local content levels. Under USMCA, that would be raised to 75%, up from 62.5% demanded by Nafta.
In the context of volatile global trade, PwC's Higashi pointed out that despite the initial agreement, USMCA had yet to be ratified and may not be until 2020. Picking up this point, Al Zapanta, president and CEO of US-Mexico Chamber of Commerce, who has been at the centre of negotiations between North American nations since the original Nafta discussions, said the political situations in all three countries made ratification in October essential if trade was not to suffer prolonged uncertainty.
I don't anticipate a change in the trade regime between our three countries if USMCA doesn't go through because we are still working under Nafta – Al Zapanta, US-Mexico Chamber of Commerce
One issue is Canada's federal election, which will be held on (or possibly before) October 21. Canada's Parliament still has to vote on an implementation bill to approve the deal. Normally, Parliament would not return until after the election on October 21, but it could be recalled for an emergency session prior to early September. Prime Minister Justin Trudeau is eager to pass this law ahead of the election. A new party in charge of Canada could seek further negotiations, pushing ratification beyond October.
At the same time, Mexico's Congress is coming into session in September and the government of President Andres Manuel Lopez Obrador wants to roll back recent labour reforms, Zapanta said. Approval was gained in the Senate in April for a new law that gives workers the right to bargain collectively with employers through independent unions and elect union representation by secret ballot, a move necessary for USMCA approval. According to Zapanta, that is now in question.
Any delay will also mean that final negotiations will have to take place during the US presidential election campaign, which gets underway in earnest in October, and Trump will likely put further negotiations on hold as he seeks re-election.
Asked if a delay in signing could lead to a unilateral withdrawal from the deal, Zapanta said that it was unlikely for the US because it still trades on Nafta rules that were voted on by Congress, in which the Democrats have a majority, and any withdrawal would need a similar vote.
"I don't anticipate a change in the trade regime between our three countries if USMCA doesn't go through because we are still working under Nafta," said Zapanta. "Nafta is still in play and won't be knocked out unless Canada or Mexico pull out."
Global trade disruption
Trade and tariff disputes more globally are certainly having an impact on the industry. Since March last year, the US has applied steel and aluminium tariffs on imports under Section 232, the Department of Commerce investigation into tariffs and national security. Last year, Trump announced tariffs of 25% on steel and 10% on aluminium, two key input materials for vehicles, and the move led to higher prices for the metals worldwide. That has had a knock-on effect for manufacturers of vehicles and components, which have found their costs rising – a burden particularly felt by smaller parts-makers. However, Mexico and Canada were made exempt from the tariffs in May this year.
Nevertheless, continued tariffs are a burden for carmakers. The ongoing trade war between the US and other countries, which includes the targeted Section 301 tariffs on a wide range of goods from China as well as retaliatory tariffs imposed by China, Turkey and the EU on US goods, is a situation many at this year's summit in Baltimore were lamenting.
The ongoing dispute between the US and China in particular has damaged both economies, and has affected vehicle and parts shipments between the two nations. This was confirmed by Ford's Chang, who said exports to China were down significantly and that the carmaker had changed its plans for a greenfield manufacturing site in North America during the last US election campaign.
"Whether it is challenges to Nafta or just rhetoric… it does influence the nature of economics and decisions on what happens," he said.
American Honda's Chuck Kendig said that trade uncertainty and the continued threat of tariffs was the real problem, and had already cost the company. In June this year, the US administration gave seven days' notice that it would impose tariffs on imports from Mexico – a surprise move designed to force the Mexican government into tackling illegal immigration across the US border.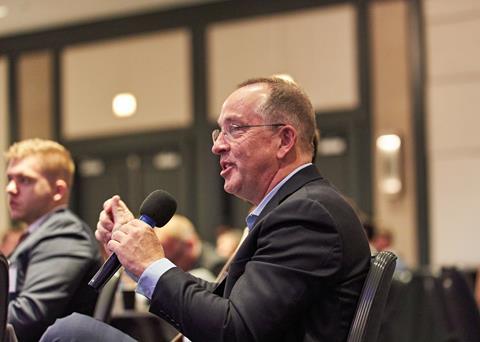 President Donald Trump said on Twitter that the US would start with a 5% tariff on all goods, including vehicles and parts, and would escalate the levies monthly up to 25% by October this year. Ultimately the threat came to nothing – but not before Honda decided to avoid a $60m bill by shifting substantial vehicle volumes north ahead of the June 10 deadline. Despite the cost, Kendig said he was glad that Honda had been able to test the move as it was likely to happen again.
Uncertainty is the real problem, Kendig emphasised, saying that he looked forward to USMCA finally being signed and Section 232 also being resolved.
Scott Mabry at VWoA agreed that trade uncertainty was the bane of vehicle-makers. He said that while VW Group was a global company and had production sites in different parts of the world, enabling it to shift production in response to tariffs, it was still a priority to have a more predictable industry. "We can deal with a problem if we can predict it," he said, adding that hours spent discussing what tariffs could mean without any real knowledge of whether they were going to be applied was a waste of resources.
That was the general agreement among speakers at this year's summit in Baltimore: wasted resources were damaging for their businesses and for the industry as a whole, especially at a time when space is at a premium and investments need to be made for future vehicle technology.
Challenges (and opportunities) for US automotive industry
1

2

3

4

Currently reading

FVL Import Export: Sizing up growth opportunities in a changing market