Rail freight workers in the US have secured an immediate pay rise following recommentations from the Presidential Emergency Board.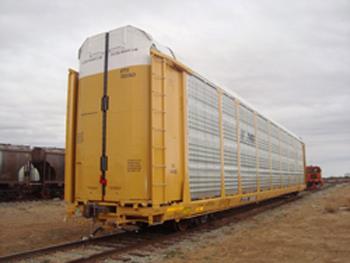 Disruption and delays affecting the US rail freight network became the subject of presidential intervention in August, when a raft of recommendations to improve services and lessen delays was proposed on a broad industry level.
Less than two weeks later, on August 16, the Presidential Emergency Board (PEB) issued settlement recommendations to attempt to resolve a longstanding dispute over pay between railway workers and operators.
Disputes started in November 2019, when railway workers initially asked for a pay rise and formal notices were served between unions and the rail operators regarding what would be offered. When no agreement was reached, the issue was taken to the National Mediation Board (NMB) and by February this year, all parties had filed to the NMB.
The NMB worked with all parties involved but was unable to reach an agreement. Consequently, the NMB recommended that presidential intervention was needed and the 124-page PEB report and recommendations were prepared to summarise the existing dispute and find a way forward.
Immediate compensation
Railway workers were seeking 24% pay rise, including back payments and improvements to working conditions. Today's deal means that they will receive that compensation increase, spread over the course of the period 2020-2024, with an immediate 14.1% increase and annual $11,000 payouts, across the five years.
The deal was agreed with the National Carriers' Conference Committee (NCCC), representing the rail freight operators and railroads and with three rail workers' unions: the Transportation Communications Union, Brotherhood of Railway Carmen and International Association of Machinists and Aerospace Workers.
Some of the additional compensation is retroactive and will be paid out immediately, following the unions' ratification of the agreement. There is a 30-day period during which the agreement can be ratified or re-entered into dispute, ending on September 16, with the NCCC indicating it did not want to risk strikes if workers did not accept the deal.
"The NCCC would like to thank these unions' leadership teams for their professionalism and efforts during the bargaining process. It is critical for all stakeholders – including customers, employees and the public – that all parties promptly resolve the negotiations and prevent service disruptions," said the committee in a statement. "Accordingly, we look forward to additional discussions with the unions that have not yet reached tentative agreements and will continue seeking voluntary agreements based on the Presidential Emergency Board's recommendations."
From the unions' side, Josh Hartford, special assistant to the international president of the Transport Communications Union, said. "This comes after a long, tough process that began almost three years ago and led us through every step of the Railway Labor Act, including a Presidential Emergency Board. The IAM Rail Division fully supports the tentative agreements and recommends members vote 'yes.'"