Changes to social and economic conditions, including the recent removal of a ban on female drivers, could give a welcome boost to the automotive industry in Saudi Arabia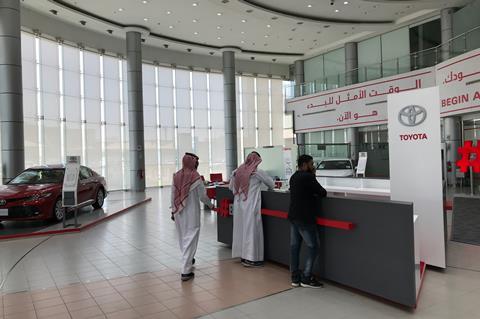 Saudi Arabia boasts access to over 400m consumers in the Middle East and North Africa (MENA), a vast region where annual car sales are currently only around 2.3m. Another benefit for companies looking to do business in the area is the Greater Arab Free Trade Agreement (known as Gafta) which permits duty-free access to 17 countries in MENA if local value added is 40% or above. Yet the Saudi government has ambitions to serve an even bigger area, taking advantage of its location between Europe, Africa and Asia and its access to 2 billion consumers within a three-hour flight time.
Saudi Arabia's population of 31m people is relatively affluent in the context of the six-nation Gulf Cooperation Council (consisting of Saudi Arabia, Bahrain, Kuwait, Oman, Qatar and the United Arab Emirates), with a GDP per capita of $24,252. This figure is also rising by 5-6% a year, which is impressive by European and North American standards.
Additionally, the government has embarked on an array of industrial, social and entertainment projects under its 'Vision 2030' initiative to diversify the economy away from its decades-long reliance on the petrochemical industry. Social policy will certainly have an impact on the automotive industry, including the removal of the longstanding ban on female drivers in June 2018, which has now liberated half the population to drive.
"With an anticipated increase in global oil prices in the future, it is expected that vehicle sales in Saudi Arabia will grow at a CAGR [Compound Annual Growth Rate] of 3.6% until 2023" – Vishal Sanghavi, Aranca
According to Vishal Sanghavi, manager of business research and advisory at Mumbai, India-based consultancy Aranca, Saudi Arabia's 11m-unit car market has yet to reap the benefits of such change but this is "likely to change drastically over the next two to three years".
Saudi Arabia already accounts for about 40% of total vehicles sold in the Middle East. With the benchmark international oil price rebounding to an average $66 in 2019, overall automotive sector investments into the kingdom are expected to rise, leading to an increase in demand for trucks as well as buses used for the transport of labour.
According to Sanghavi, factors such as reduced disposable income on account of the 2015-2017 decline in oil prices, plus the introduction last year of 5% VAT on all imported vehicles, contributed to a double-digit, year-on-year decline in vehicle sales volumes during the 2016-2018 period.
"With an anticipated increase in global oil prices in the future, it is expected that vehicle sales in Saudi Arabia will grow at a CAGR [Compound Annual Growth Rate] of 3.6% until 2023. However, it is less likely that the kingdom will reach its 2015 high of over 830,100 units sold by 2023," cautions Sanghavi.
Saudi stats: A nation and its automotive industry
– 11m-unit car market
– 40% of vehicles sold in the Middle East
– Total vehicles sales in 2018: 422,000 (340,000 cars and 82,000 commercial vehicles)
– Vehicle sales predicted to grow at CAGR 3.6% until 2023
– Japan, South Korea and the US account for 40% of imported vehicles (5% of which are re-exported within the region)
– 5% VAT on imported vehicles (introduced last year)
– Production capacity of four main heavy-duty truck-makers (Isuzu, Mercedes, Man and Volvo): 12,000 (expected to reach 39,000 by 2022)
– Value of commercial vehicle spare parts market: over $2 billion (predicted to grow to $3.65 billion by 2020)
– Bestselling brand: Toyota (more than 30% market share by volume)

Reliant on imports
Like the Middle East as a whole, Saudi Arabia is primarily an import-driven automotive market, with sales of all vehicles amounting to approximately 422,000 units in 2018, including 340,000 cars and 82,000 commercial vehicles. Local vehicle production in Saudi Arabia is largely limited to heavy-duty commercial vehicles (from completely or semi-knocked down kits).
Four major global OEMs – Isuzu Motors, Mercedes, Man and Volvo – have a combined production capacity of about 12,000 heavy-duty vehicles and are expected to reach 39,000 by 2022. Isuzu has produced Renault and Volvo-branded vehicles at King Abdullah Economic City since 2015, but announced in 2012 that it would start assembling some of its trucks in Dammam. It aims to produce 25,000 trucks a year by 2020 and to export 40% of its production at peak volumes.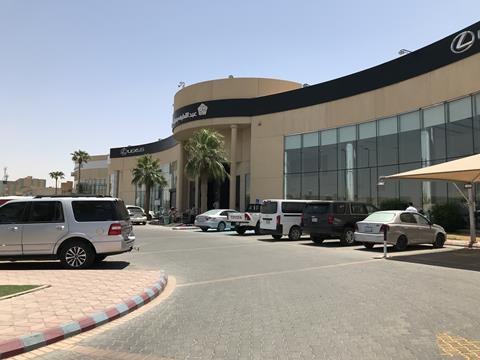 The principal countries from which Saudi Arabia imports its vehicles are Japan, South Korea and the US, which account for over 40% of the total. A small proportion of imported vehicles (estimated at 5%) are shipped to neighbouring nations in the form of re-exports, of which the UAE, Jordan, Lebanon and Egypt are the key destinations. Authorised OEM dealers – for example, Abdul Latif Jameel (ALJ) for Toyota, Al Majdouie Motors and Mohamad Yousuf Naghi Motors for Hyundai – are responsible for the import and sale of vehicles in Saudi Arabia.
Yazan Shukair, managing consultant at AEI Saudi, which provides market entry, insight and human resources services, says that most imported cars enter the country through Jeddah and Dammam ports. From there, they are normally moved by truck to dealerships – in Saudi Arabia, a relatively cheap method of transport. By rail, it is possible to move cars to Riyadh from Dammam but not from Jeddah, according to Shukair. A project called the Saudi Landbridge is currently underway to connect Riyadh and Jeddah by rail.
Research by Aranca indicates that Toyota leads Saudi Arabian vehicle sales overall, taking more than 30% of the market in volume terms. Hyundai is the second-largest player, accounting for over 15%, followed by Nissan, Mazda and then Chevrolet. Saudi customs regulations require that imported cars and other light vehicles must have been manufactured less than five years before entry into the country, while the limit for heavy trucks is ten years.
Arabian adventures
A December 2018 report released by the Korea Trade-Investment Promotion Agency (Kotra), which consolidated research by Business Monitor International, Euromonitor, Saudi Arabian Industrial Cluster and Intertek, struck an optimistic note regarding prospects for new entrants to the market.
The report said that in September 2018 Saudi Arabia's Public Investment Fund (PIF) concluded an investment agreement worth over $1 billion in US electric vehicle manufacturer Lucid Motors, through a special-purpose vehicle wholly owned by the PIF. Meanwhile, the investment arm of Saudi conglomerate ALJ, the local distributor for Toyota and Lexus, has agreed to provide almost $500m in funding to US-based electric pick-up manufacturer Rivian Automotive, according to a November 2018 report by Reuters.
"Aftermarket parts for off-road vehicles and SUVs have excellent potential in Saudi Arabia" ­– 2018 Kotra report
National Automobile Industry Company has been producing a range of Mercedes-Benz trucks in Jeddah since 1977, while Saudi Automotive Manufacturing Company has operated a production plant for Man Truck and Bus in the Red Sea city since 2009.
However, when it comes to local production, not all foreign marques succeed. "Jaguar Land Rover attempted to engage with Sagia [the Saudi Arabian General Investment Authority] in order to place some production lines in the Kingdom in one of the new economic cities. Unfortunately, they were ultimately unable to agree terms and the project was subsequently shelved," reveals AEI Saudi's Shukair.
Mustering clusters
The Saudi government is seeking to develop domestic manufacturing capability to create jobs and facilitate the transfer of technology, according to Aranca's Sanghavi. "The government has also initiated the National Industrial Clusters Development Program [NICDP] to provide support in the form of consultancy and financing for potential investors," he states.
Industrial Clusters works with leading Saudi business partners such as the large chemicals conglomerate, Sabic, the aluminium smelter, Ma'aden, the nation's largest industrial firm, Tasnee, and the world's largest oil producer, Aramco, to produce advanced automotive materials, including carbon black and synthetic rubber (for tyres), carbon fibre, nylon 66, ABS, polyurethane, composites, steel sheets, aluminum sheets and molten aluminum.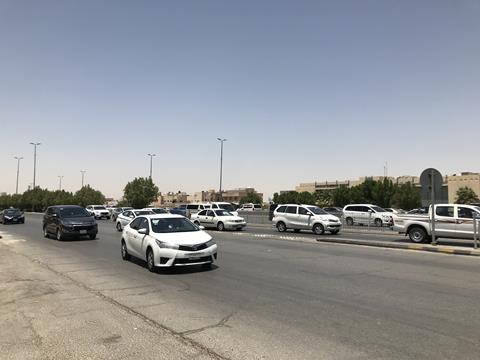 To further develop the automotive value chain and exploit the availability of nearby raw materials such as aluminium, the NICDP has identified powertrain and structural automotive components as key segments for development. These facilities are expected to serve both the export market and the assembly plants of the OEMs which operate in the country as part of the nascent Auto City development.
Crucially, if Saudi-based automotive manufacturers find that certain products are not available from domestic suppliers, they are exempted from customs duties on imported raw materials, associated equipment and spare parts used for the production of such items.
Enticingly for foreign investors considering setting up car manufacturing plants in the kingdom, once an automotive project is operational, capital and profits can be repatriated without restriction.
A blossoming aftermarket
Saudi Arabia's growing commercial vehicle production industry has led to the development of an extensive spare parts supply chain for this sector across the country. According to information cited in the Kotra report, Messe Frankfurt Middle East estimates that the Saudi spare parts market for commercial vehicles was worth over $2 billion in 2014 and could grow to $3.65 billion by 2020.
The searing temperatures and challenging desert conditions of Saudi Arabia and neighbouring GCC states certainly put additional stresses and strains on vehicles; as such, demand for replacement tyres, batteries, coolant, brake pads, gearboxes and parts for air conditioning units is higher than in more temperate climates.
For personal vehicles, demand for spare parts has increased significantly over the past decade, boosted not only by a growing need for repairs, but by drivers modifying their vehicles. Robert Bosch, Continental and Denso are the leading tier suppliers with a sales presence in the country. Used automotive parts are banned from entering Saudi Arabia, although reconditioned engine and transmission parts are exempt if they comply with certified standards.
"We expect rapid additional growth in the coming years as females increasingly overcome traditional norms and cultural barriers and start using the roads in far greater numbers" – Yazan Shukair, AEI Saudi
"Aftermarket parts for off-road vehicles and SUVs have excellent potential in Saudi Arabia," said the Kotra report. "To be successful, manufacturers must provide full support for dealers in terms of advertising, sales and customer service, and training."
Figures from the NICDP show that the GCC tyre market is growing at a healthy 6% CAGR and is forecasted to reach 41m tyres by 2020. Commanding the biggest share of this segment, at 62%, is Saudi Arabia. The clusters group claims that a world-class tyre manufacturing plant in Saudi Arabia would be the first in the region and would gain competitive access in the GCC, Gafta, Near East and African markets.
The NICDP states that a number of tier two and tier three suppliers also operate in Saudi Arabia, ranging from the Petrochemical Conversion Company for plastic injection moulding, to Saudi Lamino Industries for windshield production, Saudi Filter which supplies Volvo in Sweden, and Middle East Batteries' Mebco joint venture with Johnson Controls.
Rules and regulations
Saudi Arabia places great store by its rigorous industrial standards and conformity assessments, regulated and enforced by the Saudi Arabia Standards Organization (SASO). However, Kotra laments that innumerable industry standards and regulations "create burdensome documentation and complicated import requirements that result in customs clearance delays and enforcement inconsistencies".
From 2017, SASO ruled that extra safety regulations for new cars marketed in the country would be strictly enforced. Essentially, these are safety standards conforming to guidelines in the GCC technical regulations for vehicles. The new regulations specify, among other rules, that front seat air bags for passengers, smart braking system and anti-lock brakes are mandatory.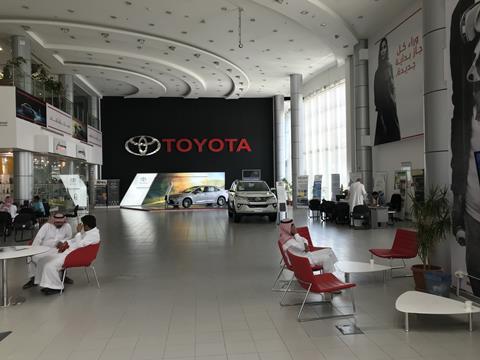 Saudi Customs also mandates that all imported products must display country of origin markings, plus a certificate of origin. In addition to the previously mentioned age limits on imported cars and trucks, the import of salvaged cars, emergency vehicles, taxies and rental cars is also outlawed.
But outlawed no longer are those women drivers, one of a plethora of societal changes wrought by Crown Prince Mohammad bin Salman bin Abdulazziz Al Saud in his capacity as Chairman of the Council for Economic and Development Affairs.
In the opinion of AEI Saudi's Shukair, the removal of the female driving ban has definitely had a positive effect on the automotive industry. "Lots of automakers are targeting female drivers in their marketing campaigns and, of course, a whole new supply chain is being created dedicated to Saudi females." Progress has been slow in terms of the actual number of women driving, but this was to be expected considering the significant cultural barriers to be overcome.
Shukair believes that this will contribute to the country entering a bell curve of growth. "We expect rapid additional growth in the coming years as females increasingly overcome traditional norms and cultural barriers and start using the roads in far greater numbers."
Automotive Logistics will hold its inaugural Middle East and Africa conference in Dubai, UAE on November 19-20 this year. Click here to find out more or to register.
To gain unlimited access to the exclusive content and features of Automotive Logistics please SIGN-IN or REGISTER FREE today.
Mena: Infrastructure, policy and regulatory developments
1

2

3

4

5

Currently reading

Shifting sands of time: The changing nature of Saudi Arabia's automotive industry

6

7

8