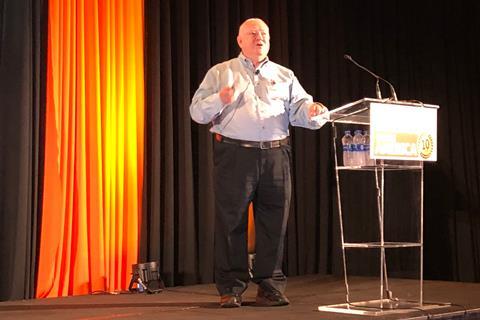 The US economy is in good health, consumer confidence is high and vehicle sales are expected to total 16.6m this year, delegates were told at this week's Finished Vehicle Logistics North America conference. The bad news is that the market is saturated, there is limited room for growth and the industry faces a proliferation of nameplates that is squeezing manufacturers' profits.
Citing low fuel prices, historically low unemployment and a high rating on the consumer expectations index, George Peterson, president of analyst firm Auto Pacific said that everything was currently looking "very rosy" for the national economy. However, he added that the outlook for the automotive industry was uncertain in light of changes to demographics, vehicle technology and market structure.
Peterson suggested that the US market had reached a peak for passenger cars and light trucks, with this year's forecast running a little under the 17m sales reached during 2016-2017. He predicted that sales would be "softer" over the next few years.
As for the model mix, the trend that has seen SUV and pickups outselling sedans will strengthen, Peterson predicted, with the percentage of light trucks sold rising from 67% in 2018 to 74% by 2023.
"Trucks will be the name of the game for the foreseeable future," he said.
Money problems
According to Peterson, one brake on sales in the US at the moment is finance. Interest rates have risen over the past few months, reducing consumers' purchasing power, and transaction prices have increased, meaning longer loans for those who use finance. The median rate for a passenger now stands at $37,000 and the average pickup costs $60,000, he said.
Peterson explained that currently three-quarters of consumer vehicle loans covered a period of five years, with six years being most popular. However, loans covering longer periods of seven and eight years were becoming increasingly common and those were putting a "tremendous burden" on consumers and keeping people out of the marketplace for a greater period of time.
Realistically, we are going to slow down buying cars – George Peterson, Auto Pacific
Michael Robinet, executive director, IHS Markit Automotive, agreed that from now until 2026 the US market was likely to see a decline in sales and would at best remain flat.
Nonetheless, he said that consumer confidence was relatively high amid "trade turbulence", referring to the recent tariff wars between the US and its trading partners, principally China.
The tariffs imposed by the Trump administration on steel and aluminium, as well as other products, have in fact prompted OEMs to keep better control of finished vehicle inventory, Robinet suggested. Just under ten years ago, much higher inventory was usual and tended to lead to the shedding of excess stock through discount sales.
"The manufacturers are doing a much better job of regulating that equation," he commented.
An industry with too many names
One thing the manufacturers are struggling with, however, is how to make money in an increasingly splintered market. Enabled by technology that has reduced development costs and time to market, nameplates have been proliferating to an extent that Peterson said was frightening.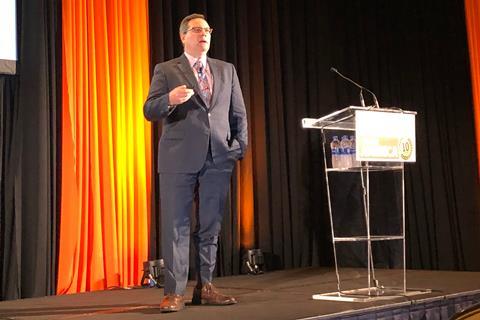 Whereas in 1947 the US had 38 nameplates, in 2017 the number was 302 and by 2023 the total is due to reach 382, according to Auto Pacific figures. Given that sales are declining, this will have a big impact, with volume per unit set to drop from 57,000 in 2017 to 41,000 in 2023, based on total sales of 17.3m and 15.7m respectively.
What was worse, according to Peterson, was that if the top ten bestselling vehicles continued to take 25% of sales, 2023 would see about 12m vehicles shared among the remaining 372 nameplates, giving around 31,500 per nameplate on average. OEMs, he said, would have to find ways to make a profit on these lower volumes.
Robinet noted that, in a flat market, "the competitor dynamic becomes [more] important". He pointed out that even some crossovers such as the Jeep Cherokee and Chevrolet Equinox that were once key vehicles in core segments were now struggling under the weight of the competition. Besides the new nameplates, Robinet said, the sedans which crossovers were supposedly replacing were actually still on the market and adding to the total count.
In these conditions, domestic vehicle-makers benefit from Chinese manufacturers being shut out of the US market, Peterson suggested. That is achieved by the complexities of American legal, distribution and franchise systems, and also the new tariffs, which have created barriers to their import.

However, Robinet emphasised China's importance to US vehicle-makers, saying it was not just another market that drove volume but one that was "steering the model of regulatory and strategic moves that a number of these OEMs are making". He pointed out that for certain OEMs China represents around 40% of their global output and, moreover, feeds into their plans for electrification.
Shifting towards new mobility
"Demographic shifts are contributing to the decline of the industry volume," stated Peterson, explaining that Americans have been entering the vehicle market at an older age than the previous generation. This was partly because of a tough jobs market during the recession, making vehicles less affordable to young people, but also the availability of alternatives to vehicle ownership.
However, while under-35s were so far the biggest customers of ride-hailing companies such as Uber and Lyft, Peterson said that older Americans were also likely to start making use of these services as they found their personal mobility declining with age.
Alternatives to vehicle ownership were "more compelling and feasible than ever", in Peterson's opinion. "Realistically, we are going to slow down buying cars."
It's not going to be immediate [and] technologies will continue to improve, but some day we might be driving autonomous vehicles almost everywhere in the USA – George Peterson, Auto Pacific
Those cars that are being purchased are increasingly likely to feature non-traditional powertrains, although this does not mean pure electric vehicles (EVs). Peterson said that pure EVs had not made much progress in terms of market share, remaining at 2-3% of the overall market since 2003. It is hybrid vehicles that are expected to grow, especially as technological improvements address concerns over range and charging capabilities.
Robinet said that the trend toward electrification was already affecting the supply chain, with manufacturers modifying existing powertrains rather than launching new engine families, and putting an increasing amount of resources into electrification. Most engine platforms now in development were "multi-energy", he said.
Slow progress towards autonomy
As for autonomous vehicles (AVs), Peterson said it was technologically possible for them to be on the roads in five years, but that there were a lot of obstacles standing in the way. Those include the existing infrastructure, regulatory framework and costs.
"We really don't see a timeframe any earlier than 2025-2030, when autonomous vehicles will be operating in extremely well-mapped areas," stated Peterson. He named 2050 as a more likely date for when AVs could outnumber vehicles driven by people in the US.
For Robinet, complete autonomy (level four and five) was something that could emerge in the decade after this one.
"The real challenge in the industry in the next ten years is who can integrate and deploy level two or three into their vehicles," Robinet explained, adding that consumer acceptance and cost would also be critical factors in the spread of autonomous vehicles.
Peterson felt that traditional cars might one day go the way of their equine predecessors, used for leisure away from main roads.
"It's not going to be immediate [and] technologies will continue to improve, but some day we might be driving autonomous vehicles almost everywhere in the USA," he concluded.