Associated British Ports (ABP) is working with Verizon Business on the installation of a private 5G telecommunications network at the port of Southampton on the UK south coast. It will make ABP the first mainland port operator in the UK to offer a private 5G network to its customers.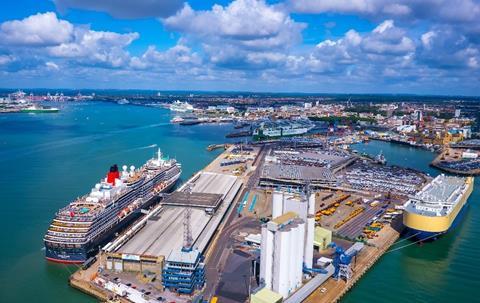 The wireless data network will cross selected areas within the port's east and west docks. It is delivered in partnership with Nokia on the Nokia Digital Automation Cloud, an application platform providing fast, high-bandwidth, low-latency wireless connectivity and local edge computing.
According to ABP, as well as improving data communications and Wi-Fi connectivity at the port, the advanced capabilities of 5G will enable the use of new technologies, such as real-time analytics, the internet-of-things (IoT) and machine learning. Those in turn will help support services including asset tracking, autonomous guided vehicles (AGVs), workflow management, predictive maintenance and safety monitoring.
The port of Southampton is the UK's busiest finished vehicle handling port and processed more than a million vehicle units last year (down on the 1.5m moved in 2019 because of the Covid pandemic disruption). Improved visibility through 5G-enabled asset tracking and workflow management promises to improve the efficiency of vehicle management within the port.
"Building flexible and resilient technology platforms to meet our customers' needs is a key element of our strategy and becoming the first mainland port operator in the UK to offer a private 5G network to our customers is a fantastic milestone for ABP," said Henrik Pedersen, CEO of the port operator. "We would like to thank our partners for enabling this project, which will equip our port in Southampton with the state-of-the-art infrastructure needed to be at the forefront of the digital revolution in the maritime industry."
Tami Erwin, CEO of Verizon Business, said: "Along with Nokia, we have been able to equip ABP to take advantage of the immediate benefits private 5G offers, and most importantly prepare the port of Southampton to take full advantage of new technology applications and real-time analytics, which will digitally transform its services in the future."
ABP has been using digital solutions to maintain vehicle handling operations throughout the Covid pandemic and the operator says it has been inspired over the 12 months of 2020 to explore new digital tools for use in the future. As well as the 5G rollout at Southampton ABP said it would be announcing "a series of exciting upgrades when it comes to IT infrastructure" in 2021. ABP operates 21 ports in the UK, three of which handle finished vehicle traffic: Grimsby and Immingham on the east coast Humber estuary, and Southampton on the south coast.
Read more about the vehicle handling at the port of Southampton and ABP's other UK operations in the UK in the forthcoming spring edition of Automotive Logistics and Finished Vehicle Logistics magazine.