Logistics software specialist Inform is providing an integrated and scalable cloud management system for Associated British Ports' (ABP) vehicle terminal operations.
ABP is first rolling out the Automotive Terminal Operating System in the port of Southampton. It is designed to manage all port-side finished vehicle operations in a single application. The port operator aims to reduce costs and improve the efficiency of vehicle throughput using the technology.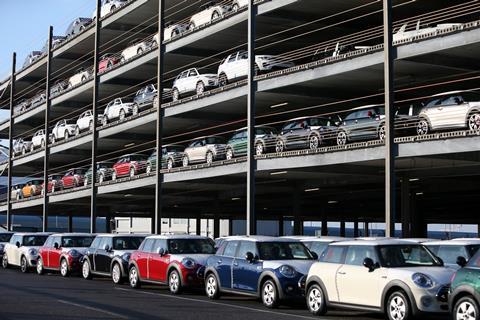 ABP operates 21 ports in the UK, three of which handle finished vehicle traffic: Southampton on the south coast, and Grimsby and Immingham on the east coast Humber estuary. It moved around 1.1m vehicles through those facilities last year, with around half of that number going through Southampton (read more about operations last year in our annual report on the UK ports).
The company said it had been inspired to increase the application of digital tools at its operations through 2020. Last year was one of volatility for terminal operations given the impact of Covid-19 on the global automotive sector and the new tool promises to support the sort of flexibility required for any future disruption.
The system will include the planning and optimisation of vehicle compounds, resources, work and damage management. It will provide information about the condition, location and destination of each vehicle and make that data available at all times for multiple teams.
The new software will be linked with new 5G compatible hand-held devices for vehicle data capture. ABP has set up a new 5G infrastructure at Southampton, which has been developed in partnership with Nokia and Verizon Business. Southampton is the first port to operate a 5G network. 5G provides fast, high-bandwidth, low-latency wireless connectivity and local edge computing.
"ABP is investing in a range of digitalisation upgrades to enhance its automotive offer," said Brian Steeds, head of automotive. "The new Automotive Terminal Operating System in Southampton will bring a wealth of benefits to our customers by enabling efficient compound management, inventory linking and additional services with real-time data visibility for customers via a dedicated customer portal."
The Inform cloud software can integrate customer IT systems, such as those used for customs, to enable digital inventory linking. According to Inform it will enable planning for flexible vehicle loading and unloading algorithms and will provide ABP with "real-time decision-making support" to more efficiently allocate resources such as parking areas or stevedores. Hartmut Haubrich, director of vehicle logistics systems at Inform, added that the software could be used to optimise workshop and transport processes.
Alastair Welch, ABP's regional director at the port of Southampton said: "Southampton is an important hub for the automotive industry and plays a key role in supporting sustainable supply chains. With this latest investment, we hope to optimise the services we provide and progress on our journey to transform Southampton into a smart port of the future."
ABP said it had opted for Inform's solution after being able to conduct a virtual reference visit to National Vehicle Distribution (NVD), the Irish leader in new vehicle logistics, which has been using the system for several years.
Production logistics study
In a separate development, Inform recently published a study which showed that German manufacturers, including leading carmakers, now consider digitalisation of in-plant processes a priority, though the actual rate of implementation is still slow.
The company surveyed 121 specialists and executives and found that they considered increasing productivity (80%), adhering to schedules (73%) and ensuring the reliable supply to production (65%) as the largest challenges for their businesses.
The companies surveyed said that just-in-time and just-in-sequence supply (48%), driverless transport system implementation (47%), and transport control system implementation (42%) were the most critical areas that needed to be digitalised.
"Production in many industries is becoming ever more flexible, with greater options, and at the same time, increasing demands on deadlines for supply capacity," said Torsten Inkmann, director of industrial logistics at Inform. "These developments also require transport that is more flexible and thus real time control over the ability to plan and react. Digitisation offers answers to exactly these questions."
The full Trend Report on Digitalization in Intralogistics 2021 can be read here