Amports has spent the last couple of years increasing capacity and services in North America's vehicle handling ports, something that stood it in good stead to manage volatility last year and which bodes well for the recovery in US trade, writes Marcus Williams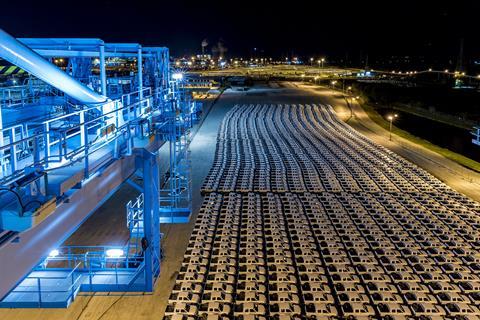 At the end of last year, North American finished-vehicle processor Amports bought the port operations formerly run by Horizon Terminal Services (HTS). In doing so, Amports increased its vehicle processing operations at the port of Jacksonville in Florida and added Port Everglades (Florida) and Freeport (Texas) to its portfolio. It now has terminal operations at nine ports in the US and Mexico, and is one of the largest finished vehicle processors in North America, providing vehicle processing, rail yard management, inspection, storage, and pre-delivery inspection services.
In addition to the acquisition of HTS, Amports has added capacity to existing locations in Jacksonville, Baltimore and Benicia over the last couple of years, which allowed it to quickly adjust to the volatility in vehicle movements through North America over the previous 18 months.
What is more, it has tentatively announced new business on the US west coast. As of last month, Amports is developing a dedicated vehicle terminal in the San Francisco Bay area at Antioch to complement the services it is already providing at its vehicle terminal in the adjacent port of Benicia. This second development at Antioch is expected to be fully operational in 2022, though it has already received a test call from Siem Car Carriers. The company said the arrival of this vessel in Antioch was a crucial step in the expansion of Amports' existing Benicia facility and follows approximately two years of design work. The marine terminal will increase Amports' Bay area footprint by approximately 40.5 hectares (100 acres) and offer OEM customers a direct BNSF rail service.
Vehicle throughput at Amports in 2020 compared to 2019
Port
2019
2020 (% difference)

Import

Export

Total

Import

Export

Total

Baltimore

337,539

83,865

421,404

349,029 (+3%)

44,404 (-47%)

393,433 (-7%)

Jacksonville

238,579

35,713

274,292

197,583 (-17%)

22,191 (-38%)

219,774 (-20%)

Port Everglades

13,399

4,528

17,927

12,018 (-10%)

2,584 (-43%)

14,602 (-19%)

Freeport

30,227

22,354

52,581

41,451 (+37%)

20,191 (-10%)

61,642 (17%)

Benicia

226,139

–

226,139

200,520 (-11%)

–

200,520 (-11%)

Altamira

–

292,355

292,355

–

230,542 (-21%)

230,542 (-21%)

Lázaro Cárdenas

78,345

14,651

92,996

57,222 (-27%)

8,928 (-39%)

66,150 (-29%)

Toluca/Queretaro

–

130,107

130,107

–

59,267 (-54%)

59,267 (-54%)

1,507,801

1,245,930 (-17%)
Quick reactions
The buyout of HTS and its recent expansion of capacity at Jacksonville port (see below) enabled it to respond to demand for additional capacity, which the ports in North America soon felt as the Covid pandemic shut dealers and arrested the outbound supply chain last. As with the rest of the industry, Covid took its toll on throughput last year, and Amports saw an overall decline of 17% in volumes, but that is only half the picture.
"Our operations had to adjust quicker than usual," says Tomasz Lis, formerly vice-president of commercial and chief commercial officer at Horizon Auto Logistics and now vice-president of business development at Amports. "The outbound supply initially required more storage space, and then the velocity increased, requiring less space for storage," he says. "At the same time, the effect of disruptions on inbound [imported] supply was delayed due to a number of cars being loaded already on ro-ro vessels and awaiting delivery."
Amports adjusted operations at its terminals to the demands of the moment, according to Lis. The company provided storage services for seven of its OEM customers across six locations in 2020, both in ports and inland distribution centres.
"We opened storage facilities for the OEMs for long-term storage," says Lis. "We did not shut down any of our terminals during the Covid pandemic for a single day, [and] we increased value-added services to increase profitability for the OEMs, while the volumes were lower."
Our operations had to adjust quicker than usual. The outbound supply initially required more storage space, and then the velocity increased, requiring less – Tomasz Lis, Amports
Lis says that Amports has become more adaptive, agile and technology driven as a consequence of what it learned during the Covid disruption. The company is using a number of digital tools to support operations, including security and monitoring. Its Labor Efficiency Management tool is also helping it deal with high demand in the wake of the Covid shutdowns last year and the shortage of staff in critical locations. "We work with multiple OEMs at each of our locations and the tool ensures that we have sufficient skilled labour to meet the unique needs of those OEMs," says Lis.
New business across US
With the purchase of HTS, Amports was able to grow its activity at the port of Jacksonville by 11 hectares. It now has operating space at the Blount Island marine terminal and nine hectares at the Dames Point terminal.
In addition, in August last year, VW extended its contract with Amports to process vehicles through Blount Island and expects to move 300,000 vehicles through in the first three years following the signing. Volkswagen Group of America (VWGoA) moved to Jaxport in 2015 and has a 30-hectare operating space at Blount Island. It imports VW brand, Audi, Bentley, and Porsche vehicles.
VW imports vehicles through Jaxport from plants in Europe and Mexico for distribution through six states in the southeast U.S., across which it has 118 dealers.
Amports throughput in first quarter of 2021
Port
2021 Q1

Import

Export

Total

Baltimore

91,955

15,282

107,437

Jacksonville

53,020

9,837

62,857

Port Everglades

2,550

720

3,270

Freeport

10,416

7,652

18,068

Benicia

51,914

–

51,914

Altamira

–

59,019

59,019

Lázaro Cárdenas

15,980

2,811

18,791

Toluca/Queretaro

–

7,025

7,025

328,381
Expansion in the US
Amports has terminals in strategic points in the US and Mexico (see table), again, with options available to adjust size as needed, including through the use of external non-port terminals. Looking ahead, the company wants to grow at the port of Baltimore, the busiest vehicle handling port in the US. Lis says Amports is especially interested in adding capacity on the Atlantic/Chesapeake side of the port. In June this year, it also began dredging works at the berths and channel to increase the maximum draft permissible, meaning bigger ro-ro vessels will be able to call there.
At the Freeport terminal in Texas, which Amports acquired with HTS, it has increased storage space and is looking for further expansion, as well as establishing new berthing positions to match the growth in capacity landside.
Trade and environment
These strategic expansions will help support the increase in short-sea trade between the US and Mexico following the US-Mexico-Canada (USMCA) trade deal which went into effect in July last year, replacing Nafta.
"Finalisation of the USMCA will be important in the localisation of the production lines of new models by the OEMs," says Lis. "The US is the largest buyer of Mexican produced cars, and we expect growth of the short-sea trade volumes."
We work with multiple OEMs at each of our locations and the tool ensures that we have sufficient skilled labour to meet the unique needs of those OEMs – Tomasz Lis, Amports
He adds that Amports' locations in both countries on the east and west coast means it can ensure quality service in the port of loading and the port of discharge.
The change in government in the US will also strengthen momentum toward the uptake of EVs and their production with renewable energy. The Biden administration has made several policy pledges this year already. Within the $620 billion identified for transport infrastructure investment, $174 billion is earmarked for EV development, to take one example.
"Our unique experience with EV handling at our terminals, together with our ESG [environmental, social and governance] policies, will be in increasing demand in the years to come," says Lis. "We expect growth in this segment both in export and in import."
According to market analyst, AutoForecast Solutions, vehicle production in the US is expected to reach 15.8m next year, from 12.8m this year but with recovery happening earlier than previously predicted. Light vehicle sales in the US are forecast to return to 17m by 2023. That recovery will put new demands on terminal operators, and flexibility supported by the latest digital technology will be critical, as will collaboration between Amports and its OEM customers.
At the end of the day, Amports says it is looking to grow where it makes the most sense and where it can add value for its customers by optimising their costs, and reducing their environmental impact.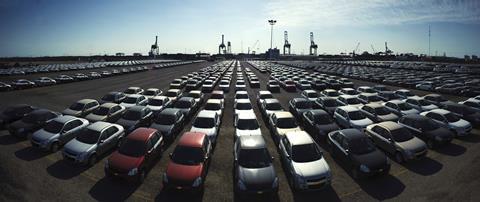 Read more about developments at North America's leading vehicle handling ports in the latest edition of Automotive Logistics and Finished vehicle Logistics magazine – Summer 2021