Construction has begun on a multistorey car park at the port of Antwerp in Belgium, Europe's fourth-busiest vehicle handling port. The facility is located at the Grimaldi-run Antwerp EuroTerminal (AET) and will be used to store vehicles being processed through the port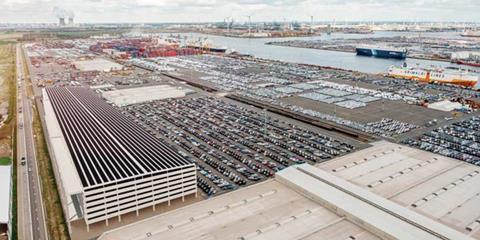 The work began in June and will take around a year to complete. The planned seven-story (21-metre) building will be able to store 9,700 cars on an operating area of 172,000 sq.m.
The environmental credentials of the building include a steel deck roof that will support 10,000 solar panels, providing 3.5 MWh of power for charging electric vehicles (EVs) that need to be loaded onto the vessels at the port. Rainwater is also collected for use in the on-site car wash.
The multistorey car park is just one of a number of eco-friendly projects being carried out by AET. These include investment in three quayside windmills, hybrid and EV charging stations, and alternative fuel testing. AET will also start testing large battery storage systems at the end of this year as part of the EU Green Deal.
Since 2019, AET has also used electric forklifts in its fleet of handling vehicles. It is also the first company at a Belgian port to test hydrogen-powered Terberg terminal trekker for lift-on lift-off (lo-lo) operations. It uses the new equipment to transport containers between the container yard and the terminal cranes.
The cost for the construction of the multilevel building with a 9,700-carspot capacity will be around Euro 25 million.
Rebounding trade
Set up in 2001, the terminal is run by Grimaldi in partnership with stevedoring company Mexaconatie. It is Grimaldi's main hub in Northern Europe and handles Grimaldi's deep-sea and Euromed vessels, as well as car-carrying vessels from sister companies Finnlines and Atlantic Container Lines (ACL).
According to Grimaldi, the new facility is expected to be able to accommodate current and new trade on AET, which is their main hub in the North of Europe
Antwerp is currently the fourth busiest vehicle handling port in Europe. Last year the port handled a total of 673,118 units (321,854 imports and 351,264 exports), a decrease of around 30% in 2019 amid the coronavirus pandemic. Volumes are now recovering and in the first six months of this year, the facility handled around 450,000 vehicles in total.
Along with finished vehicle volumes, the terminal handles breakbulk, containers, heavy lifts and other rolling freight and is the largest multipurpose terminal at the port.
Read more about developments at Antwerp in the most recent annual review of activity at Europe's finished vehicle-handling ports