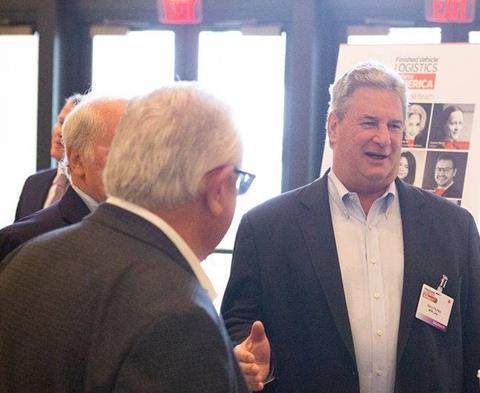 It was with regret that Automotive Logistics learned this week of the death of Gary Hurley (pictured, right), a veteran logistics expert at NYK Line and most recently vice-president of the company's ro-ro division. He died after a sudden illness.
Hurley, 62, was a well-known and respected professional in the vehicle logistics sector with more than 30 years' experience. His dedication to the industry was seen in the 20-plus years he spent as a sales executive at NYK Line.
John Grbic, director of trades at the company and a close colleague of Hurley, paid tribute.
"Gary was an exceptional man that was a friend to all and brought the auto shipping industry closer together through his openness and honesty," said Grbic. "His achievements at NYK included exponential growth of NYK services over the past 20 years, which benefitted the delivery of finished vehicles in and out of the Americas. He is beloved by the entire NYK Global family and will be dearly missed."
Hurley leaves behind his wife Margaret, children Brian and Erin and three grandchildren. His family said his loss was one that would be felt by all who had the good fortune to know him.
Hurley was also a familiar face and valued contributor at Automotive Logistics conferences in the US.
"I have known Gary for over 20 years," said Automotive Logistics publisher Louis Yiakoumi. "Gary was a very popular and respected figure in the global vehicle logistics industry. He told it as it was, but with a smile; a big heart, big character, big guy."
A service to celebrate his life and work takes place on Thursday this week (August 8).