Crisis management has become normalised for the automotive industry over two years of supply chain disruption but the North American vehicle-handling ports have withstood volatility and invested in a more sustainable recovery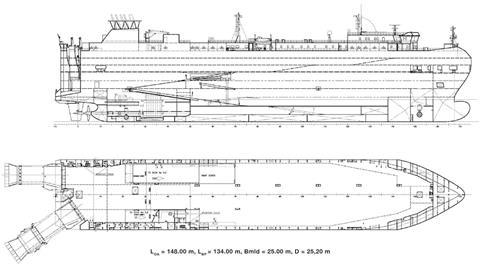 The top vehicle-handling ports in North America have been dealing with volatile outbound volumes over the last couple of years because of ongoing downstream supply chain disruptions to assembly caused by global parts shortages, container misalignment and Covid lockdowns. There are also labour recruitment problems affecting the inland distribution of vehicles on rail and road. That has tested available capacity but port authorities and resident vehicle terminal operators have been responding with clear-thinking strategies supported by the latest digital technology, while at the same time investing in infrastructure for a more sustainable future.
Last year the port of Baltimore recorded its 11th consecutive year as the US' number-one vehicle handling port by volume, despite a marginal 2% decline in volumes to just under 824,000. That total includes vehicle units processed through both public and private terminals.
The Maryland Port Administration (MPA) says its ro-ro business, including finished vehicles and commercial equipment, helped Baltimore port's recovery through the year from what was a tough 2020.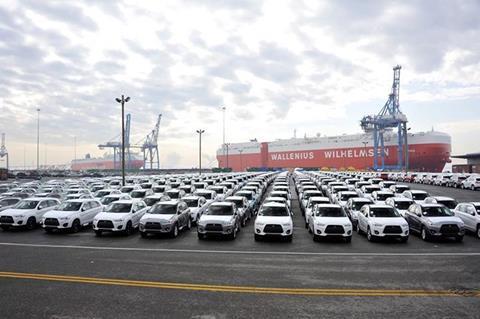 In the first quarter of this year, MPA was able to confirm figures for throughput at Baltimore's public terminals that amounted to more than 135,600 vehicle units, a figure expected to be boosted once private terminal throughput is quantified.
As with other of the major vehicle processing ports in North America, Baltimore is anticipating a rebound in volumes as vehicle production stabilises and carmakers are able to rebuild inventory (though perhaps not to the traditional 90-day average of pre-Covid). In the meantime, investments in infrastructure have continued to ensure the port's terminals are equipped to deal with a growth in new vehicles.
Logistics property developer Tradepoint Atlantic continued work on a new vehicle distribution centre (VDC) at the Sparrow's Point terminal for BMW imports, which opened in February this year. The 14-hectare site includes a 7,000 sq.m processing facility that has the capacity to process 100,000 vehicles annually. BMW says the new facility doubled the size of its previous VDC at the adjacent Dundalk Marine Terminal.
Space in Georgia
In Georgia, the port of Brunswick saw an almost 10% increase in vehicle throughput last year to 651,500. That figure incorporates the vehicle handling at the Ocean Terminal at the adjacent port of Savannah, both of which are administered by the Georgia Ports Authority (GPA).
Results in the first quarter of this year showed a 14% decline in volumes handled at Brunswick port and a 25% decline at the Ocean Terminal at Savannah port.
Despite this tough quarter, GPA is confident that its Colonel's Island terminal has plenty of capacity for any returning volumes, not least because by 2023 it will have expanded annual capacity to 1.4m units, the result of a $150m investment. As part of the expansion plans GPA is adding 33,445 sq.m (360,000 sq.ft) of new warehousing and 34 hectares (84 acres) for vehicle processing. GPA has a total of around 145 hectares permitted for expansion.
At the end of this year, work will also begin on a new berth that will include a concrete deck and a system of mooring dolphins that will extend berthing for ro-ro vessels by almost 390 metres, to 1,411 metres (4,630 feet). Work on that is expected to be complete by the end of 2024.
"In addition to growing the auto trade, GPA will upgrade near-dock storage areas to better accommodate heavy machinery used in agriculture, construction and warehousing operations," added the spokesperson for GPA.
In terms of infrastructure to support the increase in electric vehicles (EVs), all four private terminal operators – BMW, IAC, Mercedes-Benz USA, WW Solutions – have made investments. "There has been a clear focus on the switch to EVs and sustainability on Colonel's Island," according to the port authority.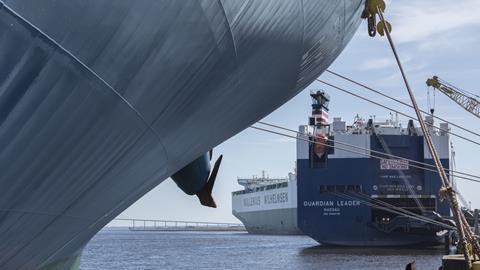 Building on Blount
Jacksonville port in Florida moved just below 140,800 vehicles thorough its terminals in the first quarter compared to 148,500 during the same period in the previous year.
"There was a slight decrease in vehicles moving through in Q1 due to supply chain ebb and flow, stemming from ongoing auto parts shortages," says Jaxport's spokesperson. "While we never want to see volumes decline, the current industry slowdown makes for an ideal time to build new facilities to prepare our port for the future.
That preparation includes the investment of $210m to expand and relocate processing facilities for its customer Toyota. The port authority, Jaxport, signed a deal earlier this year with Southeast Toyota Distributors to move operations from two separate locations into on 88-acre (35.6 hectare) property on the Blount Island Marine Terminal.
"We are building the auto processing infrastructure now to be ready to serve the needs of the industry when volumes rebound," says a spokesperson for Jaxport.
Jaxport says it is building up its ro-ro capabilities to ensure congestion-free operations for all of its customers. As well as Toyota they include Mazda, Nissan, VW Group and Ford.
The port is investing $45m in berth upgrades at Blount Island, carried out in partnership with the Florida Department of Transport (FDOT), which will soon be underway.
"The upgrades include expanding one auto berth to accommodate two larger vehicle ships simultaneously instead of one, and the expansion of a second berth to more efficiently accommodate the larger vehicle ships calling the terminal," says Jaxport's spokesperson.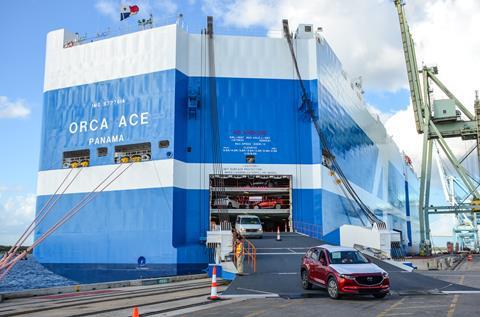 Jaxport has also recently upgraded the electrical grid on Blount Island to power charging stations for EVs. That falls in line with efforts being made by the vehicle terminal operators, which along with Southeast Toyota Distributors, includes Amports (see boxout section below) and WW Solutions, to gear up through additional charging infrastructure, terminal parking realignments and training.
The port is also supporting more sustainable fuelling by providing LNG for the 7,500 capacity vessels operated by Siem Car Carriers – Siem Aristotle and Siem Confucius – which regularly call at the port with VW Group volumes.
In March this year Jaxport celebrated its 50-year anniversary working with terminal operator Amports.
"The partnership with Jaxport is extremely important for us," says Tomasz Lis, vice-president of business development at Amports. "We are able to jointly achieve certain operational improvements, which can increase labour pool in the port, allow us to provide more services and add velocity to the logistics processes. It makes Amports and Jaxport even more attractive partners for the customers."
Lis went on to say that the two partners were expanding capabilities to better serve the OEM customers. Last year that included adding a service to provide heat treatment for cargo destined for Oceania to prevent pest contamination.
Amports adds value during the volatility
Finished vehicle terminal operator Amports has eight locations in the US and Mexico. As with the port authorities, the main issues affecting vehicle throughput at the company's facilities in 2021 and into this year relate to manufacturing disruption because of parts shortages and the consequent low inventory at the dealerships in the US.
"The volatility has maintained over this period and was reflected in reduced volumes of vehicles and the reduced number of port calls," says Tomasz Lis, vice-president of business development at Amports. "The majority of imported vehicles we see are already sold and need to be delivered soonest to the dealer."
Lis says the irregular spikes in deliveries and shorter dwell times are having an impact on labour utilisation. In fact, the two main challenges that are currently impacting Amports' business are rising labour costs and inconsistent supply of finished vehicles to its facilities, according to Lis. The company is having to carry out more accessorisation in shorter timeframes but it has been able to manage this using labour-supporting technology.
"We are helping the OEMs by adding value to their vehicles without slowing down the time to market," says Lis. "We have helped to keep dwell time at a minimum by accommodating increased accessorisation in a shorter period of time, therefore, improving port velocity. While limited volumes capped the OEM revenues, we have managed to find ways to add value to our customers."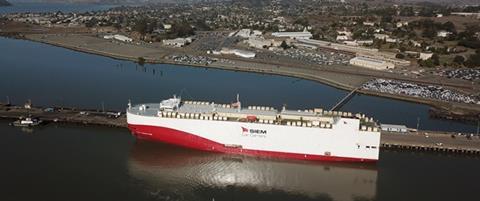 Adding capacity at Antioch
Regardless of the disruption, Amports has continued with projects aimed at adding and improving infrastructure at its terminals. Throughout 2021 the company worked on developing its Antioch port terminal, which is located on the US west coast in San Francisco Bay and the berth at that facility is expected to be operational later this year.
The Antioch facility also fits well with Amports' strategy of using external inland yards to add capacity to its operations.
"Our Antioch port facility can serve as an independent terminal with its own dedicated berth, but it can be also considered as an off-port site for Benicia, adding to its capacity," says Lis. "Antioch is also a perfect location for adding rail spurs."
Given that California is the largest EV market in the US, Amports is increasing its already significant charging capacity by several gigawatts for vehicles moving its facilities in the state.
Looking more objectively at the current pressures on the finished vehicle sector and the wider automotive industry Lis says there are two types of concerns: those you prepare for in advance and those you do not.
"Depending on how far you look back one may notice that it is all about the economic cycles," says Lis. "With over 60 years of experience as a company, the management team has experienced several market cycles, and we have learned how to limit our exposure to risks."
A crate solution to volatility
The Port Authority of New York and New Jersey (PANYNJ) reported being on track for positive growth for the first three quarters of 2021. It wasn't until the last quarter that it started seeing volume declines in both imports and exports.
"This coincided with the industry experiencing various production challenges, such as the semiconductor shortage, parts availability and continued Covid-related issues," confirmed a spokesperson for the port authority.
As with other vehicle-handling ports in North America, those issues affected throughput in the first quarter of 2022. Volumes were down 13% because of ongoing manufacturing and supply chain constraints.
As noted, manufacturing is being disrupted by global port congestion, and unpredictable transit and lead times in container shipping. The disarray has resulted in one of the most dismal and uncertain times for the maritime transport of goods, something that isn't expected to improve until 2023, according to Drewry Shipping Consultants.
To counter this, since May this year, one of the three terminal operators moving vehicles at the ports – FAPS – is working with vessel operators and stevedores to move crated automotive parts on the main decks of the ro-ro vessels delivering or picking up finished vehicles. According to PANYNJ, carmakers and suppliers are packing automotive parts into crates for delivery by ro-ro vessel to Newark port, in New Jersey. On arrival, the crates are unloaded into a FAPS facility for receipt and storage they are loaded onto standard 53-foot tractor trailers destined for the vehicle assembly plants.
"We're moving the cars, so we might as well move the parts with the cars," says Bethann Rooney, director of the port department at PANYNJ.
The port authority is also using the latest digital technology to make vessel calls more efficient and has recently implemented a cloud-based vessel scheduling system for ro-ro vessels using the ports' public berth infrastructure.
Improvements after the flood
Over on the west coast of Canada, the port of Vancouver registered a modest increase of 3% in imported volumes through 2021, from the previous year's 17% decline.
Third quarter headaches came in a more dramatic form at Vancouver when, in November last year, torrential rain and flooding in British Columbia disrupted terminal operations and knocked out inland road and rail links. All inbound finished vehicle shipments on the Canadian National (CN) and Canadian Pacific (CP) rail networks were stopped, affecting volume shipments of Hyundai-Kia and Toyota vehicles, two of the biggest OEMs using the port.
"The flooding events in November cut off the port of Vancouver from national supply chains fully for eight days and partially for an additional nine days," says a spokesperson for the Vancouver Fraser Port Authority. "These events impacted the supply chain for several months, resulting in lower trade volumes through the port."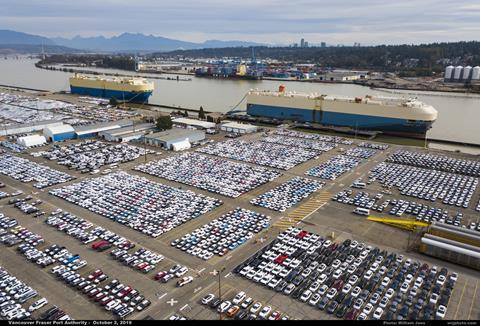 However, according to the spokesperson, the main reason for lower vehicle volumes through the latter half of 2021 and 2022 were mainly down to the depressed global production of vehicles because of disruption to the supply of microchips to the automotive industry.
"Over the first half of 2022, vehicle inventories have continued to remain tight, which has restricted throughput and Canadian sales," says the spokesperson.
Nevertheless, work is proceeding on improvements to the Annacis Auto Terminal, currently one of two operated by WW Vehicle Services Canada. The expansion and upgrade at Annacis is designed to consolidate the two vehicle terminals into a single terminal at the Annacis site while supporting services for expected growth in traffic. The port authority will then repurpose the Richmond Auto Terminal for other port-related businesses.
The work is supported by funding from Transport Canada, the Canadian government's department responsible for developing regulations, policies and services on road, rail, marine and air transport.
Terminal improvements include expanding two existing terminal rail yards, installing electric vehicle charging stations and replacing certain terminal buildings with a new vehicle processing facility.
Once complete, the terminal will be able to handle up to 480,000 vehicles annually, according to the port authority, ensuring resiliency of operations and supporting climate change targets with the installation of new electric vehicle charging stations.
"These investments demonstrate our shared commitment to the Canadian auto market," said John Felitto, president of WWL Vehicle Services Americas, in October last year. "We are excited to see these improvements come to fruition as they will allow us better serve our great customers. WW Vehicle Services Canada will work closely with the Vancouver Fraser Port Authority as a strategic partner to ensure that we meet the needs of our customers and our operations."
More generally, the port also points to its supply chain visibility pilot programme. According to its spokesperson, the Vancouver Fraser Port Authority and Prince Rupert Port Authority received federal funding commitments from the National Trade Corridors Fund in 2019 to develop the West Coast Supply Chain Visibility Program
"Through this multi-phase, multi-year programme, we will develop and implement a series of operational planning and optimisation tools tailored to participating industry members to increase capacity and efficiency across the supply chain," says the port authority spokesperson. "While this programme is still in the planning phases, we aim to have visibility into the movement of 95% of all cargo through the west coast of Canada, including the auto sector, by the end of 2023."
Environmental efficiency
At the other end of the west coast in San Diego, numbers were up on last year. Pasha Automotive Services, which operates the National City Marine Terminal, reported import volumes at around 361,000 for the fiscal year despite global supply chain disruptions.
The first quarter of this year showed a -6% decrease in volumes compared to the same period in 2021 but the port is anticipating a rebound and like other ports is enhancing its terminal operations to support those returning volumes.
Currently, the port is conducting an environmental review for a project that it said will help improve operations, increase maritime commerce and increase maritime jobs. That review includes a new land use plan that will include a road closure to provide the terminal with more contiguous space to improve terminal efficiency. It will also include rail efficiencies with a connector track.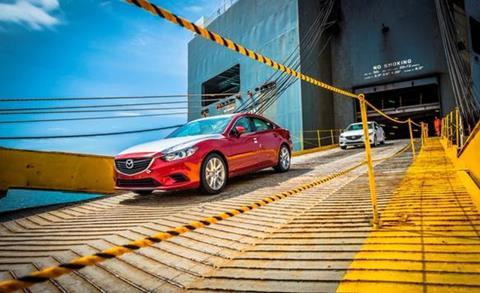 "The port has also been working on a project to study the various challenges and opportunities to improve mobility and safety for users of Harbor Drive, a main link between our two cargo terminals and maritime industrial businesses on the waterfront," said the spokesperson. "The port has been working with our transportation partner agencies to enhance mobility in this critical goods movement corridor."
In terms of making operations more sustainable the port is in the development phase of a plan to add shore power for berthed vessels at the National City Marine Terminal. It has also recently approved of a public/private project for acquisition of a bonnet to curtail air emissions. The bonnet will be delivered in about 18-24 months. These efforts fall in line with the port authority's Marine Clean Air Strategy (MCAS).
"Shore power and other electrification efforts are helping us meet a number of goals the port has set as part of our MCAS, which the Board of Port Commissioners approved at our October 2021 meeting. "This strategy is the most ambitious clean air policy document of its kind in the state and as far as we know in the country."
MCAS includes goals to reduce emissions from seven sources: cargo handling equipment, commercial harbor craft, shipyards, heavy-duty trucks, port-owned vehicle fleet, oceangoing vessels, and rail.
San Diego port authority noted the challenges currently facing the automotive supply chain but said that close collaboration with transport providers on road and rail to navigate any problems. Working closely with Pasha has also helped deal with disruption.
"The pandemic has caused labour shortages, uneven imports due to overseas parts manufacturing issues, but our terminal operator worked closely with labour and its customers to maintain service levels," said the port's spokesperson.
Vehicle imports at the port of San Diego, Q1 2022

Q1 2021

Q1 2022

Import

105,625

112,627 (-6.2%)

OEMs: Audi, Bentley, Fiat, Ford, Honda, Hyundai, Isuzu, Kia, Lamborghini, Mitsubishi, Porsche, Toyota
Cutting the carbs at Hueneme
Further up the US west coast, the port of Hueneme is committing to make operations more sustainable. The port authority was recently awarded a $200,000 Blueprint toward Decarbonization Project grant from the California Energy Commission to help identify the actions and milestones needed to implement medium and heavy duty zero-emission vehicles, equipment and marine vessels, and their related electric/hydrogen refuelling infrastructure.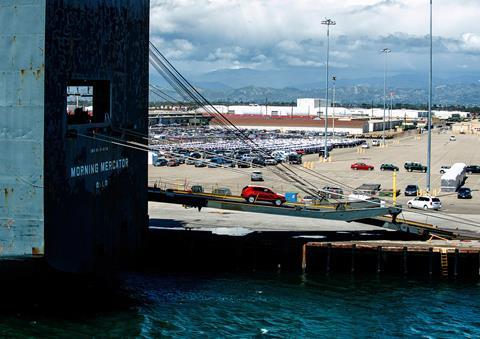 The port was also awarded a $3m Zero-and Near Zero-Emission Freight Facilities Project grant from the California Air Resources Board (Carb), in coordination with the port of Los Angeles, and has purchased its first two all-electric, zero-emission cargo handling trucks.
The port said that one of its greater achievements in 2021 was the submission of its terminal plan for ro-ro vessels to Carb to comply with the reduction of emissions for vehicles at berth.
The port of Hueneme also has a project underway to equip its North Terminal with the necessary infrastructure to support EV throughput.
In line with most other leading vehicle ports in the US, Hueneme port registered the impact of parts shortages, including semiconductors, on manufacturing volumes and the consequent volatility in throughput.
"Most of the volume arriving is already pre-sold so vehicles need to be moved very quickly for processing and delivery to customers [and] dealers," said a spokesperson for the port and feedback from the carmakers using the port indicates that four out of five vehicles imported were already sold to customers.
Approximately half of the port's revenue comes from its three vehicle distribution contracts, which was equal to $9.58m in fiscal year 2021, a 5% increase over FY2020. They are with Glovis America and Wallenius Wilhelmsen Ocean, and with BMW North America, which processes its own vehicles at Hueneme.
Vehicle throughput at the port of Hueneme, Q1 2022 vs Q1 2021

Q1 2021

Q1 2022

Import

76,086

75,035 (-1.38%)

Export

2,611

1,539 (-41%)

Total

78,697

76,574 (-2.69%)
Spikey volumes
The inland port of Portland in Oregon also registered disruption in volume flows because of manufacturing volatility.
"We continue to see a lot of spikiness in volumes as OEMs deal with product sourcing and Covid," says a spokesperson for the port. "There started to be some improvement heading into the summer of 2021, [but] the Delta variant took hold and volumes dropped for the second half of the year."
Portland's monthly vehicle processing data since 2020 shows a lot of volatility in the vehicle units processed. In the first quarter of this year the port handled just over 50,000 units, which was down on the previous year's first quarter, though figures looked more consistent in April and May at around 28,000 units per month.
"We're now seeing a bit of an upswing but it's still a little too early to say we've come out of this yet, there is still a lot of demand in the pipeline," says its spokesperson.
It remains unclear whether vehicle inventory in the US will ever return to the 90 days' worth previously available but carmakers have learned lessons about a more flexible, localised build-to-order strategy. Given the increasing regulatory pressures on deep-ocean vessel emissions it seems that localised production within North America based on the 'make where you sell' principle is likely to increase, with repercussions for the ports dealing with international imports and exports. That is also informed by the growth in more vertically integrated EV and battery production.