The main vehicle-handling ports in the UK were dealing with volatile volumes and labour shortages last year but business continues on a more sustainable footing for the future.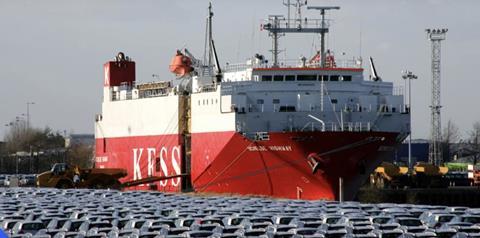 There were two main problems for UK vehicle handling ports in 2021. The first related to the shortage of semiconductors, which led to high volatility in the movement of finished vehicles leaving the assembly plants. The second was labour-related, where staff numbers were impacted by Covid safety restrictions that required people to isolate.
At Associated British Ports (ABP), which operates three vehicle handling terminals (out of a total of 21), including the UK's biggest at Southampton, availability of labour because of Covid infection was the main problem. However, the company says that this improved once restrictions started to ease in the wake of the Omicron variant.
"ABP used its strong connections with local employment agencies and relied on its reputation as one of the region's best employers to retain and attract talent to the industry," says a spokesperson for the port group.
Despite those challenges, ABP was keen to highlight the fundamental role played by its Marine team over the last two disruptive years.
"Over 100 marine pilots work 24/7 to navigate ships safely into port," says the company spokesperson. "It is highly skilled and essential work, without which none of ABP's other operations could be carried out. The outstanding work by the Marine team has enabled all automotive vessels to berth and depart on schedule throughout the pandemic."
ABP would not share any figures on its vehicle handling in 2021, though it moved around 1.1m vehicles through its three vehicle-handling facilities in 2020. Around half of that volume went through Southampton.
Double whammy
At GBA Group, one of the other major UK-based vehicle terminal operators, pandemic restrictions on staff were quickly followed by the impact of the semiconductor shortage.
"As the direct operational impacts of the pandemic eventually softened later into 2021, a severe reduction in volume owing to the global semiconductor crisis quickly overtook the pandemic itself in terms of operational disruption," says Cale Judah, managing director of GBA Group of Companies.
He says that made the OEMs' ability to forecast with any degree of accuracy was understandably restricted. "A perpetual 'move right' of anticipated volume only served to enhance the negative impact for those key players charged with maintaining readiness of the finished vehicle logistics network."
The labour and semiconductor shortages were also cited as the main issues affecting business at the port of Bristol. Isolation rules for staff because of Covid caused a shortage of labour. The semiconductor shortage on the other hand caused a significant drop in volumes and an abundance of space because vehicles were not being stored at the port for any length of time.
Vehicle handling at Bristol in 2021

Import

Export

Total

2021

337,598

71,388

408,986
Space is something Bristol has to play with since Mitsubishi announced it was not going to continue operating in Europe and was ending sales in the UK from October 2021. However, that presents opportunities for other potential customers, according to Tony Dent, director of automotive trade at The Bristol Port Company.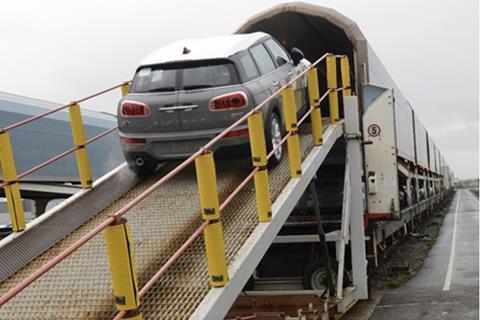 "We are also still looking at developing areas surrounding the port for additional car storage," says Dent.
Building sustainability
As with vehicle-handling ports on the European continent, there is a trend in which infrastructure developments through 2021 were tied closely to sustainability initiatives. Transport and logistics providers in the UK are trying to make their operations as clean as the increasing volume of electric vehicles (EVs) they are moving.
"In the last year we have installed electric charging points for general use and for specific customers across the port to cater for the increasing demand in EVs," says Dent at The Bristol Port Company.
ABP, which also has vehicle terminals in Grimsby and Immingham ports on the UK's east coast Humber estuary, says it aims to expand and decarbonise the cluster of businesses within and around the Humber Freeport, aligning innovation with clean energy, advanced manufacturing, and ports and logistics.
ABP Humber is investing in digital simulation tools to enhance vehicle compound operations, reduce movements and CO2 emissions.
Plans are also afoot to use former industrial sites to capture and store carbon, manufacture green jet fuel, and develop blue hydrogen production.
"A perpetual 'move right' of anticipated volume only served to enhance the negative impact for those key players charged with maintaining readiness of the finished vehicle logistics network" – Cale Judah, GBA Group
"As the switch from internal combustion engines (ICE) to EV vehicles gathers pace, ABP Humber is ready to partner and invest in infrastructure to support the rise in electric and alternative energy vehicles," adds the spokesperson for ABP.
Last year logistics software specialist Inform provided an integrated and scalable cloud management system to ABP for its vehicle terminal operations.
ABP has started using the Automotive Terminal Operating System in the port of Southampton. It is designed to manage all port-side finished vehicle operations in a single application. The port operator aims to reduce costs and improve the efficiency of vehicle throughput using the technology.
Peel Ports vehicle handling in 2021

Port location

Import

Export

Total

Main carmakers

London Medway

216,133

900

217,033

VW Group (inc Audi, Cupra, Seat, Skoda, Porsche, VW); Stellantis

Liverpool

13,000

26,000

39,000

Ford (imports); JLR (exports)
The system will include the planning and optimisation of vehicle compounds, resources, work and damage management. It will provide information about the condition, location and destination of each vehicle and make that data available at all times for multiple teams.
The new software will be linked with new 5G compatible hand-held devices for vehicle data capture. ABP has set up a new 5G infrastructure at Southampton, which has been developed in partnership with Nokia and Verizon Business. Southampton is the first port to operate a 5G network.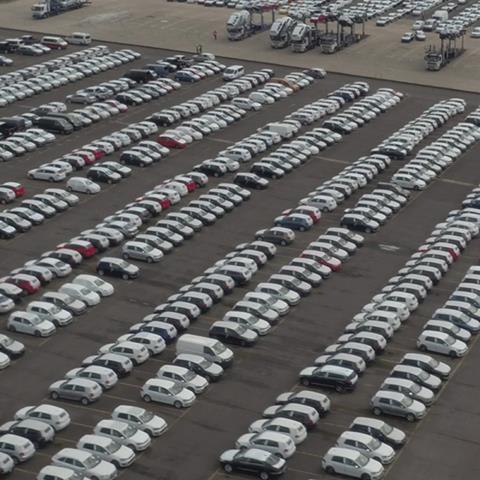 In terms of infrastructure, ABP was also keen to point out that 16 hectares of vehicle storage land has just been released in Grimsby and that it had various development sites, with ro-ro access on the Humber to support automotive growth.
Expansion in Liverpool
Meanwhile, Peel Ports, which handles vehicles at the Liverpool and London Medway ports, has invested in capacity at the port of Liverpool across 2021. It added 6 hectares of land as part of the £400m ($528m) Liverpool2 project. That project has been running for the last three years and is designed to boost trans-Atlantic trade and create one of Europe's most advanced container terminals. Peel Ports has also added 9.3 hectares of additional space for vehicle storage at the port of Sheerness.
Peel Ports has also recently committed to becoming a net-zero port operator by 2040, ten years ahead of the UK Government's national decarbonising targets. It says that 50% of vehicles used in port operations are currently electric and the rest will be electric by the end of 2022.
"We also set up an Innovation Forum in July last year to identify innovative and sustainable solutions to help us drive down our carbon footprint," says a spokesperson for the port group. "We have partnered with clean technology consultants Carbon Limiting Technologies (CLT) and that work has been vital in helping us try to solve some of the tough questions around emissions reductions."
GBA Group, which promotes responsible energy management through its 'Reduce, Convert and Compensate' initiative, continued to drive sustainability into operations in its services for Volkswagen Group UK. Last year the port operator achieved a CO2-neutral balance sheet for all Volkswagen Group (UK) land-based port and terminal activities (see boxed text).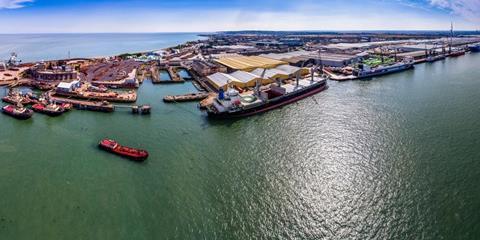 The group has also secured the ISO 50001:2018 international standard for the use of its high-level, energy-management system. The company says its dedication to energy management is evident in the recent efforts to reduce reliance on energy sourced from fossil fuels and a greater use of renewable energy, as well as compensation for remaining carbon emissions.
Technical investment
GBA used 2021 to further expand its technical infrastructure across the Humber and invested more in its Automotive Technical Centre (ATC1) in Grimsby, initially launched in late 2020. That investment included technical equipment, remarketing capabilities and high-grade compound storage. The 1.8-hectare centre features a body shop, high volume PDI centre and EV/HV specialised services. ATC1 is also home to GBA's eCustoms unit and 4PL Control Tower, which operate under its GBA Technologies business. The group is now developing another 3.2-hectare facility – ATC2 – adjacent to the port of Immingham for vole processing of new and used vehicles.
GBA-run ports: 2021 vehicle units

Imports

Exports

Total

GBA Tyne

57,876

57,876

GBA Grimsby

242,093

79,427

321,520

GBA Immingham

61,889

61,889

GBA Sheerness

130,400

130,400

GBA Southampton

17,098

49,159

GBA Bristol/Avonmouth

96,046

4,866

100,912

672,597
That expansion is supported by GBA's vehicle management system (VMS), which continues to evolve, according to Cale Judah. The VMS and the proprietary technological ecosystem within which it sits, is built for high-volume applications.
"We have installed electric charging points for general use and for specific customers across the port to cater for the increasing demand in EVs" – Tony Dent, The Bristol Port Company
"Investment into our digital offering for both our extensive operational demands and the customer base itself has continued at pace," he says. "This now includes an end-to-end control tower suite of applications and the recently launched GBA eCustoms platform. It also includes GBA OneView, which serves the group's 4PL division.
At the port of Bristol, meanwhile, GBA has further expanded both its terminal management operations for the second year running, alongside the creation of a bespoke light commercial vehicle operation.
Inclusive of its technical and transport operations, GBA handled in excess of 1.25m new vehicles during 2021. In terms of vehicles handled across the ports, the group handled more than 700,000 units.
"Despite an expansion of the customer base, this represents a modest decrease from import/export volume handled in 2020 by the group, attributed primarily to the severe impact of supply rooted in the global semiconductor crisis," says Judah.
Furthermore, Judah says that developments at GBA's operations from the ports of Tyne, through to Sheerness, Southampton and Avonmouth, are focusing primarily on catering for a growing customer base and a drive for improvements in environmental impact, consistent with the Group's ESG agenda. Those efforts earned it ISO 150001 accreditation in early 2022.
GBA aims at Green Zero with Volkswagen
Last year saw GBA celebrate the achievement of a carbon-neutral balance sheet for all Volkswagen Group (UK) land-based port and terminal activities.
The UK port operator recently aligned its own commitments around environmental, social, and governance (ESG) with VW Group's decarbonisation strategy.
By 2025, Volkswagen Group aims to reduce the carbon footprint of passenger cars and commercial vehicles, across the supply chain, by 30% compared to 2015. It aims to make all operations and products carbon neutral by 2050, an aim it is calling Green Zero.
GBA set up its own Sustainability Forum in 2020 with its primary objectives summed up in the maxim Reduce, Covert and Compensate. The company says it achieved the carbon-neutral target for VW operations using a combination of combination of reduction, conversion and compensation initiatives. For any areas where the total reduction or conversion of C02 was not currently attainable, GBA committed to offsetting it through the purchasing of verified carbon units from climate protection projects in forestry – namely the Katingan Mentaya project in Indonesia (Borneo), with the purpose of protecting a 150,000-hectare forest and its carbon-rich peat soils against conversion into plantation areas.
"We are extremely proud to have attained this significant goal of CO2 neutrality at our VW Group ports and terminals," says Judah. "As we continue to advance toward our vision of a climate-neutral and sustainable economy, the strength of partnerships like those between GBA and VW Group will be fundamental if we are to establish new and meaningful standards in our industry. We know there is much more we can do, and we look forward to the challenge".