Congestion is worsening at the Chinese ports of Ningbo and Shanghai as restrictive measures introduced to control the spread of coronavirus slow throughput at container terminals.
According to Reuters, operations at the Meidong container terminal in the port of Ningbo were suspended last week when a port worker tested positive for Covid-19. Authorites diverted vessels to other terminals at Ningbo, but those terminals also imposed restrictions limiting the number of workers and the amount of cargo coming into the port.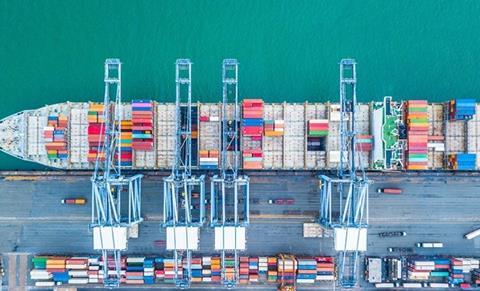 Reuters reported 40 vessels were waiting to berth on August 12 following the closure.
Ningbo-Zhoushan is the third busiest port in the world by container volume. According to the World Shipping Council, container volume in 2020 rose nearly 5% to reach 28.72m TEUs in the previous year.
In a statement, logistics provider DSV (which merged with Panalpina last year) said: "As we have seen in earlier stages of the Covid-19 impact and with the Suez obstruction, we expect a ripple effect into all trade lanes, and the trans-Pacific eastbound and North America is expected to be impacted the most. This additional pressure on the already tested freight markets is likely to lead to further rate increases."
Congestion is also reported off the US west coast, with vessels anchored off the ports of LA and Long Beach now above 60.
Global shipping company CMA CGM issued a statement on the same day that some of its vessels were being re-routed to Shanghai or skipping the port altogether.
Rerouting has worsened congestion around Shanghai, with around 30 vessels waiting at anchor outside Yangshan container terminal.
On Monday (August 16), Maersk released an advisory that said the Ningbo Meishan Island International Container Terminal had been locked down, and container gate-in and gate-out operations had been stopped from August 11 until further notice.
The latest congestion follows the disruption to container handling at ports in southern China back in June when ports imposed strict coronavirus safety measures leading and queued up container vessels.
The situation is expected to push the cost of shipping containers between China and the US beyond the current record highs that have exceeded $20,000 per 40ft equivalent unit container (FEU).