Export sales are providing a bolster for South Africa's struggling automotive sector, according to the latest figures from the country's automobile manufacturers' association.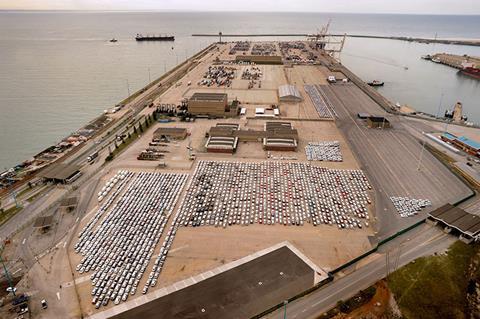 In April this year overall export sales reached over 33,000, up almost 54% (or 11,571 units) on the same month in 2018, according to figures from the National Association of Automobile Manufacturers of South Africa (Naamsa). The leading export market for South Africa remains the UK. That rise in exports helped temper a decline in domestic sales of new vehicles for the first three months of the year, and which only showed a slight increase of 0.7% for April, with 36,794 vehicles sold.
Taken separately, domestic passenger car sales increased nearly 4% (by 935 cars) to 24,989 units compared to the 24,054 new cars sold in April last year, while domestic sales of new light commercial vehicles, bakkies (pickup trucks) and minibuses were down 8% (by 866 units) to 9,810. Sales in the medium and heavy truck segments amounted to 1,995 units, an increase on April last year of 8%.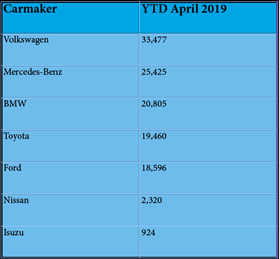 Naamsa said that domestic demand for new vehicles would continue to be negatively affected over the coming months because of a number of factors, including low consumer and business confidence, and rising costs of living in South Africa which was affecting disposable income.
However, Naamsa said that the momentum of vehicle exports over the course of 2019 is forecast to increase, with industry export sales for the year heading for close to 400,000 compared to the record 351,000-plus vehicles exported last year.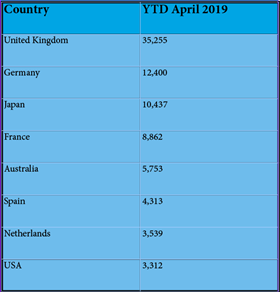 The automotive industry accounts for 30% of South Africa's manufacturing output and 14% of total exports. It is the fifth largest of all 104 exporting sectors in the country according to Naamsa.
As reported earlier in May, Ford South Africa is one carmaker seeing increased demand for its products abroad. Last year the carmaker exported 68,364 units of its Ranger pickup model, an increase of 16%, and is now sending vehicles to Port Elizabeth alongside Durban to cope with the high demand.