The port of Mazatlán saw its steadily increasing trade in finished vehicles badly affected last year when coronavirus disruption knocked out volumes. However, Nissan remains committed to importing through the port and terminal operator TMAZ is making plans for a full recovery. Marcus Williams reports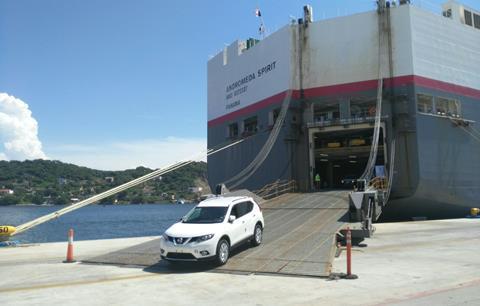 Before the Covid pandemic hit global automotive shipments, the Mexican port of Mazatlán had been steadily increasing its import and export trade (see box). Having resumed finished vehicle processing in 2015, the port was closing on 82,000 vehicles handled in 2019 and it remains the second busiest vehicle port on Mexico's Pacific coast (some way behind Lázaro Cárdenas). Carmakers use the port for short-sea vehicle shipments to the US, as well as for imports of cars and parts from Asia.
The terminal operator at the port of Mazatlán is Terminal Marítima Mazatlán (TMAZ). Over the last decade the company has invested $20m in infrastructure and technology to increase volumes across the four main cargoes the port handles: containers, finished vehicles, breakbulk and bulk cargo.
As trade at other Mexican ports slowed in 2019, TMAZ announced it was investing $350,000 to expand facilities for vehicle handling having secured import volumes from Mitsubishi, alongside existing trade with Nissan and Ford. Mitsubishi chose Mazatlán because of available capacity, with plans like Nissan's, to use the port exclusively for imports from Japan. Previously smaller Mitsubishi volumes were imported by Chrysler.
Since then, however, volumes have been hit by the Covid-19 pandemic, which has caused carmakers and their finished vehicle logistics providers to rationalise trade routes and ports of call.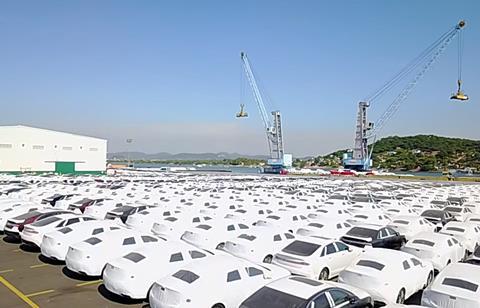 "Covid-19 in 2020 reduced the port of Mazatlán's volume because the domestic sales went down and some carmakers decided to change the port of discharge or loading in Mexico," says TMAZ's director general, Mauricio Ortiz Medina. "Shipping lines decided to concentrate more volume at the principal ro-ro terminal at Lázaro Cárdenas in the Pacific basin and at Veracruz in the Atlantic Ocean."
Currently, Nissan is the only carmaker moving vehicles through Mazatlán and it is not clear at the moment when or if Ford and Mitsubishi will return. Mazatlán remains the exclusive port of import for Nissan into Mexico but while those volumes are rebuilding this year, as sales return and dealers restock, the outbound logistics chain is still operating less productively, according to Ortiz. That is because of restricted mobility and a reduced workforce, amongst other factors.
As a result, TMAZ expects to process 15,000 vehicles in the first six months of 2021, around 3,000 fewer than the same period last year and significantly down on the 44,500 moved in the first six months of 2019.
There are more positive signs for Nissan relating to exports of vehicles made at its domestic plants at Aguascalientes and Cuernavaca. The carmaker exports from the ports of Veracruz and Altamira on the east coast, and Lazaro Cardenas and Acapulco on the west. The greater share move by short-sea to the US, but also to Central and South America, Africa and Asia. Exports of Mexican-made Nissans account for 65% of total production in the country.
Annual finished vehicle throughput at Mazatlán
2019 2020
Imports 34,460 10,917 (-68.3%)
Exports 47,483 17,126 (-63.9%)
Total 81,943 28,043 (-65.7%)
Terminal operator: TMAZ
Main OEMs: Ford, Mitsubishi, Nissan
"The accelerated progress in exports is remarkable and it is an important contribution to Nissan Mexico sales," says a spokesperson for the carmaker in Mexico. "We understand the enormous export potential that Nissan vehicles made in Mexico have. This is why we constantly leverage free trade agreements to reach new markets and thus increase our export operations."
More reasons for Mazatlán
Despite the current challenges on the import side Nissan is committed to using Mazatlán. It is currently importing eight models to Mexico (see box), mainly from Japan, which is equal to 8% of total Nissan sales in the country.
The carmaker highlights a number of advantages to using the port. There is a low risk of congestion or disruption from natural events, such as earthquakes or flooding, according to the carmaker. What is more, Nissan has a 22,600 sq.m area dedicated exclusively to handling its vehicles and also has good rail tariffs from Mazatlán to Aguascalientes on a route with a low risk of vandalism, which is a widespread problem elsewhere in Mexico.
Nissan moves 85% of the vehicles it imports to Mexico on rail, with only 15% being taken inland by road. Prior to the Covid disruption, the majority of finished vehicles moved to and from Mazatlán port went by rail, in a mix of bi-level and tri-level railcars. Rail accounted for 95% of shipments, with the remaining 5% taken by road and that is expected to continue when volumes return.
Read more about North American vehicle ports in the latest digital edition of Automotive Logistics
One significant development that could bring more trade to Mazatlán is the proposed rail route linking the Mexican east coast port of Mazatlán with the Canadian city of Winnipeg. Infrastructure investment conglomerate, Caxxor Group, is looking at a $3.3 billion (€2.7 billion) project, called the USMCA Corridor, named after the US-Mexico-Canada Agreement trade agreement between the three countries signed last year. It will cover more than 146,000 miles (234,964 km) of existing track and add more in Mexico, drawing investment from the governments of Mexico, the US and Canada, as well as the private sector.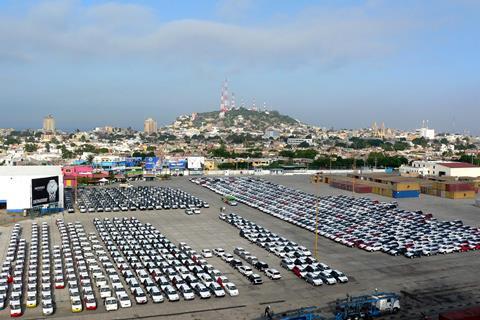 "Most of the infrastructure investment required to build the logistics corridor will go to Sinaloa, Durango and Coahuila states in Mexico, with a new port in Mazatlán, 180km of new rail lines between the neighbouring states and the rehabilitation of other 170km," says Ortiz.
He adds that the corridor will bring another way to move parts and finished vehicles between Mexico, the US and Canada and provide an excellent opportunity to avoid the sort of rail strikes in Manzanillo and Lazáro Cardenás that have disrupted shipments previously. Beyond this, Ortiz says the USMCA trade deal, called T-Mec in Mexico, may bring more investment nearby to Mazatlán and is an important opportunity to monitor in the coming years.
Nissan models imported to Mexico through Mazatlán
Nissan 370Z
Nissan GT-R
Nissan NV350 Urvan
Nissan X-Trail
Nissan Armada
Infiniti Q50
Infiniti QX80
Infiniti Q60
Investment plan
With a view to making the most of those opportunities, TMAZ is now developing a new business plan for the period 2021 to 2030, reviewing its investment plan to increase storage areas, infrastructure, equipment, safety and technology.
Infrastructure and technology are two positive drivers for the recovery of trade through Mazatlán. Finished vehicle storage now accounts for 30% of overall capacity at the port, meaning there is room for more carmakers. The port terminal also has an IT interface for internal truck moves.
"[It] generates the necessary information for the management of vehicles within the terminal [capturing] data from the vehicles in the yards along with the processes of loading, unloading, storage and dispatch," explains Ortiz.
For its own part, Nissan says that it has learned how to adjust during the disruption caused by the Covid pandemic.
"During the past year we learned to be more resilient, to reinvent ourselves and to create alternatives for our customers," says a spokesperson for Nissan Mexico. The result of that is that by the end of fiscal year 2020 Nissan Mexico sold more than 190,350 units, which represents a 21% market share. "[That] not only reaffirms the company's leadership in the country but also results in the automotive brand that grew most when compared against the same period in fiscal year 2019."
Learn more about the latest developments at North America's leading finished vehicle handling ports in our annual review, which will be published in the Summer edition of Automotive Logistics and Finished Vehicle Logistics magazine