While vehicle volumes through North America's gateway ports were sporadic in 2022, terminal operators have been working with port authorities to manage flows while investing for the return of stable volumes with more sustainable infrastructure.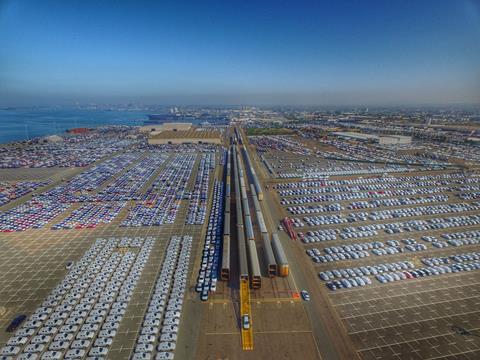 Disruption to the delivery of vehicles continued last year because of production delays caused by ongoing shortages in the supply of key components, including semiconductors, and by capacity shortages affecting road, rail and ocean transport. The situation was a volatile one for the top vehicle-handling ports in North America. That was reflected in the mixed picture of losses and gains in volumes, though the gains outdid the losses, at least in Mexico.
The port of Baltimore retained its position as the busiest US vehicle-handling port in 2022, despite a slight drop in throughput resulting from production delays caused by the semiconductor shortage and restrictions on ocean ro-ro capacity.
The port's vehicle terminals, including Dundalk and Fairfield, moved more than 750,000 vehicles last year (2021: 758,000), and increased imports against 2021, ensuring it retained its position as the top US vehicle-handling port for the 12th consecutive year.
"The effects of ro-ro capacity shortage have slowed some OEM import and export movement, and there have been instances of over-full terminals during typical rush periods, such as end of month and end of quarter," said Susan Serrano, manager of automotive business development at Maryland Port Administration, adding however, that overflows had been cleared very quickly.
Serrano highlighted Baltimore port's skilled workforce and the advantages of its interstate transport links, as well as the fact it has four terminal operators – Amports, Pasha Auto Services, Ports America and Wallenius Wilhelmsen Solutions.
Read more about developments across Amports eight terminal facilities in 2022 and and the addition of ninth at Antioch in San Francisco Bay, as well as the terminal operator's application of digital technology to make operations more efficient
"We also have a very comprehensive quality programme where all of the key players in our auto business – port, terminal operators, labour, processors – meet monthly to go over what's going right and where we need to improve," said Serrano. "It's great open communication and unmatched by other ports."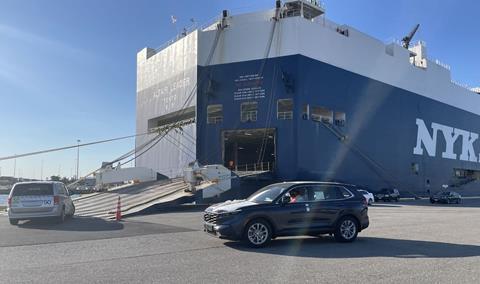 Sporadic situation
Alberto Cabrera, director of automotive accounts at the port of Jacksonville (Jaxport), says the lack of ro-ro vessel capacity and volatile vehicle production resulted in sporadic volume shipments.
"For example, we have seen several thousand vehicles come through at once, and then a few days or weeks go by, and then the next shipment of several thousand vehicles will arrive at our port," he says. "It is not a steady flow like we've experienced in the past, but it's a new trend we're watching. We are anticipating a return to more normal, pre-pandemic flows in the future."
Vehicle terminal operators have made adjustments to handle the more sporadic loads, reorganising space on the terminals to accommodate the volume, staggering labour shifts and calling in trucks to move the vehicles off the terminal as quickly as possible. Rail freight companies have also helped in dealing with the volatility in deliveries.
"We really leaned on our rail partner CSX to move vehicles, both inbound and outbound," says Carrera. "It takes coordination, time and equipment to move large amounts of vehicles off the terminals."
Mexican moves
Last year Mexico exported 2.8m light vehicles, out of a total production of 3.3m, according to data from Inegi, Mexico's National Institute of Statistics and Geography. In the first quarter of 2023, the country's carmakers produced more than 922,000 light vehicles of which 741,300 were exported.
Veracruz remains the busiest vehicle handling port in North America, and moved more than 856,000 vehicles, but Lazaro Cardenas has moved up the rankings to third place behind Baltimore and ahead of Brunswick and Savannah. Last year it moved more than 646,000 vehicles. That is a significant increase in vehicle handling, driven by a 74% increase in imports.
1. Veracruz, MX

2022

2021

Imports

320,789 (+20.6%)

265,974

Exports

535,876 (-3.9%)

557,727

Total

856,665 (+4%)

823,701
3. Lázaro Cárdenas, MX

2022

2021

Imports

399,006 (+74.8%)

228,229

Exports

247,572 (+6.3%)

232,730

Total

646,578 (+40.2%)

460,959
Expanding berths
Thanks to those efforts and the scheduling of its vessel planning team Jaxport has managed to avoid any problems related to congestion at its three dedicated vehicle handling berths – two at Blount Island Marine Terminal and one berth at the Talleyrand Marine Terminal.
"If needed, we have other berths that handle containers where we can schedule a vehicle ship if it's not in use by a container ship," says Carrera. "We have that flexibility, and that is attributable to the experience of our terminal operators and internal team, as well as our ability to handle a diverse mix of cargo."
That will be helped by expanding the two vehicle berths at Blount Island. In partnership with the Florida Department of Transportation, Jaxport is soon to begin a programme of upgrades worth $45m. That includes expanding Berth 20 to accommodate two larger vehicle-carrying ships simultaneously instead of one. That part of the expansion will be completed in 2025. In addition, in about 18 months, the expansion to Berth 22 will be completed to more efficiently accommodate the larger vehicle ships calling the terminal.
THE LATEST VEHICLE PORT DEVELOPMENTS WILL BE DISCUSSED AT THIS WEEK'S FINISHED VEHICLE LOGISTICS NORTH AMERICA CONFERENCE, BEING HELD IN HUNTINGTON BEACH, CALIFORNIA, BETWEEN MAY 9-11
2. Baltimore, US

2022

2021

Imports

573,831 (+7.6%)

533,286

Exports

176,332 (-13%)

204,832

Total

750,163 (-1%)

758,118
Last year, Jaxport also reached a long-term agreement with Southeast Toyota Distributors, one of its longest standing tenants. The vehicle processor has relocated operations from its 50-acre facility at the Talleyrand terminal and an adjacent 20-hectare (50-acre) private facility, and combining operations in a single 35-hectare property at the Blount Island terminal.
"Combining operations at Blount Island provides additional space for Southeast Toyota to handle more vehicles in a new state-of-the-art facility," says Carrera. "This agreement was key to keeping these volumes, and the jobs they support, in Jacksonville."
Maryland Port Administration (MPA) is also completing a major infrastructure project to strengthen its ro-ro berths, both for passenger vehicles and agricultural and construction machinery. Baltimore port handles more high and heavy cargo than any other US, according to Serrano. The infrastructure project is designed to help support the increasing size of the different commercial equipment. The berths can handle multiple supersized vessels simultaneously.
Serrano also pointed to investments being made by Ports America Chesapeake at the Seagirt Marine Terminal. The terminal operator is adding 15 hybrid electric rubber-tired gantry cranes and a second truck gate. "Ports America Chesapeake is putting in nearly $200m in new equipment and upgrades to improve overall efficiencies," said Serrano.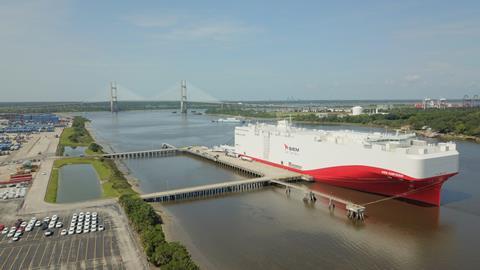 Pros and cons
Production delays and capacity shortages also disrupted vehicle terminal operations at the ports of Brunswick and Savannah. On the ocean side, Georgia Ports Authority (GPA) says it is working with its OEM customers to address additional ro-ro capacity needs.
"As an example, this includes assisting with alternative solutions when an ocean carrier reduces its allocations or decides to eliminate an east coast call from Asia in favour of a west coast call," says Bruce Kuzma, senior director of trade development at GPA.
"As ocean carriers attempt to cycle their vessels more quickly the impact to OEMs is costly, as they try to meet the demands of growing populations in the south-east and densely populated north-east corridor."
The same was true at the ports handling vehicles in New York and New Jersey. Disruption to the production of vehicles and a tightening of ro-ro capacity resulted in a 5.6% drop in vehicle handling at the US ports of New York and New Jersey in 2022, compared to the previous year. The port processed just more than 444,000 vehicles last year. For the first quarter of 2023 volumes were down by almost 25% compared to Q1 2022, with just over 77,000 vehicles processed. The shortage of ro-ro capacity resulted in -14% drop in vessel calls to the vehicle handling terminals in New York and New Jersey.
4. Brunswick and Savannah, US

2022

2021

Imports

475,675 (+4.7%)

454,384

Exports

155,844 (-20%)

197,151

Total

631,519 (-3%)

651,535
The situation has led to an interesting turnaround in activity for the port of Newark, which last year was handling both finished vehicles and containerised parts deliveries being delivered simultaneously on ro-ro vessels because of capacity problems affecting container vessels in the wake of the pandemic. Those problems included tight vessel space, limited equipment, metred inland moves and high container rates.
"To maintain the production and serviceability of new finished vehicles, the automotive sector started an innovative programme here to help speed up auto parts delivery to dealers and car manufacturing facilities," said a spokesperson for the Port Authority of New York and New Jersey (PANYNJ). The programme shifted the conveyance of auto parts, traditionally shipped via container vessels, to crates loaded on the main decks of ro-ro vessels."
The situation affecting container movements has since normalised but at the same time, ro-ro capacity has become tighter, and now PANYNJ is seeing finished vehicles arriving in containers, though in limited numbers.
"The shift from parts arriving via ro-ro to parts and autos arriving via containers highlights the flexibility of services in the NY/NJ gateway," said the PANYNJ spokesperson. "Once landed, the port has extensive access to the region's highway network and is serviced by two Class 1 railroads, providing access to major inland destinations."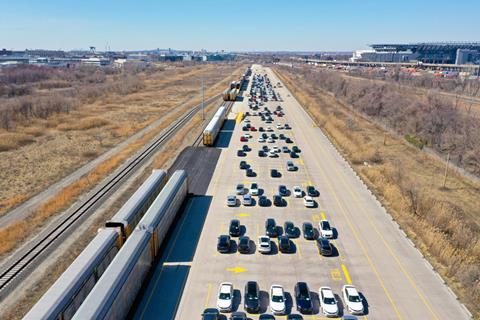 Record handling at Philaport
While just outside the top ten contenders in terms of volumes, the port of Philadelphia (PhilaPort) also reported gains in 2022, with a record 221,000 vehicles handled. Terminal operator Glovis America started operations at the port in 2010 and in January this year reached the milestone of having moved 2m vehicles.
"It's been a good partnership," said Jeff Theobald, PhilaPort executive director and CEO, speaking back in January. "We started with 88 acres and one vehicle processing centre (VPC) and now we have two VPCs on 265 acres. And, thanks to grant funding by the Federal government and the Commonwealth, we will begin construction of a new berth later this year."
PhilaPort completed the SouthPort Marine Terminal in 2019, the first terminal to be opened at the port for 45 years. The 63-hectare terminal has capacity to process 350,000 vehicles annually. It is served by rail links operated by Norfolk Southern, CSX and Canadian National Railway.
Shared vision
The port of Hueneme in California also referenced the global semiconductor shortage as a reason for the slowdown in vehicle throughput. According to a spokesperson for the port, it managed the disruption by working closely with terminal operators and stevedores to get visibility throughout the supply chain and move cargo efficiently through processing facilities for its OEM customers. Those include BMW, GM, Hyundai, Kia, Mitsubishi, Subaru and Volvo.
The port of Hueneme is now working on a 14-hectare parcel of land located 2.4km (1.5 miles) outside the port's gate that will be used to accommodate up to 5,000 vehicles over the next five years.
The port was also compensated by a slowdown in passenger vehicle throughput last year by an increase in high and heavy shipments, but now reports that passenger car numbers are returning.
5. Jacksonville, US

2022

2021

Imports

376,718 (-3.6%)

391,131

Exports

170,924 (-2.1%)

174,677

Total

547,642 (-3.2%)

565,808
"We are encouraged to see that the trend for auto shipments is to be back close to the pre-pandemic volumes," says a spokesperson for the port. "Our port team works closely with our customers to continue to maintain the fluidity in operations and to continue providing them with a high-level service that allows them to meet the auto industry demand."
The port of Hueneme imported almost 86,600 vehicles in the first quarter of this year, a 16% increase on the same quarter in 2022.
Modifications in Vancouver
Production delays and the resulting lack of vehicle supply in the first half of last year was a primary factor contributing to the 6% decline in volumes at the Canadian port of Vancouver, according to a spokesperson for the Vancouver Fraser Port Authority. However, as with Hueneme, there were signs of automotive volume recovering in the second half of 2022 in line with production improvements across North America.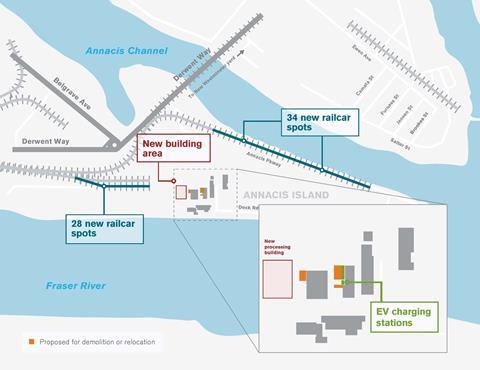 The port authority is working with its terminal operator Wallenius Wilhelmsen Solutions (WW Solutions) to increase capacity and manage greater volumes of vehicle imports.
According to the port authority, the Annacis and Richmond automotive terminals handle nearly all imports of vehicles from Asia destined for customers in Canada. However, a spokesperson for the port authority says both terminals are currently operating at maximum capacity and modifications are needed to accommodate forecasted growth in demand for those imports.
The work it is carrying out with WW Solutions will establish two terminals at the Annacis location, expand two existing terminal railyards and build a new vehicle processing facility to replace older terminal buildings. The project includes the installation of EV charging stations. The overall aim is to improve the efficiency of the terminal's existing operations and increase its capacity to handle greater volumes. The Richmond Auto Terminal will be repurposed for other port-related businesses. [Article continues below]
Read our interview with Dan Emerson vice-president of Canada operations for WW Solutions
6. New York and New Jersey, US

2022

2021

Imports

372,493 (1.57%)

366,726

Exports

71,636 (-21%)

91,300

Total

444,129 (-3%)

458,026
7. San Diego, US

2022

2021

Imports

306,335 (-8.3%)

334,129

Exports

47,566

-

Total

353,901 (+5.9%)

334,129
8.Vancouver, CN

2022

2021

Imports

333,617 (-6.3%)

356,057

Exports

117 (-28%)

163

Total

333,734 (-6.3%)

356,220
Carmaker contracts
Baltimore port got 2022 off to a good start when BMW opened a 14-hectare site at Sparrows Point that includes a 7,000 sq.m processing facility with the capacity to handle 100,000 vehicles annually. BMW said the new facility, which was developed with logistics property developer Tradepoint Atlantic, doubled the size of its previous VDC at the adjacent Dundalk Marine Terminal.
The vehicles processed there are imported to Baltimore port from Europe for onward delivery to 126 BMW and Mini dealers in the central and eastern regions of the US.
BMW currently operates VDCs in New Jersey, Maryland, Georgia, Texas and California, serving an overall network of 350 BMW and 105 Mini dealers nationwide.
Later in the year the port of Brunswick in Georgia took on new business with Nissan North America, moving vehicles through the port for distribution to its dealer network in the US south-east.
GPA is developing an additional 34 hectares for vehicle storage at its Colonel's Island terminal, and WW Solutions will add three new buildings to support vehicle processing for Nissan.
By 2023 GPA will have expanded annual vehicle capacity at the Colonel's Island terminal to 1.4m units.
"We are investing over $250m at Colonel's Island Terminal in new infrastructure to increase vehicle handling capacity," says Kuzma. "This includes additional road and rail improvements on terminal. A fourth berth will also be added to service additional vessels."
As part of the expansion plans GPA is adding 33,445 sq.m of new warehousing, along with the 34 hectares of vehicle storage. GPA has a total of around 145 hectares permitted for expansion.
9. Hueneme, US

2022

2021

Imports

318,018 (+12%)

283,447

Exports

–

–

Total

318,018 (+12.2%)

283,447
10. Portland, US

2022

2021

Imports

204,933 (-1.7%)

208,629

Exports

40,001 (+5.3%)

37,977

Total

244,934 (-0.6%)

246,606
Supporting infrastructure
As more new ro-ro vessels come to market, which is expected to rebalance by 2026, volumes will return, with an increasing proportion of electric vehicles among them. The Port Authority of New York and New Jersey (PANYNJ) said it is working closely with terminal operators, including BMW, Toyota Logistics Services and FAPS, to develop the necessary supporting infrastructure, such as EV charging stations.
To make vehicle processing more efficient PANYNJ has also implemented a new cloud-based vessel scheduling system for ro-ro vessels using the port's public berth infrastructure.
"The auto processors in the NY/NJ gateway operate using the latest technologies to stay ahead of anticipated import and export demand," said the port authority's spokesperson. "We expect that continued private investments will be made to keep pace with this competitive port market."
The port authority also said it was prioritising road improvements, dredging, and berth enhancements, as well as implementing agency-wide environmental sustainability programmes and initiatives, to ensure safety, security, and resiliency.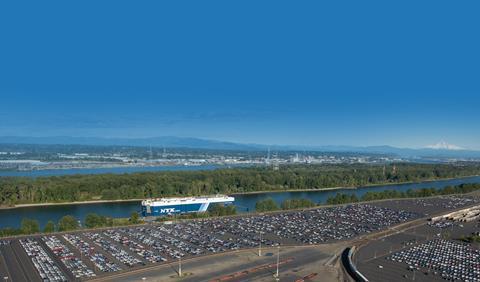 GM in Portland
Meanwhile, the port of Portland, in the US west coast state of Oregon, announced in March this year that GM had consolidated the number of gateways it was using for vehicle imports in the US, with Portland chosen as its primary location. GM has been using Portland for 30 years, previously processing between 10,000-15,000 vehicles per year, but the new business will increase this to 160,000 annually. Those vehicles are being processed by Auto Warehouse Company and moved inland primarily by rail providers BNSF and Union Pacific.
"We couldn't be happier with the expansion of our 30-year long relationship with the port of Portland and with GM, as their largest single-import customer on the west coast," says Ben Seher, co-president of Auto Warehousing Company, adding that the quality of the port facilities, and access to reliable rail infrastructure and services, enabled efficient shipping corridors to GM's customers in the mid-west and eastern US.
As vehicle production and outbound flows gradually stabilise, and inventory returns, there are signs that ports and terminal operators are investing to support cleaner and more efficient throughput at North America's gateway vehicle ports.
Bonnets and bunker barges
Despite the disruption and volatility to the flow of vehicle volumes through the North American ports, operators continued with ambitious goals for making operations more sustainable.
MPA is also investing to decarbonise operations, including through its Diesel Equipment Upgrade Program, which replaces older cargo-handling equipment and dray trucks with newer, cleaner and more efficient models.
"Last year we received a $1.8m grant from the US Environmental Protection Agency for this programme, [which] helps reduce emissions at the port and in surrounding residential neighbourhoods."
More than 120 pieces of diesel cargo-handling equipment, including forklifts, top loaders, locomotives and tugs have been replaced or retrofitted with cleaner engines. Serrano said replacements and retrofits had cut more than 5,100 tons of emissions
MPA is working on a dray truck replacement programme that has replaced more than 275 trucks with cleaner, modern vehicles. Dray trucks move containerized cargo short distances to and from ports to distribution facilities and warehouses.
"With more OEMs introducing electric vehicles (EV) and Baltimore's role as the top auto port in the nation, we are also having discussions on how best to accommodate greater EV volumes," said Serrano.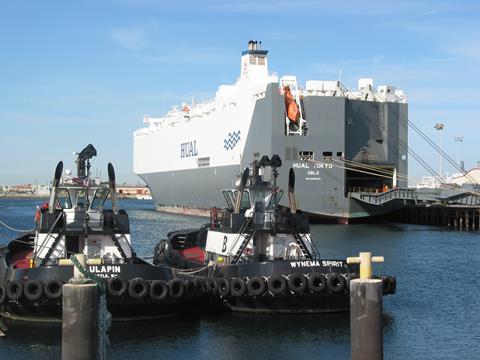 Jaxport Express
Jaxport worked on the five-year strategic plan it first introduced in 2020 to prioritise more environmentally friendly elements into port infrastructure, equipment and facilities.
"We took a major step forward with the launch of our sustainability initiative called Jaxport Express," says Carrera. "The project will result in $47m in sustainability investments, funded by a federal grant and a public-private partnership with two of our tenants, SSA and Crowley."
Through Jaxport Express the port will cut emissions from operations including through the installation of cleaner cargo-handling equipment. The port is also supporting the increased use of liquefied natural gas (LNG) as a clean marine fuel.
"As more vessel owners adopt LNG as a marine fuel to comply with environmental regulations and reduce their carbon footprint, Jacksonville is equipped with the infrastructure to supply the growing global demand for LNG in the maritime industry.
In fact, according to Carrera, Jaxport is the only port on the US east coast to serve vessels powered by LNG with on-dock and near-dock fuelling capabilities. That is thanks to several port partners who are investing in LNG development and supply at facilities near the terminals. Port tenants Tote Maritime Puerto Rico and Crowley each operate two LNG-powered cargo ships to serve Puerto Rico. Tote Services, the sister company to Tote Maritime Puerto Rico, manages the Jacksonville-based bunker barge Clean Jacksonville, which recently completed its 300th bunkering at Jaxport.
The other Jacksonville-based bunker barge Clean Canaveral, North America's largest bunker barge, also fuels LNG-powered ships that call Jaxport. In October 2022, Clean Canaveral completed its first ship-to-ship LNG bunkering of the NYK vehicle carrier Sakura Leader.
Jaxport may not be the only port on the US east coast offering LNG bunkering for long as GPA is currently working with energy provider Shell and other partners to develop an LNG bunkering barge to support operations at both Brunswick and Savannah.
Mission to zero emission
On the US west coast, meanwhile, the port of Hueneme introduced a Bonnet Barge System to ensure zero emissions from ro-ro vessels docked at its North Terminal. That move is part of the ports Port Action, Climate and Environmental Development Project.
Stevedoring providers at Hueneme are also investing in zero-emission equipment, including electric cargo-handling equipment and charging stations.
The port of Hueneme has a ten-year strategic plan. As well as lowering emissions from port equipment and providing plug-in power for vessels at the North Terminal, Hueneme plans to remove obsolete buildings and make more terminal space available for landing cargo. That includes building a car park capable of holding 7,000 vehicles located on the terminal. The port says that the Stack project will provide storage for more vehicles within the existing footprint of the terminal and allow ongoing vehicle volume growth.
Further down the Californian coast, the port of San Diego is also working with bonnets to capture emissions for cargo vessels that are not equipped to plug in to shore-based electricity and switch off their diesel engines while at berth.
The Marine Exhaust Treatment System (Mets) involves a bonnet being placed over the vessel's stack to capture and treat exhaust emissions while the ship is at berth. The system supports San Diego port's Maritime Clean Air Strategy, and is certified by the California Air Resources Board. It is expected to be in place by the beginning of 2025.
In addition, Carb regulations require that vehicle-carrying vessels reduce emissions while at-berth at California seaports beginning in 2025 by using either shore power or bonnet technology.
The total cost of the project is approximately $11.5m, with $4.9m coming from grant funds received from the California Transportation Commission and the rest coming from Clean Air Engineering – Maritime, a provider of environmental technology for the shipping industry.
This year the port of San Diego will also see the deployment of the first all-electric tugboat in the US, which will be operated by Crowley, and the deployment of 16 electric trucks and vans to replace petrol or diesel-powered vehicles in the port's fleet.