The US port of Philadelphia (PhilaPort) has secured a $49m grant from the Department of Transport (USDOT) to help the development of a $130m multi-use berth at the Southport ro-ro terminal.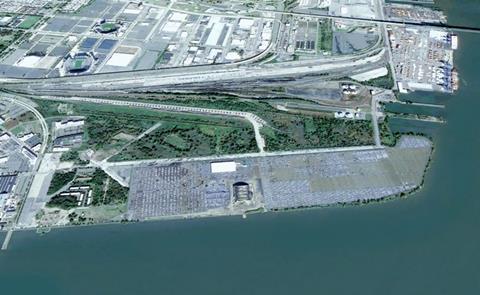 Philaport said the new berth would increase capacity for automotive imports and speed their inland delivery. The development of the berth ties in with a project to deepen the Delaware shipping channel to accommodate bigger vessels, currently being carried out by the US Army Corps of Engineers.
The port authority said that Southport's immediate proximity to operations supporting finished vehicles, rolling stock and container freight would improve logistics efficiency. Benefits include being able to place vehicles at a first point of rest in immediate proximity to the vehicle processing centre and reducing transfers between processing centres. The development of the Southport berth will also relieve congestion at berths that are better positioned to accommodate container and bulk cargo said Philaport.
"The new berth at Southport will allow for two-to-three ships to work at the same time. This in turn will increase efficiency, increase cargo handling capacity and allow for an overall smoother operation," said Ayanna Williams, director of government and public affairs at Philaport. "Additionally, rail services from both Norfolk Southern and CSX continue to improve allowing imports and domestic auto volumes to be mixed at the same location. This improves transportation efficiency to the dealer network."
The majority of vehicles imported through Philaport are for Hyundai-Kia and last year the port handled 189,000 units, compared to 198,000 in 2019, according to updated figures. In the first half of this year the port has processed around 98,000 vehicles.
"Due to auto dealership being closed and only allowing remote purchases for several months cargo volumes were affected slightly," said Williams. "However, import volumes rebounded nicely toward the end of 2020."
She added that Philaport did not resort to stopping work at any point and its priority during the Covid disruption remained the safety of its workers.
Philaport officially opened a $110m vehicle terminal at the Southport terminal in 2019, which is being run by Glovis America on an initial 15-year contract. It was the first terminal to be opened at the port for 45 years and has capacity to process 350,000 vehicles annually.
"This new berth, located adjacent to Glovis's expansive storage yards, will result in improved logistics speed and reduced cost for us in Philadelphia by increasing efficiency in our vessel operations," said Patrick McGinn, senior manager of logistics planning at Glovis America. "Creating a fourth berth in Philly (in addition to the two at Packer Ave Marine Terminal and ours at Pier 122) will guarantee a zero vessel wait time for ro-ro ships."
The Infra grant will provide gap funding for the project and has been given to Philaport as part of the 2021 Infrastructure for Rebuilding America (Infra) programme.
"The Southport Berth Development and port expansion project has been ready to advance for the past several years and without this critical funding from USDOT the project would not be possible," said Jeff Theobald, PhilaPort executive director and CEO. "With this Infra grant the port can leverage and build upon current expansion efforts made possible thanks to critical investments made by Governor Wolf and the Commonwealth."
Read more about developments at North America's finished vehicle handling ports in our annual review of activity in the forthcoming summer edition of Automotive Logistics and Finished Vehicle Logistics magazine