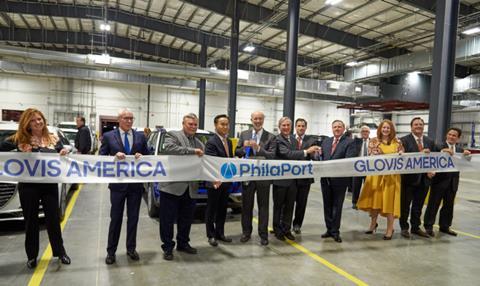 The US port of Philadelphia (Philaport) has officially opened a $110m vehicle terminal at the Southport Marine Terminal Complex – the first terminal to be opened at the port for 45 years.
The 63-hectare Southport Auto Terminal will be operated by Glovis America and has capacity to process 350,000 vehicles annually. If full capacity is achieved it could eventually push Philaport into one of the top ten ports for vehicle handling in North America.
This year, Glovis America will process 200,000 vehicles from carmakers, predominantly Hyundai and Kia, a substantial increase on last year (+29%).
The terminal has a 10,000 sq.m vehicle processing centre (VPC) that can handle more than 1,000 cars a day. It features a body shop, with two double preparation stations, two double paint booths and two car washes. It is also raised by approximately 1.4 metres above the surrounding flood plain.
It is located adjacent to the berth at Pier 122, which is dedicated to finished vehicles and receives 110 vessel calls a year on average. The terminal is also adjacent to Class 1 rail links served by Norfolk Southern, CSX and Canadian National Railway.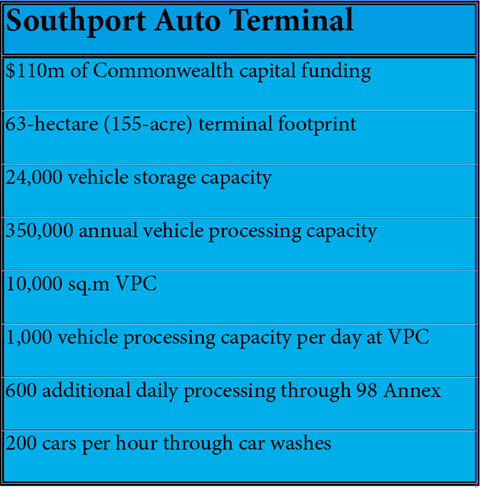 Southport Auto Terminal is the result of an overall $300m government investment in infrastructure, warehousing and equipment at the port. That investment was the first major capital injection into equipment and infrastructure at the port for four decades.
"The new vehicle processing centre is just one step in my port development plan, which is generating long-lasting economic growth in south-eastern Pennsylvania by making Philadelphia the best place to ship and receive goods on the East Coast," said Pennsylvania's governor Tom Wolf at the opening this week (October 30). He said the terminal would stimulate an estimated $124m in economic activity, as well as create as many as 2,500 jobs.
For further details of activity at the new facility see our forthcoming interview with Philaport and Glovis America and see the most recent North American ports survey for data on the top 10 vehicle handling ports in the region