The port of Mobile in the US state of Alabama has a new $60m finished vehicle ro-ro terminal including a 3,700 sq.m vehicle processing centre (VPC) and storage capacity for 7,000 vehicles.
The facility, which was officially opened last week, is being operated by AutoMobile International Terminal, a joint venture between Argentine operator Terminal Zarate and Neltume Ports, which is based in Chile.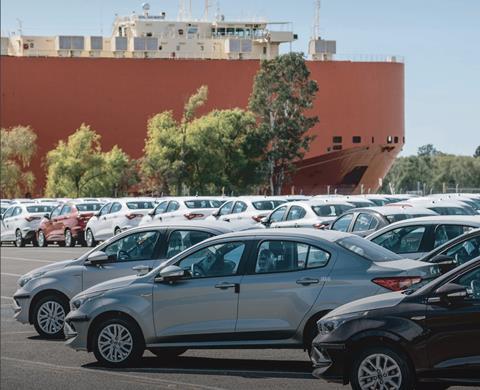 "Prolific growth in Alabama's automotive sector has made it a crucial hub for the US auto industry, supporting tens of thousands of jobs across the state," said Nancy Southern, member of the board directors at Neltume Ports and chair and CEO of Atco Group, which owns 40% of Neltume. "Today we are throwing open a gateway to the world. One that incentivizes growth and investment along the automotive value chain. It will further cement the port of Mobile as a catalyst of global trade."
Measuring just over 23 hectares, the facility has the capacity to process 150,000 vehicle units per year. It is based on the ports main multimodal complex, one dedicated berth on Third Mile Creek, and one preferential berth at Pier E, which is owned by the Alabama State Port Authority (ALSPA). The berths are maintained at a 12-metre depth and with a berth length of 457 metres, which can accommodate any existing pure car and truck carrying (PCTC) vessel, according to the company.
The port is served on the land side by five of North America's Class 1 rail companies. The rail ramp area, which has capacity to hold 2,000 vehicles, has 10 tracks with capacity to work 60 multilevel auto rail cars at a time. There are also direct links to interstate highways 10 and 65 for road freight and the terminal is equipped with a truck staging area with a capacity for 2,200 vehicles.
The port's position on the US Gulf coast provides direct short-sea vehicle trade with Mexico, as well as deep-sea trade options via the Panama Canal.
The on-site VPC (vehicle processing centre) has 25 work stations for accessorisation and pre-delivery inspection (PDI) services. It features a body shop and paint booth, along with two manual and one fully automated car washes, the latter able to service 75 vehicles an hour.
The whole facility is linked by a fully integrated proprietary terminal operating system (ToS), which allows full vehicle status visibility for the manufacturer and subsequent stakeholders, including trucking companies, railroads, ocean carriers and dealers. All areas of the terminal and VPC will have full wi-fi and 5G coverage, according to Finn Roden, chief commercial officer (COO) at AutoMobile International Terminal.
The opening of the terminal follows an agreement signed between Terminal Zarate's owner, Murchison Group, Neltume Ports and ASPA in January.
"The ASPA is proud to partner with Terminal Zarate and Neltume Ports to provide this new cost-efficient gateway for the automobile logistics industry," said John Driscoll, director and CEO of ASPA at last week's opening event. "The new terminal at the port of Mobile provides new capacity and transportation solutions for importers and exporters. It seeks to leverage five Class 1 railroads and the interstate networks that service all of North America."
Last month ASPA announced that construction work had begun to deepen and widen the channel feeding the port of Mobile. The US Army Corps of Engineers will carry out a project running to 2025 to widen the channel by 328 metres and deepen it to around 15 metres.
AutoMobile International Terminal by numbers
150,000 vehicle unit annual processing capacity
3,700 sq.m vehicle processing centre
7,000 vehicle storage capacity
457 metre berth length
2,200 vehicle capacity for truck staging
2,000 vehicle capacity rail ramp
10 track rail ramp
60 multilevel auto railcar loading capacity
2,200 vehicle capacity at first point of rest
500 ft distance from berth to first point of rest
Our annual survey of activity at the North America vehicle handling ports will be published in the Summer edition of Automotive Logistics and Finished Vehicle Logistics magazine