Volkswagen will start delivering its vehicles to the US through Port Freeport in Texas from early 2024. Annual throughput of imported vehicles from Mexico and Europe is expected to be 140,000 units and Freeport will become the carmaker's main Gulf Coast hub.
The move will consolidate operations currently taking place at the Gulf Coast port of Houston and at Midlothian rail facility near Dallas, through which VW currently moves imports from Mexico.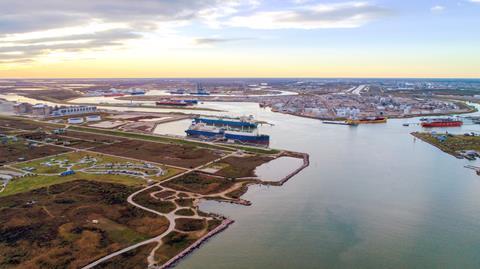 Volkswagen Group of America (VWGoA) is working with real estate company PRP, along with property developer KDC on new facility. The carmaker will take out an initial 20-year lease on the terminal.
Volkswagen Group of America relies on eight ports in the US, which it has chosen on the basis of making the delivery of vehicles to its dealer network as efficient and sustainable as possible.
"Moving Volkswagen Group of America's major Gulf Coast hub to Port Freeport is part of our network and growth strategy for the United States," said Anu Goel, executive vice-president for group after sales and services at VWGoA. "We're continuously working to optimise the business and environmental impact of our logistics operations.
Goel said the new hub at Port Freeport will enable the carmaker to serve nearly one-third of its US dealer network more efficiently and sustainably, equal to nearly 300 dealers.
Port Freeport has hinterland links via road, rail and inland waterway. Finished vehicle terminal operator Amports is Port Freeport's resident operator. Amports has increased storage space at Freeport and is looking for further expansion, as well as establishing new berthing positions to match the growth in capacity landside.
Ports America and Red Hook Terminals also have operations at the port. The port currently handles 900 vessel calls a year.
Volkswagen will be able to use LNG vessels to make vehicle deliveries by ocean to Freeport. The carmaker already uses LNG vessels for imports from Europe as part of its initiative to cut emissions from its logistics. Those vessels leave the VW-dedicated terminal at Emden and then first call at the port of Halifax (Canada) before moving onto the US ports of Davisville, Baltimore, Jacksonville and Houston. Port Freeport will replace Houston on that trade lane from 2024. The vessels also serve the west coast of the US and Mexico.
VW's move to Port Freeport is expected to create more than 100 jobs directly at the terminal, plus additional work in vessel unloading, trucking and rail.