Volkswagen has ordered four car-carrying vessels with dual-fuel engines that can be run on liquified natural gas (LNG), the latest effort by the carmaker to make its shipment of finished vehicles between Germany and North America more sustainable. The LNG vessels will help cut carbon emissions on the route by 25%, it said.
VW is already using two LNG-powered vesssels from Siem Car Carriers for vehicle shipments between the port of Emden in Germany and destination ports in Canada, the US and Mexico. Those vessels leave the VW-dedicated terminal at Emden and then first call at the port of Halifax (Canada) before moving onto the US ports of Davisville, Baltimore, Jacksonville and Houston, as well as Veracruz in Mexico, before moving onto the US west coast. Vehicles destined for Europe are loaded for the return leg of the journey.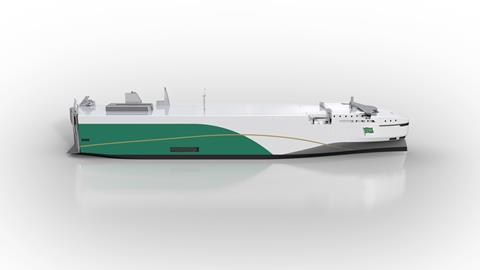 The four additional vessels, which are being built in China, will have capacity for up to 4,700 vehicles from VW Group's model mix. Their build and deployment are part of long-term contracts signed with shipowners Wallenius Marine and SFL.
As well as the carbon reduction, the use of LNG also cuts the emissions of nitrogen oxides by up to 30%, soot particles by up to 60% and sulphur oxides by as much 100%, said VW.
"With these four additional LNG ships, [VW] Group Logistics is continuing its commitment to climate protection and pursuing the strategy of low-emission sea transport that was decided in 2016," said Simon Motter, head VW Group Logistics. "The new ships will also permit the use of non-fossil fuels in the future, thus reducing C02 emissions even further. Our aim is to make all our transport operations – by water, road and rail – environmentally friendly, clearly demonstrating the Volkswagen Group's pioneering role in climate-friendly logistics."
Regarding rail in Germany, VW is working with DB Cargo to make 100% of the materials, parts and vehicles it moves accounted for by sustainable power by the end of this year. VW expects to move 2.85m vehicles by rail 2021 and intends to increase that number to 60% of overall land-based shipments by 2022, an 8% increase on the number currently moved.
VWGroup Logistics also organises 7,700 ship departures worldwide each year moving 2.8m new cars.
By 2025 the company wants to reduce total carbon emissions by 30% as part of its 'goTOzero' strategy, with carbon emissions being totally neutral across all modes by 2050.
Read more about VW Group Logistics' efforts to make the shipment of its ID.4 electric SUV between Germany and North America more sustainable in the forthcoming digital edition of Automotive Logistics and Finished Vehicle Logistics magazine.