About three years ago, trucking capacity for the movement of finished vehicles in Mexico was a big concern. Trucks are used for the delivery of all finished vehicles for the domestic market there, as well as supporting rail in moving vehicles to and from ports, and there were simply not enough trucks to service growing production and sales. The capacity crunch was bad enough to cause delays to some shipments.
Wallenius Wilhelmsen Logistics' division in the country, WWL Mexico, looked at the capacity issue in 2015 and assessed that there were 1,800 car carriers available, which was not enough. The company also expected further shortages.
Growth in the country has continued apace since then; vehicle production in Mexico was on track to reach around 3.8m units in 2017, including nearly 3m exports – a rise of nearly 100% over the last decade, according to AMIA, the Mexican automotive industry association. The Mexican domestic vehicle market has also been growing by double digits for several years, reaching 1.6m units in 2016, including around 910,000 imports. In total in Mexico, around 2m vehicles a year are moved by truck
Yet despite this growth, a capacity crisis in trucking has largely been avoided. WWL estimates that more than 600 nodrizas (Mexican slang for car carriers) have been added to the national fleet, with 400 of those coming from the 18-plus vehicle logistics companies who have since entered the market. That resulted in a 33% growth in capacity for 2016, with 2,400 trucks in action. Thanks to those investments and a domestic sales market that has declined slightly this year, capacity is now in excess of demand.
However, that has not left the Mexican vehicle carrier market sitting pretty. Carriers must contend with limited infrastructure, including poor roads and difficult access to ports and major hubs. Rising fuel costs have taken a bite out of already-thin margins. Cargo vandalism and theft remain major issues. And, to boot, difficult negotiations on the North American Free Trade Agreement (Nafta) have raised uncertainty over Mexico's relationship with the US, its most important trade partner.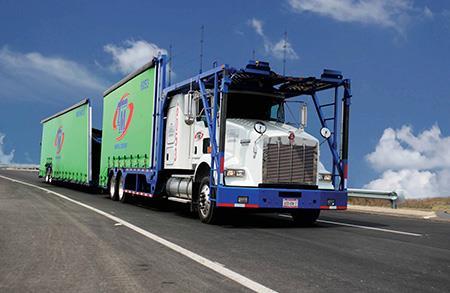 Still, carriers are investing in improvements, including fleet renewal, new IT systems and training for employees. Nobody ever said it was going to be easy, but trucking and logistics firms in Mexico still have a lot to be positive about.
Coordination and communication
The changing capacity situation and market in Mexico have certainly made vehicle logistics in Mexico more competitive, according to Roberto Zavala, managing director at WWL Mexico, which is a major integrator of land-based logistics services in the country. WWL now has operations at 12 land-based facilities in Mexico and is involved with road haulage at all of them. It handles 150,000 vehicles per month across those sites, which include eight plant locations, two railheads and two distribution centres. For four of the plants alone, WWL performs transport planning and coordination and engages about 1,000 trucks from a range of carriers for the business. WWL would not confirm the carmaker, although Nissan is known to be a major customer of the company's across North America.
"From reception of sales volume, we plan the number of trucks needed, provide the routing and track them until delivery to dealer," explains Zavala.
WWL is also providing transport to dealers in Mexico from a multi-customer distribution centre it leases and operates, from which the company purchases transport from between six and eight carriers to provide an integrated port-to-dealer service. Among the major difficulties, according to Zavala, is balancing demand.
"The main challenge is being able to accommodate the demand from all our customers, in particular when all the shipments are urgent," says Zavala. "Coordination and continuous communication with carriers, and customers, is key."
Mexican finished vehicle carrier, Transportes Marva, has also seen an increase in demand and is managing that with a combination of investment and strategic alliances, says Manuel Lastiri Martinez, account executive at the company. It currently moves around 39,000 vehicles a month, roughly evenly split between exports and imports (52% export: 48% import), and it expects to increase volumes still further. In 2017, it moved 468,000 vehicles and forecasts a rise to 525,000 in 2018 (up from 383,258 in 2016). Nissan, Volkswagen, Hyundai-Kia and Audi are among its main OEM customers.
In terms of fleet expansion, the company currently has 2,875 wholly-owned trailers across all its activities, divided across four main types: car hauler, flatbed, dry van and chassis for sea containers. According to T21 Mexico, the transport, logistics and commerce intelligence provider, Transportes Marva has the second most modern fleet in Mexico.
Martinez says there is a careful balance to be struck in terms of asset utilisation when looking at fleet renovation and the replacement of equipment.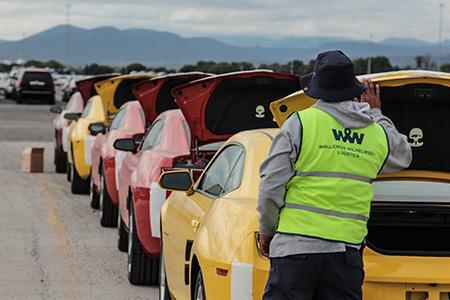 "Additional new units will temporarily generate more capacity, which translates into more freight and consequently more revenue," says Martinez. "But, since you must overcome rising maintenance costs over time on your ageing fleet to claim a profit, the more utility you can get out of your assets, before maintenance costs begin cannibalising you, the more revenue you can generate to exceed maintenance costs. Therefore, a well-timed and balanced strategy is necessary for fleet renovation."
That situation, and the ability to meet demand with available capacity, is made more problematic because there is a degree of unpredictability in government policy, which breeds uncertainty for those making capital investments. Added to that is high volatility in the dollar-peso exchange rate.
Nafta negotiations
There are also concerns in the finished vehicle sector over the renegotiation of Nafta. Carmakers, tier suppliers and logistics providers became increasingly cautious throughout last year about investment in Mexico, with some downgrading plans or holding back on decisions amid the uncertainty over Mexico's future trade relations with the US under the Trump administration. Ford cancelled plans to build a $1.6 billion assembly plant in San Luis Potosi, in north-central Mexico, while Toyota has scaled back and delayed by a year its initial investment plans for a new factory in Mexico. Questions over the level of future investment are fuelling this volatile uncertainty. The Nafta negotiations are also reported to be at something of an impasse, with Canada and Mexico opposed to demands from the US that vehicles it imports should have much higher levels of content sourced from the US. There is a growing risk that negotiations could fail and the US could leave the pact. An election year in Mexico during 2018 will also bring risks in the negotiations.
At the same time, major carmakers are going ahead with plans to build or expand in Mexico, including General Motors, Volkswagen and Audi. A recent press leak has suggested that Ford will build an electric vehicle in Mexico. And many executives remain optimistic that the Nafta discussions will still yield a good outcome or that Mexico will weather any change in trading terms.
---
---
Martinez says that the main concern at Transportes Marva is still over Mexico's limited transport infrastructure, which has struggled to handle demand. Further growth could cause more problems, he adds.
"If the outcomes [of the negotiation] are favourable, Mexico's road, rail and port infrastructure is not prepared for the vast inflow and outflow and transportation of goods and services, creating bottlenecks in the supply chain," he says. "If the outcomes are unfavourable, trade will slightly decrease momentarily, but the market forces of the invisible hand will push it back to equilibrium."
Fuelling cost rises
Another area of volatility in Mexico is in the cost of fuel, especially after the government stopped its subsidies at the end of 2016, which bumped prices up by around 25%. In December, Mexico's diesel prices were above 36 pesos ($1.90) per gallon (9.50 pesos per litre). Prices increased in the second half of the year, following a six-month decline from a high of around 35 pesos per gallon in January 2017; that compares to a five-year low of just under 18 pesos in January 2016. According to analysts at PwC, starting in 2018, private companies will be allowed to import gas and diesel into Mexico, which is expected to bring down prices through the year. Exxon is set to be the first one, with operations in Queretaro and Mexico City.
"Generally, fuel prices impact transportation rates in Mexico as they do in the US, however in most cases companies include the fuel cost in the total lane cost, as opposed to maintaining a fuel surcharge cost separately," says a spokesperson from PwC.
Fuel theft is also a big problem on the highways and is estimated to be costing the federal government more than $1 billion a year. As well as siphoning fuel from trucks, crime cartels are now involved in stealing fuel tankers and digging up pipelines.
While prices may go down in 2018, the rise in the cost of moving vehicles by road over the last six months has been a challenge. For WWL that translates as another incentive to find greater efficiency in moving cars. Zavala has suggested that co-loading is one possible option, but it remains largely unexplored in Mexico.
WWL is using the latest IT to find that efficiency, however. It has, for example, invested in its own inventory management system and is exploring developments in a range of areas, including RFID for yard management. Zavala says WWL is using electronic proof of delivery for truck shipments along with mobile devices for vehicle inspections.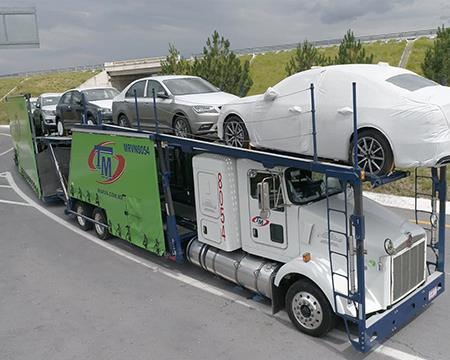 Attracting talent
Incentives of a more deliberate kind are used when it comes to employment. The attraction and retention of workers on the outbound side of the business is also a big concern and in this respect, Mexico is no different to a lot of the major markets around the world.
Roberto Zavala says WWL Mexico shares those concerns, especially given the significant increase in staff turnover. It employs around 1,800 people and has deployed many employment initiatives based on compensation and incentives, he says.
Manuel Lastiri Martinez says that Transportes Marva is also constantly involved in campaigns to recruit and retain "the best of the best" when it comes to drivers across Mexico, which he recognises to be a significant challenge.
"Incentives become key players in the pursuit of discovering talent," he says. "We apply a complex application process, which allows us to filter down desired aptitudes and skills for a quality-intensive industry."
Highway robbery
One other issue continuing to cause problems for manufacturers and carriers of finished vehicles in Mexico is that of vandalism and theft. Maintaining quality in road haulage in a country that still has some rough roads is one thing, but gang-related theft of or from vehicles remains a big problem.
While there are no official figures available specifically for finished vehicle robberies, Mexico's National Chamber of Cargo Transporters (Canacar) estimates that the number of freight robberies on the Mexican highways topped 2,400 in 2017, a 51% increase over the previous year when thefts are estimated to have reached 1,590.
Canacar says that over the last year, its members have faced a 200% increase in insurance costs as a result of rising levels of crime on the roads. The organisation has called for Mexico's legislators to make highway robbery a federal crime, with stiffer penalties. At the end of November, Mexico's congress voted for legal reforms.
Most robberies affecting the vehicle logistics sector take place in the central Bajío region, where the government has deployed troops to trouble spots on the rail network. However, experts say such actions have pushed the problem elsewhere in the country.
James Kniestedt, chief executive of a supply chain security consultancy Gravick Group, who has worked closely with railways in Mexico to improve security, told the 2017 FVL North America conference in California that the problem of vandalism related to organised crime across three tiers.
The first operates under the umbrella of a cartel that pays to operate and control a particular territory and hires sophisticated groups that are technologically oriented and organise themselves via social media networks, he said.
The second tier typically involves corruption among the police at state or local levels, who employ gangs of thieves.
The third is migratory and indigent, and involves gangs from such places as El Salvador and Honduras, who have migrated to Mexico and are making their living by robbery in the Bahia region.
Kniestedt suggested that the solution lay not in military intervention but in training people to use sophisticated mobile apps and social network analytics, which at the same time could covertly monitor the performance of the employees using them to avoid corruption