Carmakers are confronted with a wide array of potential disruptions when trying to get service parts to the right place in a timely fashion.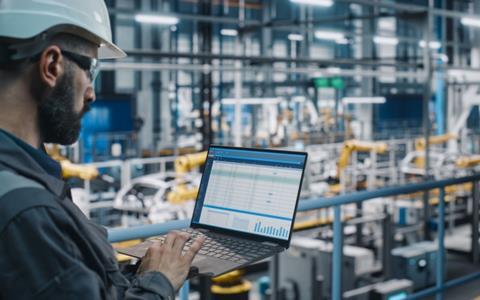 That is certainly true for Mercedes-Benz USA (MBUSA), which has to source 100,000 unique service parts for its network of 400 dealers in North America, with 90% of those parts shipping by ocean from Germany. Thanks to digital supply chain management tools supplied by Blue Yonder, the carmaker is managing to hit some industry-leading service levels.
At last week's Automotive Logistics online Livestream event, MBUSA's SCM IT product owner Ashleigh Stone was joined by her colleague Christian Gabriel, supply chain application specialist, and Blue Yonder's CVP for automotive industry strategy, Salim Shaikh. Together they outlined how the carmaker was able to maintain its aftermarket service levels in the face of disruption from all quarters. Moreover, with a blend of Blue Yonder's software-as-a-service (Saas) tools, the carmaker is managing to hit delivery targets while maintaining profitability in an aftermarket worth $1.7 billion in sales revenue in the US alone. At the same time it is chasing greater standards in terms of sustainability.
Watch the Livestream event: Balancing sustainability, resilience and profitability in the automotive supply chain
MBUSA is not alone in dealing with a big parts portfolio, limited storage capacity, long and variable lead times, fluctuating transport costs, and labour and production constraints. There is a lot of variability in the aftermarket supply chain as current US labour strikes have made clear. And a lot depends on the weather.
Unexpected demands
The supply chain is also subject to unpredictable demand patterns, according to Ashleigh Stone, whether driven by different promotions or pantone trends.
"People start to change their preferences of what they want in their cars, or they want upgrades," she said. "That can cause unexpected demand to come into our network and we have to focus on how to capture that demand, and how to plan for that going forward, rather than being reactive."
The automotive sector is also dealing with customer expectations fed by the Amazon effect of fast delivery.
"When we say we are shipping a part from Germany and it will take six to eight weeks, that is a shock to customers," said Stone. "How do we improve upon that and ensure we meet customer demands over time?"
End-to-end visibility
Blue Yonder's Salim Shaikh said there were five key enablers needed to balance the complexities involved in service parts supply (for both combustion-engine and electric vehicles), while remaining profitable and sustainable. The first was the ability to minimise supply chain disruption by shining a light into the supply chain network and getting some real end-to-end visibility.
That supply chain visibility is something MBUSA's Christian Gabriel sees as crucial in managing the delivery of parts from vendors in Germany to dealers in the US via the nine parts distribution centres (PDCs) the company has in North America, all of which run on Blue Yonder supply chain management systems.
Shaikh said those systems helped maintain end-to-end visibility across the entire supply chain from suppliers, to PDCs, to dealers.
"It's not just your enterprise, it's your suppliers and customers that you need to have end-to-end visibility in orchestration," he said. "And it's not just short-term visibility once your part has been shipped, it is also about more strategic longer-term collaboration on capacity and forecasts with your suppliers through a control tower."
Scenario planning is also very important in coping with supply and demand disruption according to Shaikh. Running scenarios that establish adequate capacity for parts in the face of unprecedented demand for a vehicle or that test disruptions to lithium battery metals no longer takes a month. Shaikh said that with Blue Yonder's end-to-end supply chain tools carmakers can run scenarios several times a week and look for resilience in the results. That was the way to achieve better forecast accuracy through better inventory optimisation
"Resiliency is not just about carrying boatloads of inventory," added Shaikh. "It's about becoming lean, profitable and resilient at the same time. With inflation at a 40-year high you want to meet your high service levels but can you do that with lower working capital through cashflow preservation?"
Shaikh also said that revising the supply chain network to analyse risk mitigation was also important and could help reduce supply disruption by multishoring and avoiding dependence on a single source. As is bringing third party logistics functions in house or at least a achieving a greater level of collaboration between the OEMs and their service providers. Finally, Shaikh said using end-to-end supply chain tools for omnichannel fulfilment and getting the customer what they want with speed and accuracy will also guarantee profitability and resilience.
"These five in a nutshell will help you meet customer obligations and balance profit and sustainable and resilience," he said.
Autonomous supply chain
The benefit for MBUSA, according to Gabriel, is a closed-loop planning process that allows the carmaker to run planning scenarios that feed back into the system on a rinse and repeat basis that makes its supply chain more robust. The ultimate goal at MBUSA is to make the supply chain autonomous.
Engineering that planning process means taking as many inputs as needed, including financial and strategic guidelines, and the disruptive factors such as PDC capacity constraints, along with service level targets. A system fed with data-rich input is helping MBUSA to sense demand spikes or constraints ahead. Gabriel said it was about predicting and responding with the best information, whether it be choosing different inventory routes or sourcing solutions.
"[We need] a closed-loop system where we have input, sense when things happen, respond and feed those things back into system. Rinse and repeat as many times as possible so that our planning system can be as robust as possible."
Stone added it was important to focus on controlling service and inventory levels and using the automated closed-loop planning system to find the most cost-effective solution. Being able to look at multiple route options and use Blue Yonder's Saas tools to optimise a response that can be tweaked and input is driving an autonomous supply chain. That was proven over Covid, according to Stone.
"As we progressed through it the demand began to spike, but we were a step ahead and put in overrides and tribal knowledge," she said. "We knew what was coming down the pipeline and maintained 98% service levels."
Gabriel said that partnering with Blue Yonder had given MBUSA insight into the different capabilities its software tools offer and how that translates into competitive advantage. It has also enabled MBUSA to network with other companies that use Blue Yonder technology through special interest groups that share learning and provide valuable insight.
"We have learned a lot from these Blue Yonder events and from other companies. It is a great partnership," he concluded.