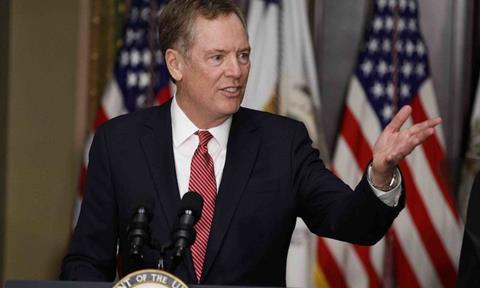 OEMs, parts manufacturers and sector bodies have all strongly criticised Donald Trump's pronouncement that he is considering levying duties as high as 25% on imports of vehicles and parts into the US.
Trump has this week said he would delay any imposition of duties for six months and has directed US trade representative Robert Lighthizer (pictured) to start negotiations with the EU and Japan, as well as any other countries he deems necessary, on the perceived threat posed by foreign cars and auto parts.
The latest developments follow Trump's acceptance of findings from commerce secretary Wilbur Ross that certain imported vehicles and parts threaten to impair US national security by limiting research and development (R&D) spending in the country.
Despite the announcement of a six-month delay on duties, Toyota recognised the possibility of tariffs as counteractive to its 60-year commitment to manufacturing in the US.
"[The] proclamation sends a message to Toyota that our investments are not welcomed and the contributions from each of our employees across America are not valued," the Japanese carmaker said in a statement.
Toyota pointed out that it led R&D through open-sourcing of patents in critical technologies such as fuel cells, hybrid electrification and continued to be transparent and collaborative.
"Our goal is to develop technologies that help society and contribute to sustaining the economy and jobs in the US," said the carmaker. "We continue to innovate in areas of AI [artificial intelligence], autonomous and robotics technologies that will further contribute and improve our American society.
The company added it had invested more than $60 billion in the US and helped employed 475,000 workers directly and indirectly.
Threat to consumer
With regard to Europe, meanwhile, EU trade commissioner Cecilia Malmstrom said the EU completely rejected the notion that its car exports to the US werea national security threat. Adding to this the European Automobile Manufacturers' Association (ACEA) stated the US Department of Commerce's report "fail[ed] to recognise the massive investments made by the European automotive industry in the US economy."
"EU-owned auto makers built more than 3mvehicles in the US last year, accounting for 27% of total US production," said ACEA in a statement. "Many of these vehicles are exported to third countries again, including the EU. European Unioncar manufacturers directly and indirectly employ nearly half a million Americans," it added.
The ACEA said that any additional tariffs or quotas would violate WTO trading rules.
Automotive industry bodies in the US are equally scathing in their reaction to Trump's purported belief that cars were a threat to US security.
"The case remains clear – cars are not a national security threat," said the Auto Alliance, which represents US- and foreign-owned car manufacturers in the US, including Toyota.
"By boosting car prices across the board and driving up car repair and maintenance costs, tariffs are essentially a massive tax on consumers," it said in a statement. "The higher prices would lower consumer demand and could lead to the loss of as many as 700,000 American jobs.
The Auto Alliance said that since 2017 domestic and international automakers had invested $22.8 billion in new and existing facilities in the US– largely spurred by the current administration's pro-growth policies. However, increased auto tariffs threatened to undo this economic progress.
"At the end of the day, you can have tariffs or investment, but you can't have both," said the Auto Alliance.
With reference to US negotiations with the EU and Japan, Cody Lusk, president and CEO of the American International Automobile Dealers Association (AIADA), said: "Using this spurious [national security] claim as justification to force our trading partners into new negotiations will only create more uncertainty for America's entire auto industry, including our country's 9,600 international nameplate dealers and the 578,000 Americans they employ."
Threat to parts makers
The Motor and Equipment Manufacturers Association (Mema), which represents component producers, also warned that duties on automotive imports would "trigger a reduction in US investments that could set us back decades."
It added: "The uncertainty created by the threat of these tariffs is straining businesses and working against the President's goal of creating jobs in the United States."
Among those in the front line is Mary Buchzeiger, CEO of Lucerne International in Auburn Hills, Michigan, which makes cast, stamped and forged components and assemblies for automotive and heavy truck manufacturers. The company has 16 plants in Asia – double the number it had last year thanks to partnerships formed in South Korea and Thailand – where it fabricates parts and ships them back to the US for final production for customers, the biggest being Fiat Chrysler. Annual turnover is around $50m.
Import duties at 25% would mean the company renegotiating and raising the price it charges customers. Buchzeiger told the Detroit Free Press that company margins were already very thin and the levy would be devastating.
"We can't produce parts at a loss," she told the news source."At the end of the day, it's the price of vehicles that go up to cover all these tariffs, so the average American ends up paying more."
USMCA breakthrough
While the automotive sector waits for the conclusion of those negotiations over the next six months there was some good news to surface from the new US-Mexico-Canada (USMCA) trade agreement: the promised lifting of duties on steel and aluminium imports to the US from Canada and Mexico.
In March 2018 the US imposed a duty of 25% on all steel imports to the country and a 10% duty on aluminium (though for Canada and Mexico that was delayed until later in the spring). These have now been lifted for the US' North American neighbours.
Welcoming the announcement, the Automotive Alliance said: "Tariffs on steel and aluminium have increased costs for automakers and suppliers. While many automakers already source the vast majority of their steel and aluminium domestically, tariffs drive those prices up which decreases investment and harms auto workers and ultimately consumers."
The 3,200-member Canadian Automobile Dealers Association (Cada) stated: "These tariffs have disrupted the integrated North American supply chain and added unnecessary costs for businesses and consumers."
Cada's CEO John White said: "[The] agreement by both governments is good for the economy, good for consumers and good for dealers."