US-based semiconductor supplier, GlobalFoundries, is to double its manufacturing capacity at its site in Malta, New York state. The company is building a completely new fabrication plant as well as investing $1 billion to boost annual output at its existing Fab 8 facility in Malta by 150,000 wafers per year. Once the new facility is at full capacity the Malta site will have an annual output of 500,000 wafers.
A wafer is a thin slice of semiconductor, such as a crystalline silicon, used for the fabrication of integrated circuits.
Both moves are designed to address the shortage in semiconductors and follow efforts made by the Biden administration to fortify US supply chains, including those supporting production of the chips for a range of industries, including automotive. According to industry analyst, AutoForecast Solutions, North American vehicle production has been the worst affected by the shortage globally.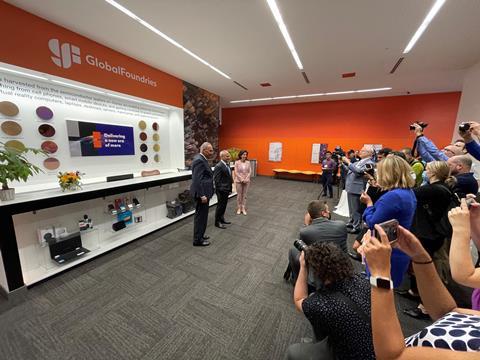 The announcement was made this week as GlobalFoundries convened with leaders from government and industry to discuss semiconductor supply chain challenges in the US. Tom Caulfield, CEO of GlobalFoundries, was joined by US Senate majority leader Chuck Schumer, US secretary of commerce, Gina Raimondo, former Pentagon officials, and executives from leading companies throughout the semiconductor supply chain.
GlobalFoundries is planning to fund the new facility in Malta through private-public partnerships, including customers, federal and state investments. The new fab plant will provide direct high-tech jobs for 1,000 employees.
"Our industry is expected to grow more in the next decade than it did in the past 50 years and GlobalFoundries is stepping up to do its part as we work together to address the growing demand for technology innovation for the betterment of humanity," said Caulfield.
GlobalFoundries said it had invested more than $15 billion in its Fab 8 facility over the last decade to support innovation and increase manufacturing capacity. In June this year it also broke ground on a new $4 billion fab plant in Singapore that when complete will add capacity for 450,000 semiconductor wafers a year. It has recently announced the expansion of output in Germany.
Speaking at this year's Automotive Logistics and Supply Chain Europe conference, Mike Hogan, senior vice-president and general manager of the Automotive, Industrial and Multi-Market Business Unit at GlobalFoundries, said the strong return in the supply of semiconductors for the automotive industry in the second quarter of this year was delayed because of the 90-day gap between the production of the wafer and its eventual use in the vehicle. He added that the huge diversity in feature-rich computer chips that go into a wide variety of automotive subsystems necessitated a delicate balance in getting the mix right for supply to the automotive industry.