The current global shortage in the supply of computer chips to the automotive industry is causing significant disruption to production and looks likely to continue into next year. There are signs though that the current crisis could lead to new forms of partnership between the automotive and semiconductor industries, and a move away from the rigid hierarchy of the traditional automotive supply chain. That promises to lead to a more secure relationship for the future.
At this year's Automotive Logistics and Supply Chain Europe Live conference, Jérémie Bouchaud, director for Autonomy, E/E & Semiconductor at analyst firm IHS Markit, said that the shortage in semiconductors has led to a global vehicle production shortfall of 2m vehicles so far this year. Of that figure 1.4m were lost in the first quarter of the year and as many as 700,000 in the first two weeks of the second quarter, with all regions now being affected in equal measure.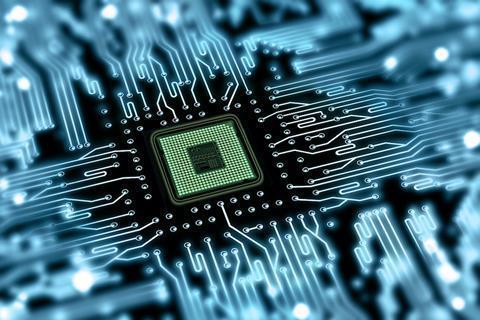 The shortage is the result of high demand from other industries for the computer chips, including consumer electronics, during Covid pandemic lockdowns, which coincided with a drop in demand from the automotive industry as tier one supplier and carmakers were shut down. However, the drop in demand from automotive was short-lived and the resurgence in production came much faster than either the automotive or semiconductor industry expected.
More transparency
The mismatch between the two sectors is also down to a lack of transparency between the two sectors. The electronics and automotive supply chains are becoming more inextricably linked as the vehicle becomes more digitally sophisticated meaning disruption in one is inevitably going to affect the other.
Carmakers and their component suppliers were trying to build a stronger dialogue with the semiconductor sector before Covid hit because it is now obvious how intertwined the two industries have become, said Bettina Weiss, chief of staff and global smart mobility lead at electronics association, SEMI.
"It became clear as the supply chains intertwined and became more interdependent that one needed to develop a much better understanding of the other," said Weiss.
Unfortunately, those discussions were got to the level required for all parties to have a clear picture of what is going on and how to fix it. According to Weiss, there is not enough awareness and understanding at an OEM management level of how the semiconductor supply chain works, how cyclical it is and how it moves compared to automotive supply chain dynamics. That has led to the severe supply shortfall in Q1 this year.
Mike Hogan, senior vice-president and general manager of the Automotive, Industrial and Multi-Market Business Unit at GlobalFoundries, US-based semiconductor producer, said the trough in production for automotive was in the first quarter and that may be overshadowing figures for the second quarter. According to Hogan, supply is going to come back aggressively in Q2 but the 90-day offset between the production of the semiconductor wafer – the material used for the fabrication of integrated circuits – and its eventual use in a vehicle means an inevitable delay. Added to that, Hogan said there was a bigger question related to product mix. The huge diversity in feature-rich computer chips that go into a wide variety of automotive subsystems necessitates a delicate balance in getting the mix right for supply to the automotive industry.
Watch more coverage from all the sessions at the ALSC Europe Live conference
"Ultimately, coming out in 2021 there is still going to be a tight supply and demand situation, and you will still see aggressive actions [being taken] by folks wanting to secure supply for 2022," said Hogan. "Automakers and their tier ones will have to be equally assertive because in 2022 your access to supply will dictate your company's ability to succeed."
Being overly assertive in securing sufficient supply, however, could be part of the problem at the moment because carmakers and tier one suppliers are in panic mode and ordering in excess of what is actually required – what Bouchaud called the 'toilet paper effect', referring by analogy to the panic buying of that product seen at the beginning of the Covid pandemic.
"Some chip vendors have [reported] orders this year equivalent to 130m cars, as opposed to 84m, which is what is really being produced," said Bouchaud, adding the inflation in demand made it difficult to assess the real extent of the shortage.
Automotive is an important market for semiconductors and that is only going to increase as more vehicles become electrified. There are typically more than 1,000 chips per vehicles and the average chip value in a car driven by a convention combustion engine is $400, according to Bouchaud. However, given the engine management requirements of an EV and the fact they tend to feature more infotainment and related features, the value of computer chips goes up to $700 on average per vehicle. Bouchaud said that value of chips per vehicle was going to continue to increase at 7% annually in the coming years.
There needs to be a longer-term firm commitment from the OEMs to the chip makers to secure capacity. You cannot expect the chip vendors to take all the risk and start production ahead of an order just because that is the way it has been done – Jérémie Bouchaud, IHS Markit
Dialogue and commitment
Avoiding disruption to ensure that increase in value and volume over the coming years is essential to the direction the automotive industry is going in and that will need the level of dialogue between OEMs, their suppliers and the semiconductor industry Weiss said is currently missing. It will also require a greater commitment by the OEMs to partner with semiconductor makers and establish stronger commercial incentives for a more integrated supply chain.
"There needs to be a longer-term firm commitment from the OEMs to the chip makers to secure capacity," said Bouchaud. "You cannot expect the chip vendors to take all the risk and start production ahead of an order just because that is the way it has been done."
Hogan said carmakers will eventually figure out the technology they want in their vehicles and what that means for the electronics supply chain as well as their own.
"[Accordingly], they will make commercial commitments such that they don't have to worry that when markets get hot elsewhere that their supply is vulnerable," said Hogan. "The bad news is that wasn't done before but good news is that it is very doable."
A start has been made in that direction in the form of the Global Automotive Advisory Council, which was initiated by Weiss' organisation SEMI in 2018, starting in Europe. Participating companies represent all parts of the supply chain, from silicon wafer manufacturers, foundry equipment providers and tier one suppliers, explained Weiss.
"This is in an antitrust environment that is totally compliant and allows people to focus on technical issues that they want to resolve," she said, adding that device robustness and reliability, and cybersecurity, were all big topics that demanded partnership and expertise to solve together.
"I think this will come in very handy for the growing chip shortage situation, where it can be discussed and resolved hopefully," she said.