Michael Druml, an influential supply chain management executive who played a major role in the logistics, supply chain and purchasing operations for divisions of Daimler and later Magna, died suddenly this week. He was 60 years old.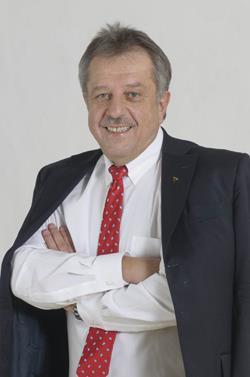 Druml was widely respected and admired across the European automotive logistics industry, notably for his essential role in shaping the supply chain organisation for Magna Steyr, the contract vehicle assembly and engineering arm of Magna, which has a large manufacturing plant in Graz, Austria that today produces vehicles for OEMs including BMW, Mercedes-Benz and Jaguar. More recently, he had a senior position overseeing Magna's wider European purchasing and supply chain management.
Magna's executive management team has acknowledged his passing with shock and grief. Günther Apfalter, president of Magna Europe and Magna Steyr, paid tribute in an email sent to employees and shared with Automotive Logistics.
"Michael Druml had been with Magna Steyr since 2002 and played a major part in setting up the logistics and purchasing organization in our company. With Michael, we are losing an exceptional person who impressed us not only with his rich expertise in supply, logistics, purchasing and SCM systems, but whom colleagues, employees and supervisors will miss also for his human qualities.
"Michael's unexpected sudden death comes as a deep shock since many of us have lost an important colleague, friend and mentor in him," added Apfalter.
A leader in integrated supply chain management
Michael Druml had been global director of supply chain management at Magna Steyr, the contract vehicle manufacturing and engineering division of Magna International, where he oversaw the full scope of logistics, supplier development, purchasing and operations. In 2018, he also took on the role of vice-president of procurement and supply chain management for Magna Europe, with supplier purchasing and logistics oversight across all Magna operations in Europe.
This combination of roles at once highly operational, including the complex supply and just-in-sequence delivery for assembly in Graz, as well as cross-functional, covering Magna's European and global supply chain, was in many ways the fulfilment of Druml's vision for an integrated approach to managing the supply chain. Druml's career was notable for building up and promoting logistics organisations to have responsibility well beyond that of transport management and freight cost, but also including purchasing, supplier management, risk assessment and engineering.
Druml started working at the plant in Graz in 1992 when Eurostar Automobilwerk, a joint venture between Chrysler and then-Steyr Daimler Puch, owned it. When later it became a division of DaimlerChrysler, Druml was manager of production control and played key roles in integrating operations and communication for production at the plant.
When Magna took over the contract vehicle assembly operations in 2002 as Magna Steyr, Druml became its director of logistics. By 2009, he had developed an organisation that interlaced purchasing, logistics and supply management, with a strong engineering and planning focus as well.
In a 2013 interview with Automotive Logistics, he spoke about the importance of holistically organising these functions. He revealed how Magna Steyr's supply chain management had taken a 'virtual design' approach, in which engineers studied logistics implications for part shapes, packaging and locations, and even went as far as changing the parts or racks.
"We can sometimes go further than logistics engineering and move into parts engineering," said Druml. "For example, it can be packaging, transport, cube utilisation, recycling and returnable packaging – there is a lot that can be influenced when you have engineering responsibility."
With Michael, we are losing an exceptional person who impressed us not only with his rich expertise in supply, logistics, purchasing and SCM systems, but whom colleagues, employees and supervisors will miss also for his human qualities.

Günther Apfalter, president, Magna Europe & Magna Steyr
A mentor – and friend – to many
Such innovations led to a much-decorated career not only at Magna, but across the industry and in academia. He was a winner of awards including the Hermes Logistics Award, the Supply Chain Excellence Award from the Austrian Federal Association of Materials Management, Purchasing and Logistics; and Purchasing Executive of the Year. In 2018, his team at Magna Steyr took top prize for the Automotive Logistics Inbound Network Optimisation award.
Along with technical and managerial fluency, Druml was as notable for the "human qualities" and mentorship described by Günther Apfalter. He was a guest lecturer in supply chain management at the Technical University of Vienna, as well as at the WU Executive Academy, the business school of the Vienna University of Economics and Business. He was also a foundation member of the Automotive Cluster Styria and a member of the advisory board of the Austrian Federation of Logistics, or BVL.
Druml was also a frequent contributor to industry publications, including Automotive Logistics, where he was featured on the cover in July 2013, and has been an instrumental advisor to its publisher, Louis Yiakoumi, and editors over the past 20 years. He was also a speaker and participant at many industry events, notably Automotive Logistics conferences across Europe. He was most recently a judge for the 2019 Automotive Logistics Europe Awards.
Automotive Logistics extends its deepest condolences to Michael Druml's family, including his wife and daughter, to his valued colleagues, and to his many friends, of which we are proud to consider ourselves.
*Note: Automotive Logistics is putting together a special article over the coming weeks on Michael Druml's career and contribution to the automotive supply chain community. If you are interested in providing information or comment, please contact Christopher Ludwig
To gain unlimited access to the exclusive content and features of Automotive Logistics please SIGN-IN or REGISTER FREE today.