Supply chain disruption has hampered sales for Mercedes-Benz in the second quarter of this year, according to the carmaker's most recent figures.
Between April and June the carmaker sold 490,000 units globally, down -16% on the same quarter in 2021. It said while demand for its vehicles remained strong, Covid-19 lockdown measures and a shortage of semiconductor components had constrained supplies leading to production shortages.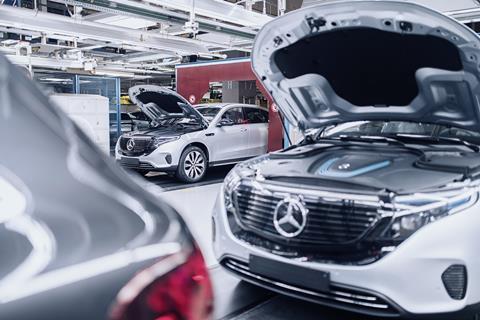 Semiconductor shortages hit Q2 sales in the top-end luxury category, which includes the AMG, Maybach, G-Class, S-Class, GLS and EQS, which were down -16% at just under 72,000 units.
"We are making every effort to fulfil customer expectations, despite the current supply restrictions," said Britta Seeger, head of marketing and sales for Mercedes-Benz Cars.
Sales were down 20% in Asia in the second quarter because of the Covid-19 lockdown measures in Shanghai, which closed down ports and inland logistics, as well as affecting production. However, Mercedes-Benz said that deliveries rebounded on the lifting of restrictions and deliveries in China for June were up 40% compared to May levels.
Electric Europe
In Europe, sales reached 154,300 vehicles (-10%) with Germany accounting for 50,600 units (-4%). Sales in Europe were bolstered by the continued growth in EVs. Almost every third vehicle sold in Europe in the first half of 2022 was an xEV (30%), those being the battery and plug-in hybrid EVs the carmaker sells. Deliveries of xEVs reached 139,600 worldwide (+14%) during the same period.
"The electric ramp up is gaining traction: sales of our fully electric vehicles increased by more than 90% in Q2 and even 134% in the first half of 2022," said Seeger.
Sales in the North America region totalled 91,000 units (-3%), of which 79,100 passenger cars (-4%) were delivered to customers in the US.
Mercedes said last month it was aligning its global production network to manufacture its reshaped product portfolio focused on luxury EVs. The carmaker's assembly plants in Sindelfingen, Bremen, Rastatt and Kecskemét will start production of new models in the top end luxury, core luxury and entry luxury segments from the middle of this decade.
The global Mercedes-Benz production network is sustainable, digital and flexible," said Jörg Burzer, head of production and supply chain at Mercedes-Benz Group. "We are ready for the rapid scaling of EV volumes, not least thanks to our highly qualified and motivated team worldwide. With the new production set-up we are further increasing our flexibility and efficiency and securing the future of our locations."