Scania Mexico is planning to expand its Middle American Parts Center (MAPC) in Querétaro to increase storage capacity and availability of spare parts.
The MAPC, which has an inventory of around 19,500 part numbers, is set to be extended by 3,500 sq.m in 2024 to "double the storage capacity" at the facility, according to Gisela Quintero, director of Customer Experience and Services, Scania Mexico. The OEM said the expansion would require an investment of $2.3m.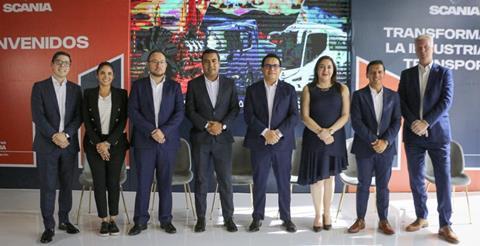 In a financial update for the first half of the year, delivered from its new corporate offices in Querétaro, Quintero said: "We are focused on providing a solution for our clients and it cannot be without a fairly robust aftersales service. We need to provide the solution and let customers dedicate themselves to their business while we do to their vehicles."
She said that the availability of spare parts for the brand's vehicles is "fully guaranteed and controlled" due to the large amount of part numbers, adding that the facility has "grown more than 30% in supply of parts" since it opened in 2021. Quintero said the effectiveness of the MAPC can be seen in the projected growth of 31% in sales of commercial vehicles this year. Additionally, the company aims to grow the number of Customer Workshop Service (CWS) facilities by 36% to reach its goal of 68 in total.
The Mexican division of the Swedish OEM has grown its sales volume by more than 800% in the first half of this year compared to the same period in 2022, according to the company update. The OEM said this is largely boosted by the commercial truck segment of the Mexican market, and added that it is aiming to reach the goal of 2,800 truck sales by the end of the year.