Volvo Group has said the ongoing shortage of semiconductors to the automotive industry will cause it to halt production at its truck manufacturing operations in the second quarter of this year.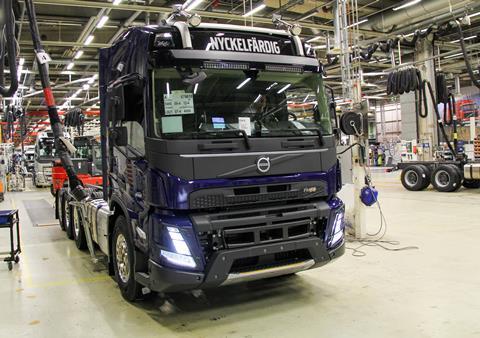 The closures, which are estimated to run anywhere between two and four weeks depending on production site, will affect Europe and other global locations. Volvo Trucks has plants in Sweden, Belgium and Russia, as well as in the US, Brazil, India, Thailand, Australia and New Zealand. There are more than 31 locations, including those under affiliate brands.
"The stop days will be implemented in different ways in different factories depending on what is deemed to the best local tactic," Volvo Group's spokesperson told Automotive Logistics. "Our best estimate is that the stop days will be distributed over a time period of approximately two to four calendar weeks from the beginning of the second quarter. We are working closely together with our suppliers to increase the inflow."
The shortage in the supply of semiconductors, which is caused by a combination of factors, including the impact of Covid-19 on production in the first half of 2020 and on manufacturing investment, is affecting a number of major vehicle makers and their suppliers.
Volvo said the disruption was expected to have a negative impact on earnings and cashflow but that it was working with partners to minimise the number of vehicles affected and the impact on customers.
Volvo has only recently announced the serial production of a new generation of heavy-duty trucks – the Volvo FH, FH16, FM and FMX – at its manufacturing plants in Gothenburg, Sweden, Ghent in Belgium and Kaluga in Russia. The trucks have a range of improvements for driver ergonomics including raised A-pillars that give drivers up to one extra cubic metre of space and increased light inside the cab, as well as better visibility.