In finished vehicle logistics and distribution, disruptions and changes in the supply chain often lead to higher costs and bottlenecks, including stock pileups and imbalances in transport capacity. Last year's implementation of WLTP in Europe was a case in point, as some OEMs faced delays in getting vehicles certified or modified. Transport bottlenecks could still be felt by some carmakers well into this year.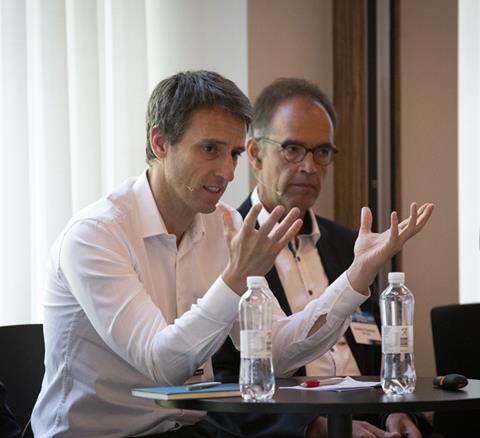 Vehicle logistics specialists at this year's Automotive Logistics Global Munich conference discussed how new technology and processes could improve forecasts and help carmakers and logistics providers to react sooner to potential disruption.
Xavier Peroutka, who leads flow engineering for inbound and outbound logistics at PSA Group, said that improving flexibility, anticipation and response in distribution was a goal across the company, particularly important as the group further integrates Opel and Vauxhall distribution across its network. The company also wanted to maintain visibility and performance as PSA expands its footprint globally, including in Asia, Africa and, eventually, North America, he said.
For PSA, a major push to improve control across the supply chain has been in its development of a sales and operations planning (S&OP) function over the past two years, which involves using advanced tools to develop forecasts, production and distribution plans through inputs from multiple departments. This function is now part of the supply chain division at PSA.
While Peroutka admitted that it was still early to point to big changes for outbound logistics, S&OP has helped PSA to reduce inventory and better balance its production and stock planning – which also benefits logistics.
The S&OP implementation won PSA the top award for Supply Chain Design and Engineering at this year's Automotive Logistics Europe awards.
Planning ahead
IT specialists pointed to further methods to improve vehicle logistics both in distribution network planning, as well as in operations.
Hartmut Haubrich, director of finished vehicle logistics at software and IT provider Inform, demonstrated a network optimisation tool that several of the company's OEM partners use to plan their networks in advance or ahead of transport tenders with suppliers. The tool can help determine the best routing, network hubs and transport modes.
However, the output depends on the objectives. In one example for delivery in Poland, an emphasis on shorter lead times over lowering costs or CO2 emissions led to a recommendation for an entirely truck-based network. Meanwhile, reducing CO2 calls for more vessel and rail services.
"The technology can help improve this planning based on available data inputs, but the 'best network' depends on optimising based on priority weighting," said Haubrich.
Such tools are effective in planning at the beginning of network and partner selection, but don't always address more operational issues and variation in a 'live' network, including market volatility or transport capacity bottlenecks.
For Haubrich, however, analysing data is still the key to anticipating potential disruption. He showed how a close monitoring and statistical analysis of stock developments in vehicle compounds over a period of 2-12 weeks could help give signals of potential storage or capacity shortages.
"Understanding how the situation around transport and compound capacity is evolving is key to react early, to avoid delays and additional costs," he said.
Xavier Peroutka said that PSA was assessing the use of new logistics tools together with partners. He anticipated that a key technology would be artificial intelligence. "It is too early, but we are looking at this more in our S&OP process, and how we can effectively analyse sales and customer trends with the help of AI," he said. "We're not there yet but it is something we are very interested."
Ready to fail fast
Christian Fuss, managing director at ProAct Europe, a logistics management and software system provider, added that there were certainly many other and similar tools to improve planning and operations, from automated gate releasing, to using connected car data to geo-locate vehicles. However, sometimes the industry lacks initiative, and uncertainty is evident about who should take control in such project: the OEMs, the providers or IT suppliers, for example.
The finished vehicle logistics sector needed to get past its fear of failure, he added, and learn to think bigger. He pointed to an example at container shipping giant Maersk, where an effort to track every single container fell short, but led to developing technology to monitor temperature anomalies, and thereby greatly improving its response time to potential problems.
"We have to be open to discover value that we never thought about before," said Fuss.
Tariffs, trade and technology: A new era for European automotive industry
1

2

3

4

5

Currently reading

Using the past to better predict the future of vehicle logistics

6