Luxury carmaker Bentley Motors has furthered efforts to reduce the carbon output from its operations at the Crewe plant in the UK and reports an 81% reduction in absolute CO2 emissions per vehicle made.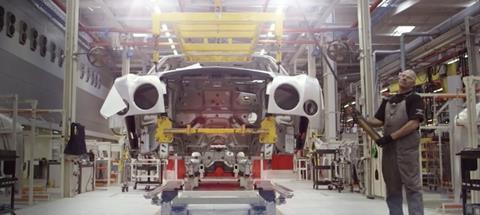 The measures taken include using renewable fuel for on-site transport, the generation of green energy to supply factory operations, the installation of the UK's largest solar car port, and charging points for the Bentley hybrid and electric vehicles made at the plant.
Bentley has installed a 34,000-litre renewable fuel tank on site for delivery trucks and other non-electric site traffic. The Green D+ fuel reduces tailpipe CO2 emissions from logistics vehicles by over 86% compared to regular diesel, according to the carmaker. Verified Carbon Standard offsets are applied to fleet vehicles and generators still running on normal fuel.
Meanwhile, the solar car port at Crewe comprises 10,000 solar panels and covers 1,378 car parking spaces, an area of 16,426 sq.m. The port has a capacity of 2.7MW of energy. Combined with the 20,815 roof top panels fitted to the factory rooves, the total on-site solar panel energy capacity is 7.7MW, enough to power over 1,750 homes, according to Bentley. Combined with electricity purchased with Renewable Energy Guarantees of Origin (ReGo), the carmaker said 100% of the electricity used on site was now renewable.
The company also reported that 100% of the gas used in Crewe is now renewable thanks to the carmaker's contract for gas that is supplied and certified by Renewable Gas Guarantees of Origin (RGGO). It has also invested in three new energy-efficient 5.5 MW boilers, which it said helped significantly reduce power consumption and make green gas use more efficient.
"Business-wide we have a clear environmental mission and the latest figures – showing an 81% absolute reduction in CO2 emissions per vehicle, even though we have widened the scope of the measure to capture more of our operations – underline our commitment and the speed of progress we are making," said Peter Bosch, member of the board for manufacturing at Bentley Motors.
Bentley said that overall, the carbon footprint for operations at Crewe has dropped from 17,482 tonnes of carbon dioxide equivalent (tCO2e) in 2019 to 3,341 tCO2e in 2020.