At last week's IAA Mobility motor show in Germany, BMW announced it is looking to cut the carbon emitted in the production of vehicles on its Neue Klasse electric vehicle (EV) platform by 40% per unit by 2030. By the same year the carmaker also said it would cut the CO2 emitted per vehicle during the utilisation phase by at least half based on 2019 figures.
The carmaker is looking to cut CO2 emissions across the entire lifecycle of the EVs it will be making, including from the upstream supply chain and manufacturing process. As EVs take up an increasing percentage of the global vehicle parc over the next decade the amount of CO2 emitted in the lifecycle of the vehicle moves from the use phase to the supply chain– that expended in the sourcing and delivery of parts, as well as production. BMW has stressed that it plans to decarbonise throughout every part of its production process and has outlined a number of methods it is using to achieve this goal.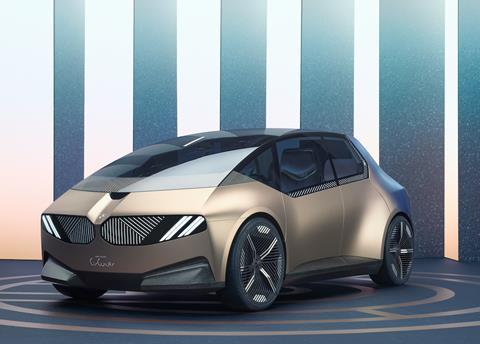 The sustainability plans include stricter targets on the percentage of secondary materials used per vehicle, up from the current 30% to 50%. That is part of a new circular design strategy based on the four principles: rethink, reduce, reuse and recycle.
BMW has been using renewable raw materials in its production for several years now, including hemp, kenaf and flax. It also uses recycling in the production of thermoplastic components and is working with plastic manufacturers to develop more recycled plastics and bioplastics.
"The decisive factor in the fight against global warming is how strongly we can improve the carbon footprint of vehicles over their entire lifespan," said Oliver Zipse, chairman of BMW's Board of Management. "This is why we are setting ourselves transparent and ambitious goals for the substantial reduction of CO2 emissions; these are validated by the Science Based Targets Initiative and will deliver an effective and measurable contribution."
Battery supply chain
At this year's Automotive Logistics and Supply Chain Europe Live conference, Justus Löbler, BMW Group's expert in sustainability and mobility strategy, indicated that in 2019 the average amount of CO2 emitted per unit in the production and delivery one of its vehicles was 10 tonnes. BMW forecasts that rising to 14 tonnes per unit if no special measures are taken in its supply chain, largely because of the carbon footprint caused by sourcing and making the lithium-ion batteries to power the growing share of electric and hybrid vehicles.
BMW is planning to put around 10m all-electric vehicles on the road over the decade and is aiming to reducing that carbon output to eight tonnes of CO2 per unit by 2030. To meet those targets its doubling the delivery volume for battery cells, which is valued at €22.36 billion for the fifth generation of the BMW electric drive.
By 2030 the Mini brand will be exclusively all-electric and EV versions of the BMW 5 Series, BMW X1 and BMW 7 Series are all in the pipeline for release in years to come.
The carmaker has outlined its ultimate goal for a more sustainable vehicle in its i Vision Circular concept EV. Using bio-based and secondary materials, BMW plants to make the vehicle out of 100% recycled materials and have 100% recyclability.
The BMW i Vision Circular solid-state battery is also 100% recyclable and constructed nearly entirely of recycled materials. As a result, it can also achieve a higher energy density with less use of essential resources.
"This car demonstrates that climate protection and individual mobility do not necessarily contradict each other," the company said in a statement. "On the contrary, it shows that using new technologies and innovation, the BMW Group can fulfil the planet's requirements for greater sustainability without customers having to forgo individual mobility."
Cleaner metals
In terms of other materials, earlier this year, BMW announced it was investing in methods to produce CO2-neutral steel. A new technique, advanced by US-start up Boston Metal, is planned for an expansion to an industrial scale, with the German firm investing as part of its BMW i Ventures
Blast furnaces are used in the production of steel. However, this leads to the generation of carbon dioxide under conventional methods. Boston Metal used electricity for its new technology, which uses an electrolysis cell, producing molten iron that is later processed into steel with zero carbon output.
Likewise, as part of its efforts to reduce carbon emissions in the supply chain, the carmaker has also begun sourcing aluminium produced using solar electricity. As demand for EVs increases, aluminium will become increasingly important as a lightweight material to offset the relatively heavy weight of EV batteries.
Emirates Global Aluminium (EGA) is the first company in the world to also use solar electricity for commercial production of aluminium, which it will now supply exclusively to BMW.
Tungsten is an essential material for drill and milling bits in industrial machinery used in car production. Accessing through conventional mining is often associated with environmental erosion.
A closed-loop material cycle for this Tungsten metal has now been developed by BMW, collecting old drill and milling bits for recycling at its German and Austrian plants. The secondary tungsten acquired using this method will then be used to manufacture new milling and drilling tools, reduces the amount of tungsten required by seven tonnes per year. This also reduces energy consumption by 70% and CO2 emissions by more than 60% compared to using primary tungsten.