BMW Group Logistik has been testing an electric semi-trailer for inbound parts deliveries to its factories in Germany using both a diesel tractor and one driven by battery electric power.
The combination of electric tractor and semi-trailer resulted in 100% cut in emissions covering a range of 600km without recharging. The combination of diesel tractor and electric semi-trailer resulted in fuel savings of between 46-48% depending on distance.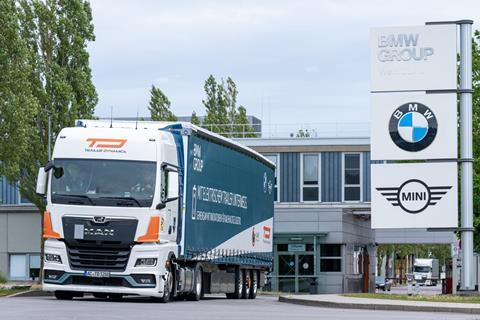 The e-trailer pilot projects are part of BMW Group's Green Transport Logistics strategy, an integral element of the BMW iFactory which promotes lean, green and digital standards in production.
Best application scenarios
Working with technology provider Trailer Dynamics, which built the semi-trailer, and logistics providers Gahr International and Elflein Spedition & Transport, BMW Group Logistik has been testing the battery-powered semi-trailer on various tracks and over varying distances.
Over short and medium distances around the BMW Group location at Dingolfing, the diesel truck saved more than 46% in fuel expenditure. Over longer distances between Mamming in lower Bavaria and the BMW Group plant in Leipzig, the diesel truck and electric semi-trailer combination achieved a 48% reduction in fuel used.
BMW said the capabilities of Trailer Dynamics' e-trailer were put to the test to identify the best application scenarios for its logistics operations.
"The pilot testing with Trailer Dynamics' e-trailer showed that using this kind of electrified semi-trailer significantly reduces the fuel consumption of standard diesel tractors and noticeably increases the range of e-trucks," said Michael Nikolaides, head of BMW Group production network and logistics.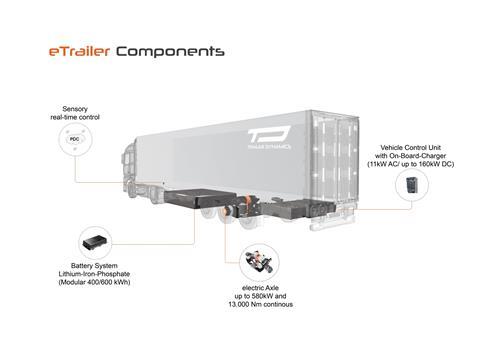 Long distance savings
Trailer Dynamics' semi-trailer is fitted with its own battery and electric drive axle, which supports the truck's engine. According to BMW Group Logistik, integrated sensors on the kingpin between the tractor and the trailer ensure an optimum load ratio and best-possible fuel economy. The trailer's powered axle also provides additional power during start-up and on slopes.
The long-distance tests using a diesel truck and electric semi-trailer were performed with a load of more than 16 tonnes between Leipzig and Mamming. Energy modules for BMW electric cars were transported over a distance of 450km, mainly on motorways. Compared with journeys with a conventional trailer and identical load, the results showed diesel savings of more than 48% on average. The e-trailer's battery was charged using 100% green energy, according to the company, meaning that with series application, a single electric trailer could facilitate a CO2 reduction of around 120 tonnes per year.
Using an e-trailer with an electric tractor and 100% green electricity meant 100% reduction in carbon emissions. Over medium-distance testing in the Dingolfing area, using a Volvo e‑truck and a normal load, the truck went more than 600km without recharging.
Abdullah Jaber, CEO and managing director of Trailer Dynamics, said the aim of its e-trailers was make a significant contribution to decarbonising the economy and promote sustainable logistics.
BMW Group Logistik said fuel savings when using e-trailers are counterbalanced by their heavier weight and the resulting lower payload, but this is partially offset by an increase in the permissible total weight for trailers in the EU. Meanwhile, the higher acquisition costs of the e-trailer are counteracted by lower operating costs.
The European Commission is looking to increase weight limits for zero-emission trucks and ensure that trucks on long-haul routes do not have to give up cargo weight to compensate for having heavy e-truck batteries.
Once the law comes into force, electric or hydrogen trucks could weigh up to 2 tonnes more, regardless of the weight of the actual zero-emission technology.
"It is important to us to support the development of innovative technologies in transport logistics, explained Nikolaides. "Establishing innovations like these helps our logistics partners and us to reduce CO2 emissions and improve the overall footprint."